Used under the license by Froneri International Limited. Nestle® Registered trademark of Society Des Produits Nestle S.A., Vevey Switzerland
If I learned anything from last year, it's that life is anything but predictable. Instead of setting new year's resolutions, I set small goals for myself that are achievable. I'm working on small changes like reading before bed instead of scrolling on social media and putting more time into getting creative this year to make staying home as enjoyable as possible. One of the things I miss the most is hosting my friends for brunch and dessert parties. But there's no reason the party can't go on! Since we can't gather together right now, I thought I'd put a virtual spin on a treasured classic party idea: the ice cream social!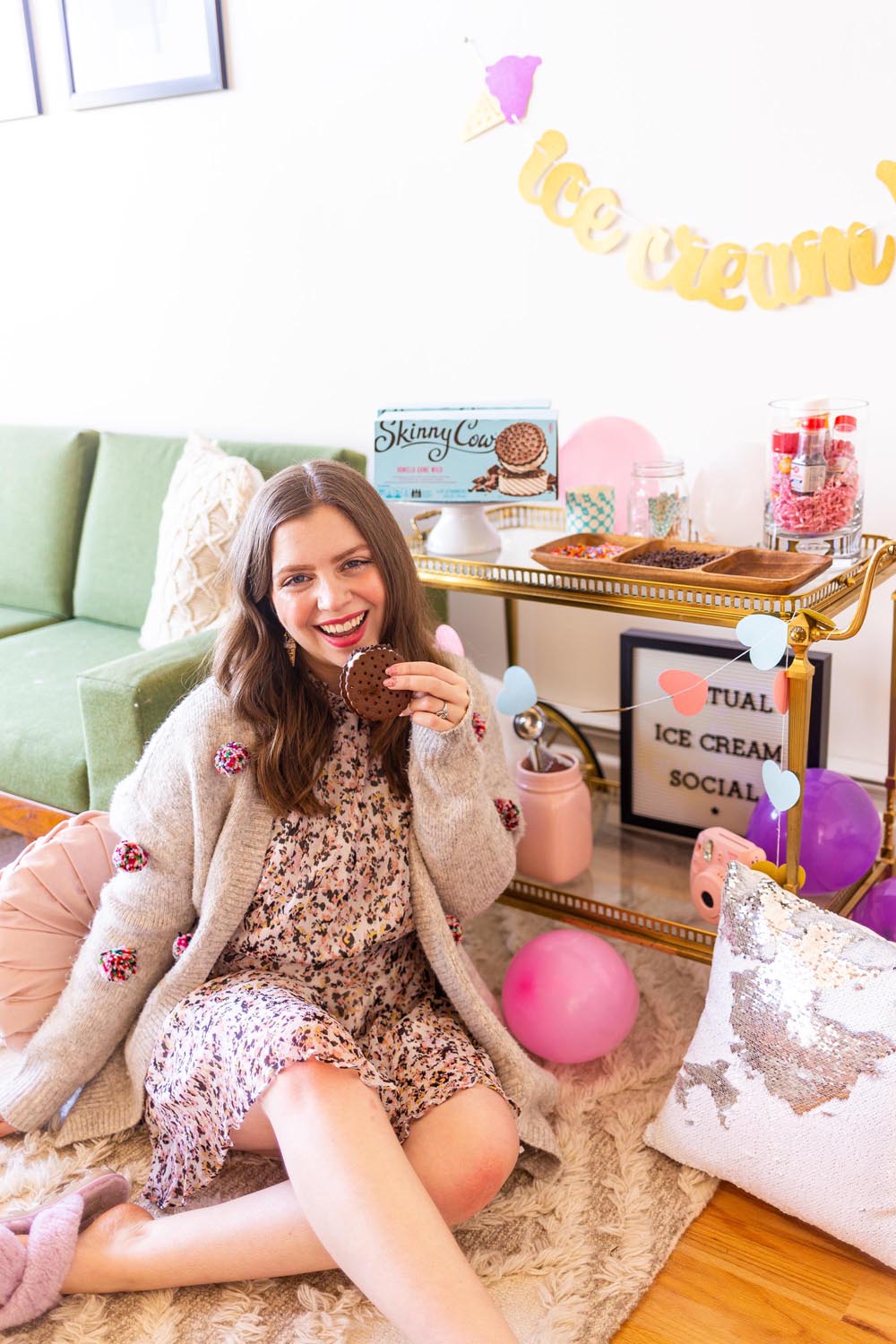 Remember when we were kids, and we'd have ice cream socials at school? It was a treasured memory and such a fun time with friends customizing our ice cream treats with all the toppings. With a few fun decorations, an internet connection, and a quiet place to enjoy your ice cream, you'll be ready to host your own virtual ice cream party in no time!
And if one of your goals this year was to make healthier choices, then you're in for a treat. Thanks to Skinny Cow® Ice Cream, we can treat ourselves and satisfy our sweet tooth without hindering our health and fitness goals! The perfectly portioned Skinny Cow Vanilla Gone Wild Ice Cream Sandwiches are my personal favorite. You can't go wrong with a classic flavor like vanilla!
Ready to put your hosting hat on and celebrate the indulgent moments with Skinny Cow® and host an ice cream social? Then, read on for all of my tips and tricks!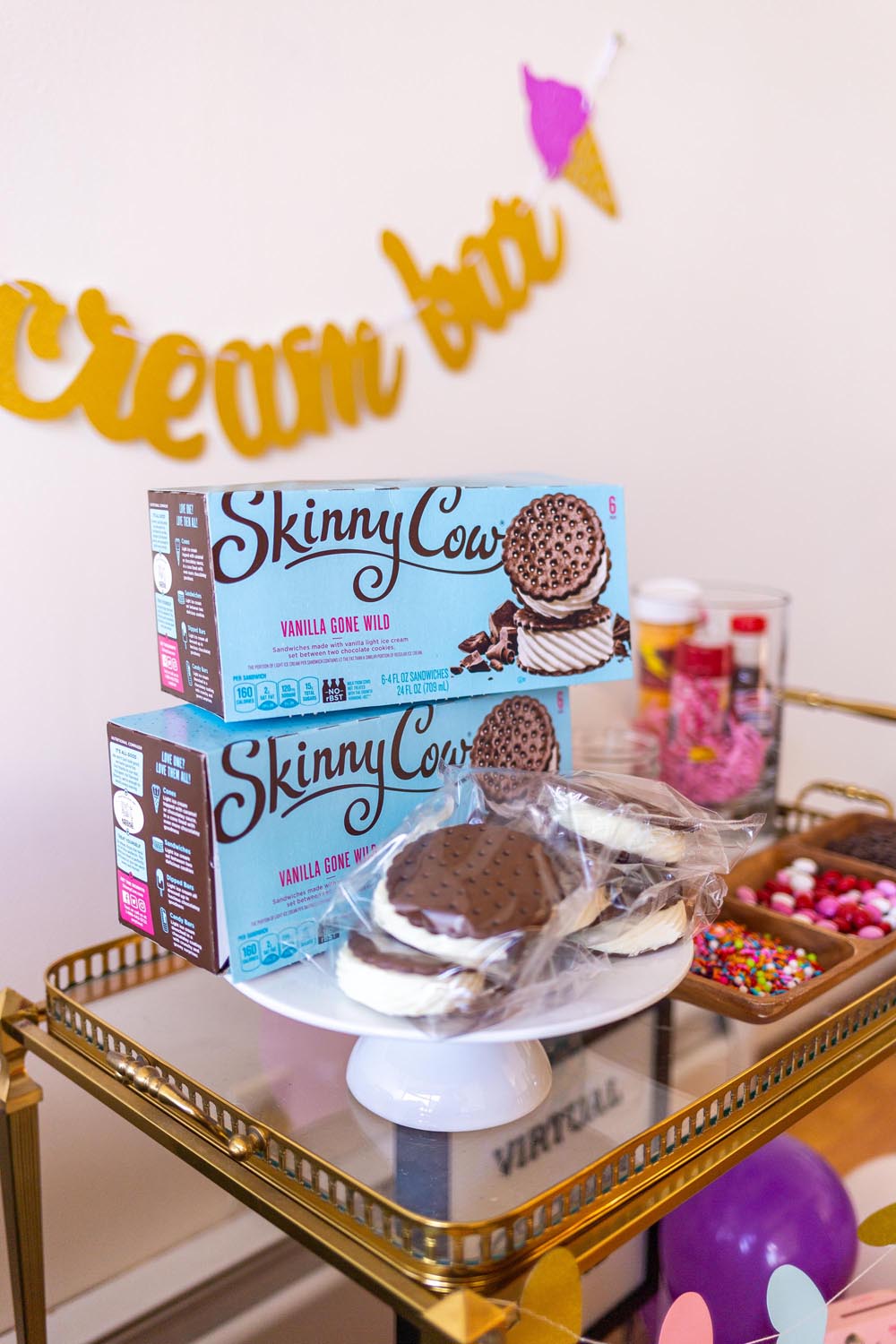 Find Skinny Cow Ice Cream at Walmart for your Ice Cream Social
I love that Skinny Cow is unapologetically indulgent and, even better, is conveniently available at Walmart stores. If you haven't shopped at Walmart recently, then you might not know about their amazing new curbside and delivery services! I used their curbside service for the first time this week and was blown away. Not only can you pick up grocery items like Skinny Cow Ice Cream, but you can also pick up party supplies, home decor, and so much more!
It's as easy as adding it to your shopping cart, picking a time for curbside or delivery, and waiting for a confirmation that your order is ready to pick up! Then, let them know you're on the way in the Walmart App, and they'll have your order ready to go when you arrive at the store's designated pick up area. I think I was in and out of the curbside pick up spot within 5 minutes or less, and the no-contact service made me feel so at ease and comfortable during this time!
Send an Invite to your Ice Cream Social Party
After picking up or receiving your Walmart delivery, it's time to invite your friends to your ice cream social! You can make your invite as simple or elaborate as you like, from a quick text message to a formal invite in the mail. Alternatively, you could leave an invite on your friend or loved one's doorstep with their party goodies, like in the next step!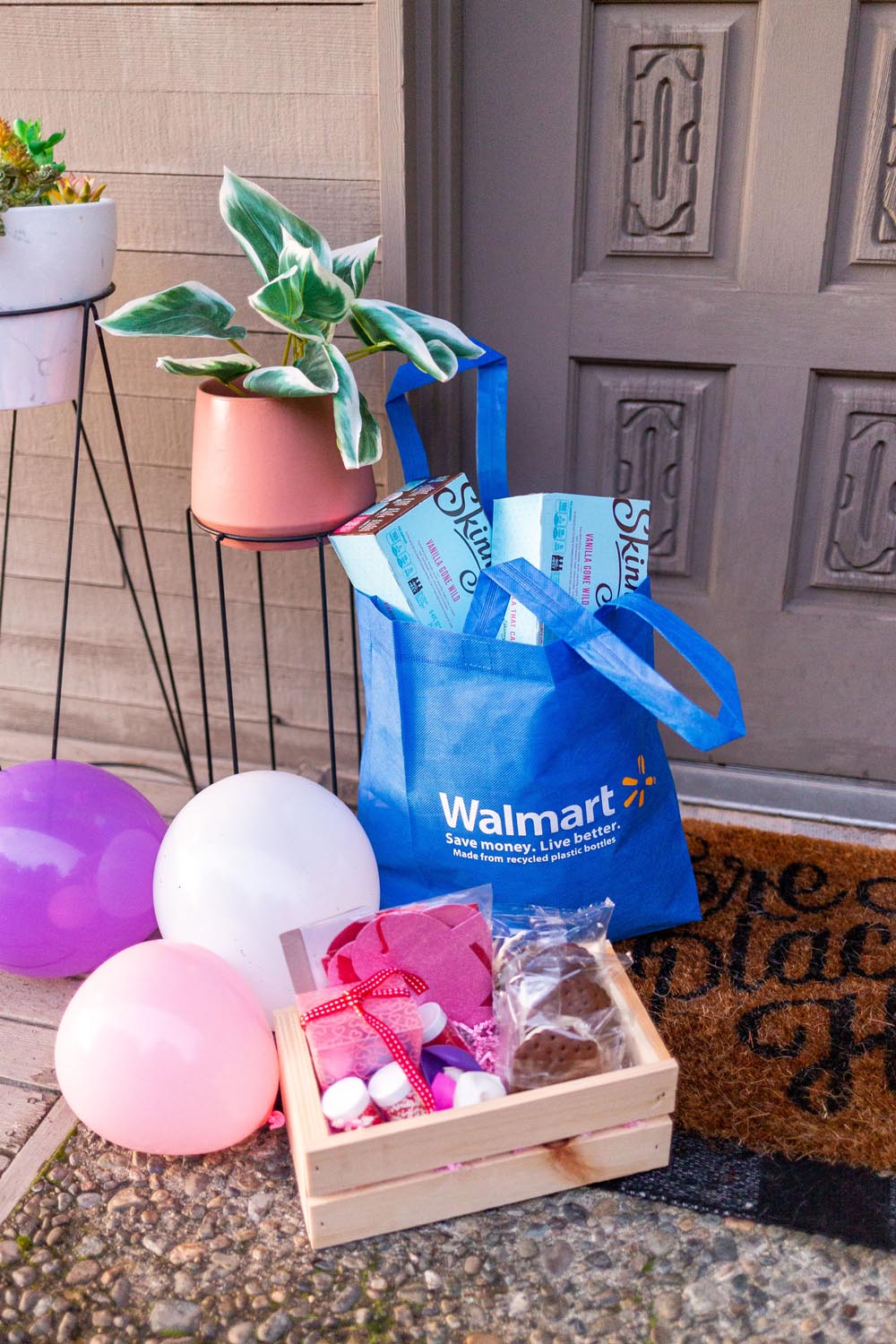 Create an Ice Cream Social Porch Drop Off Package
Would it be an ice cream social without ice cream sandwiches, decorations, and toppings for each guest? I picked up this darling wood crate to fill with everything each guest will need to enjoy themselves at an ice cream social party. Of course, you don't have to provide supplies to your guests, but I think it's a sweet gesture that will bring joy and a smile during these unpredictable times!
Here's what's inside my ice cream social party crate:
Sugar sprinkles
Mini chocolate chips
Chocolate candies
Jimmies
Balloons and ribbon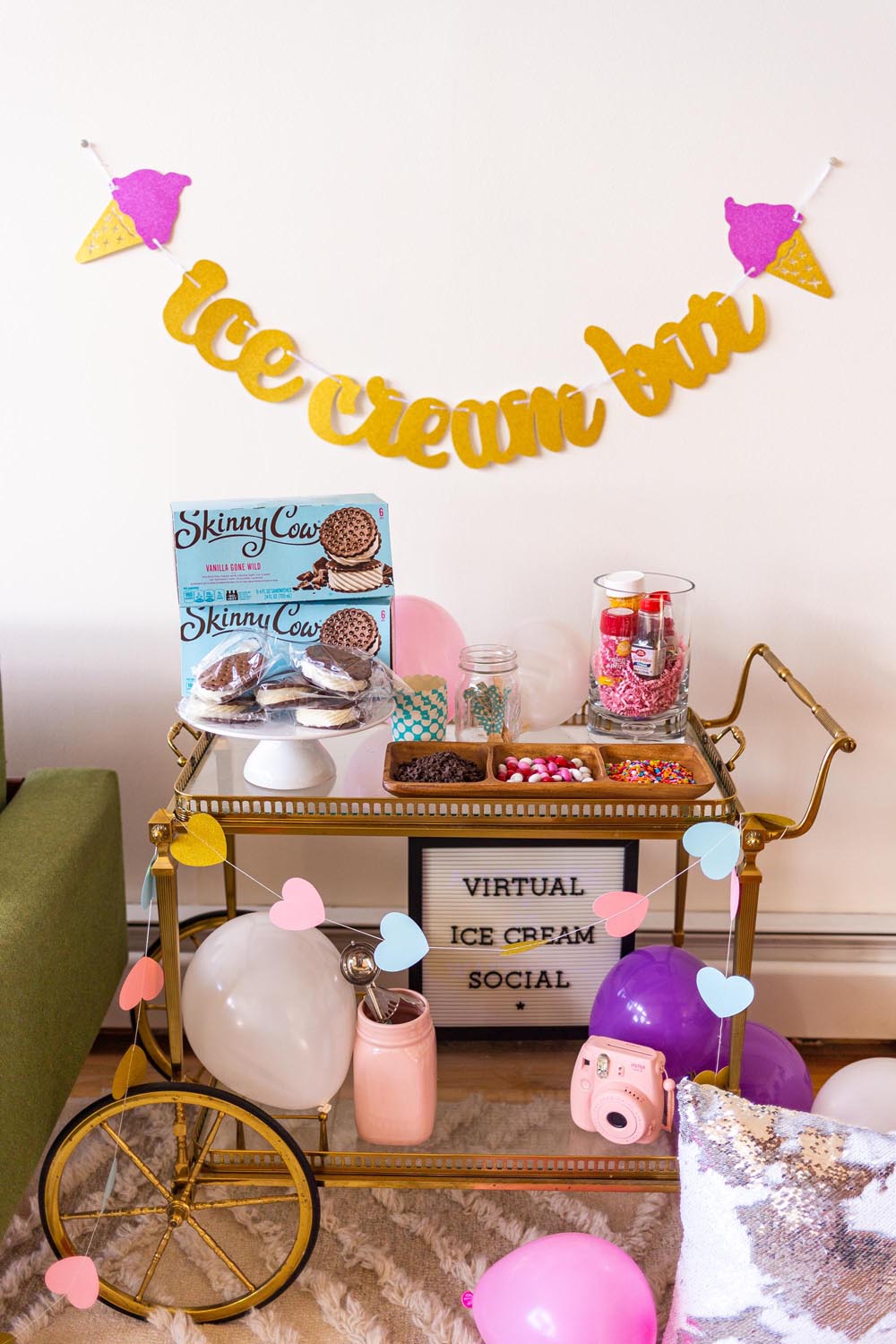 Set the Scene with Ice Cream Social Decorations
If we're partying at home, we might as well make it festive! I know I'm using every excuse to make my home a joyous place these days, from decorating for holidays early to turning everything into a reason for a celebration.
Fortunately, Walmart made it easy to add party supplies to my cart during my curbside pick up! I quickly and easily added a variety of balloons, curling ribbon, a banner, ice cream toppings, and much more to my cart. Then, when I picked up my order, the store associate dropped it all in my trunk for me. Contact-free party supplies for the win!
On the day of the party, be sure to set up a little before party time to set the mood! I added a letter board and garland, plus some cute cups and spoons for each of my ice cream toppings. I also love setting up a designated area for my phone or another device to utilize video chatting without it being in the way. A small table or a tripod works great to keep things hands free and out of the way of your sweet treats.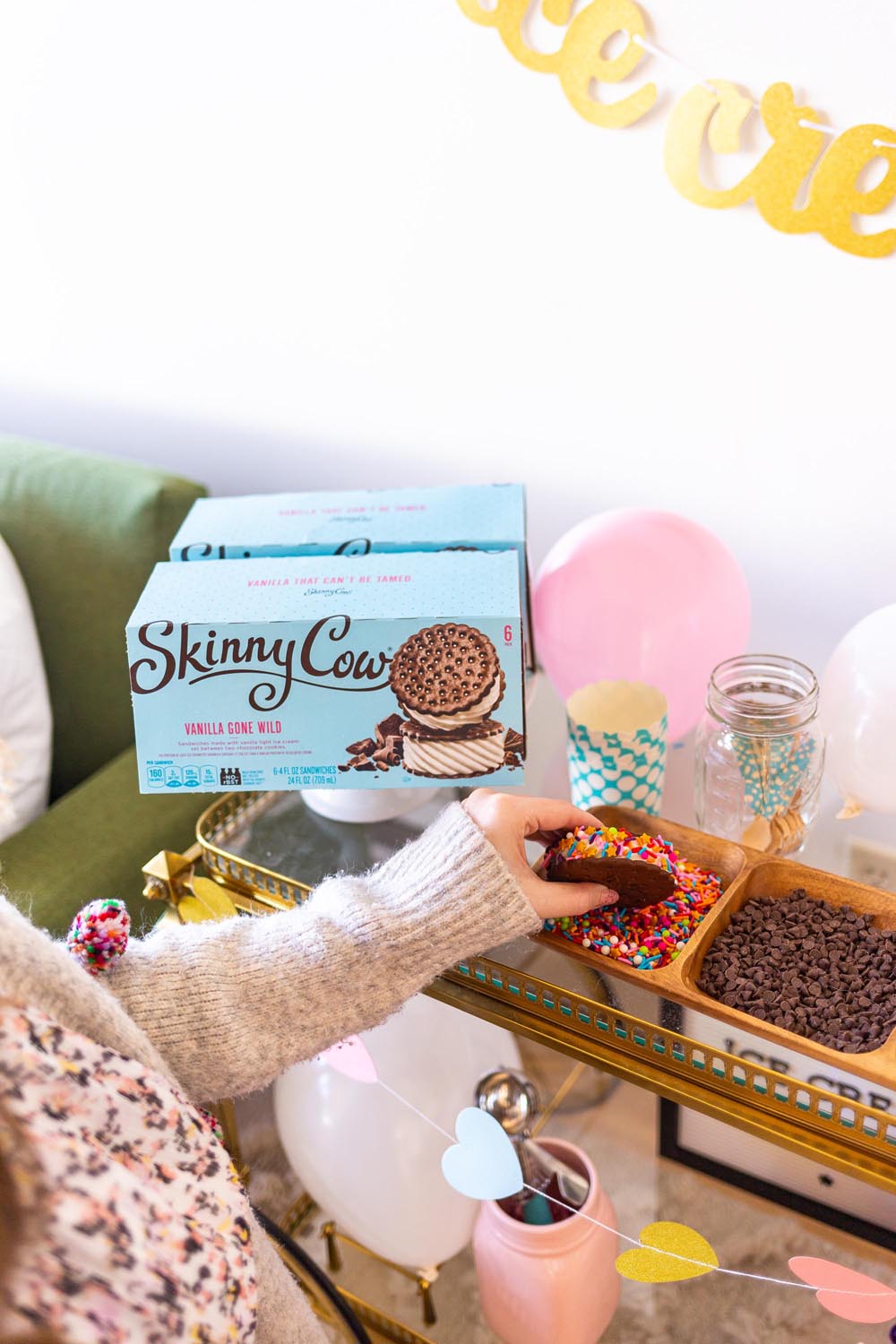 Create a Toppings Bar to Dip Your Ice Cream Sandwiches
After you've set up the decor, it is time to prep your toppings bar! Utilizing a snack tray, I poured in each of my desired toppings so that I can easily roll my ice cream sandwich. You could also use individual bowls or small plates for this purpose.
Once you've dipped and rolled each sandwich, enjoy! To store the sandwiches for later, wrap each sandwich with wax paper and place it inside a freezer-safe bag or storage container.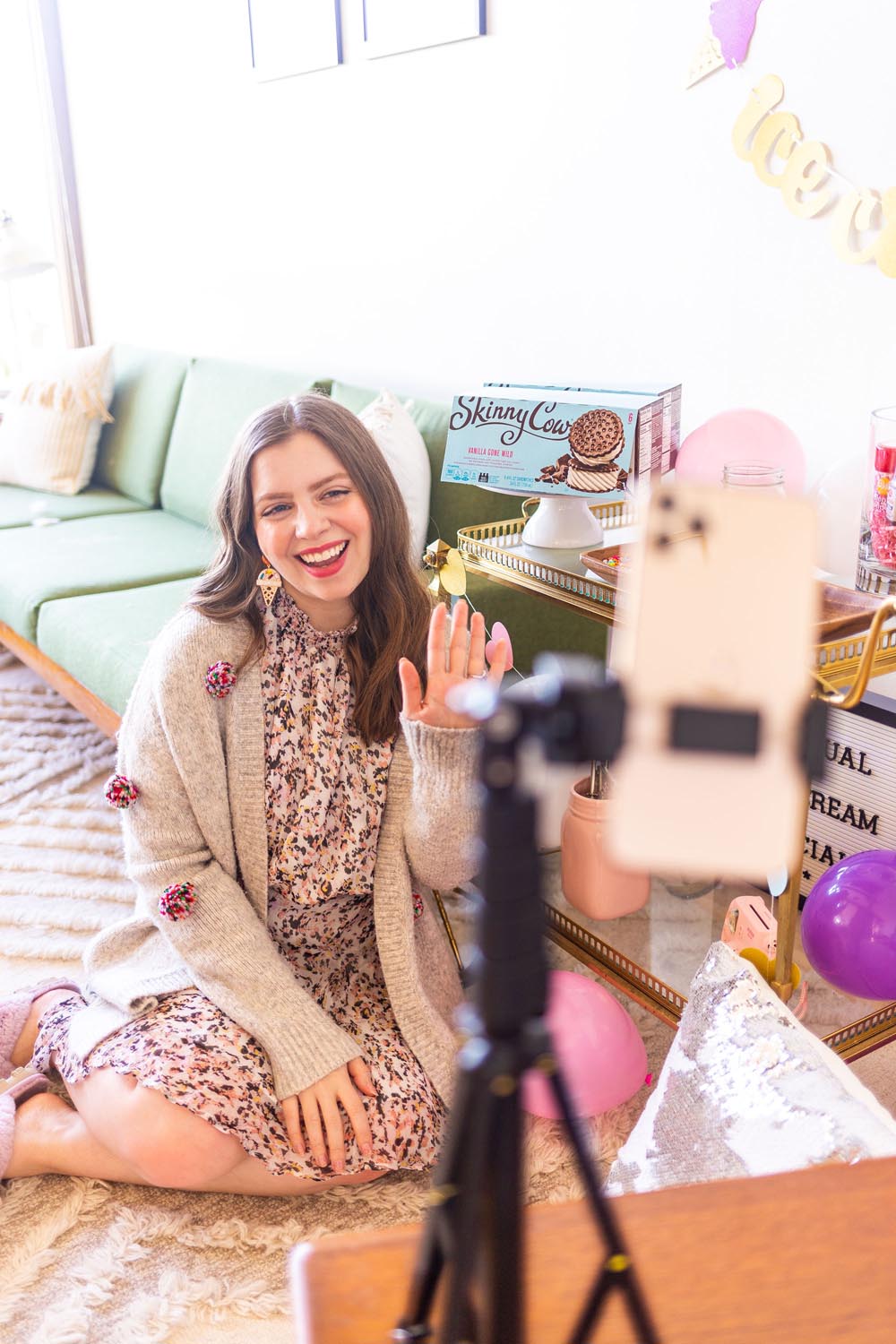 How to Host a Virtual Ice Cream Social
It's party time! Hosting a virtual party is simple and easy, thanks to the multitude of video chat services available for free. My friends and I typically utilize video calling on our phones or video chatting software. If you haven't used these services before, no worries! If you're planning on using video chatting software, you can create a "meeting" and send out the link or number to each of your guests before the party. If using video calling, you can open the app, add each guest, and then place a call with everyone on it.
If you haven't hosted a virtual meeting or event before, I recommend starting a little early and placing a "test call" with a designated party guest. If using video calling, place a call directly to that guest. If you're planning to use video chatting software, you can join the meeting a bit early or create a separate one to get the hang of it. That way, you can get any kinks worked out before everyone joining the fun!
If, like me, you miss hosting friends and family in your home for get-togethers, brunches, and holidays, then why not host a virtual get-together?! A digital ice cream social for an unapologetically indulgent moment shared with a loved one is what we all deserve in 2021.
With a few fun decorations, an internet connection, and a quiet place to enjoy your ice cream, you'll be ready to host an ice cream party in no time! Even better? You can pick up Skinny Cow Ice Cream Sandwiches and everything you need for the best virtual ice cream social from the comfort of your car using Walmart's FREE curbside pick up! It will be the fastest and easiest shopping trip you've ever had.
Have you hosted a virtual gathering with friends and family this year? What topping(s) would you try on your Skinny Cow Ice Cream Sandwich? I'd love to hear about it in the comments below!
---
Looking for Even More At Home Party Ideas? Try these!
Want to Save This Post for Later? Pin it!
How to Host a Virtual Ice Cream Social