It's almost my favorite month of the year, partly because it's my birthday month, but also because it's the month of love! Valentine's Day and Galentine's Day are both coming up quick. Valentine's Day outfit planning is so much fun, and you can never have too much pink and red if you ask me!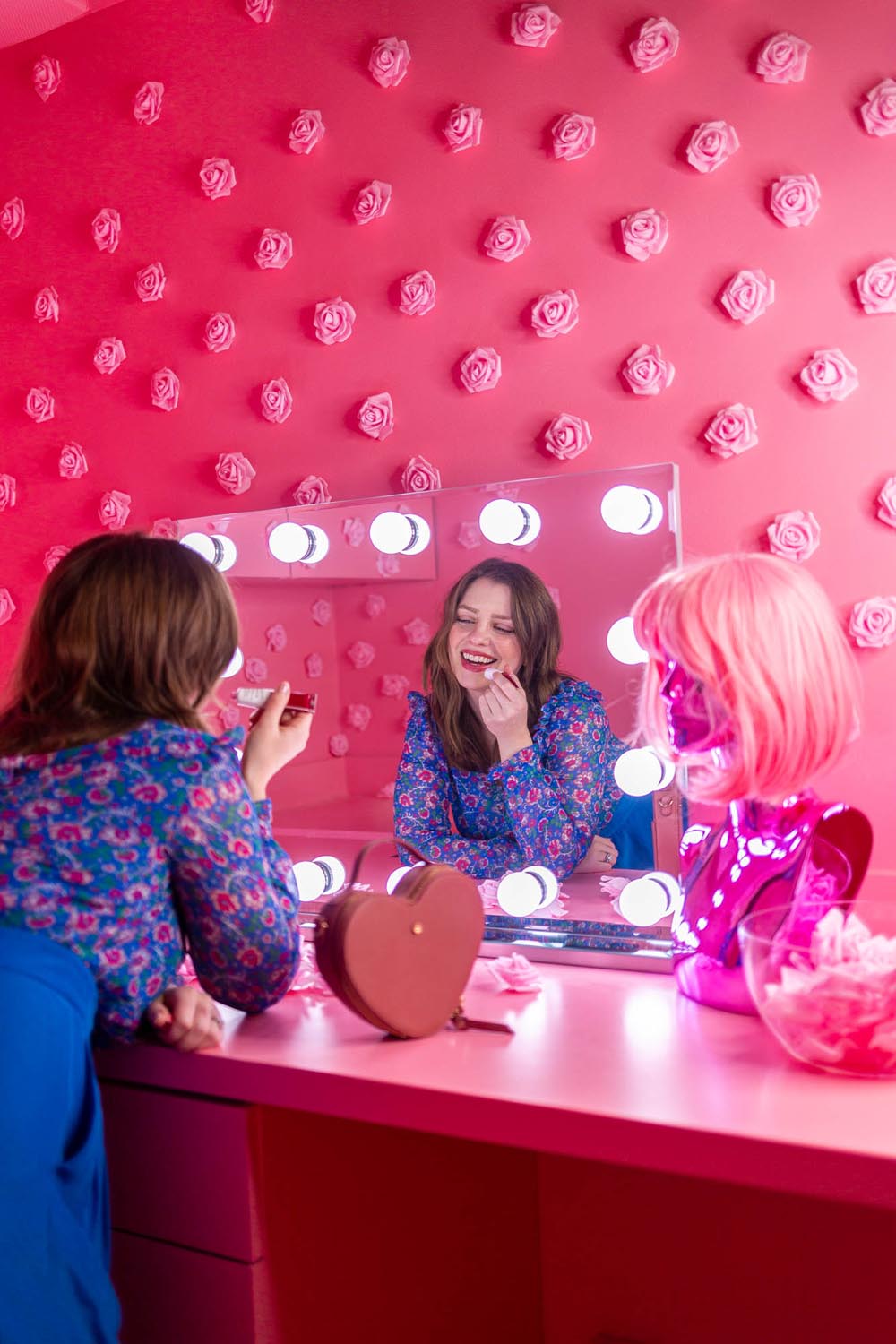 Looking for the perfect Valentines Day outfit? I've got you covered with over 25 outfit ideas for Valentines Day! Since red and pink are two of my favorite colors, I've highlighted tons of different outfit ideas utilizing each of these colors, plus a few less traditional color combos for your Valentines Day fashion inspiration!
If you're looking for some cute Valentines day outfits to get you inspired for the upcoming holiday, then read on!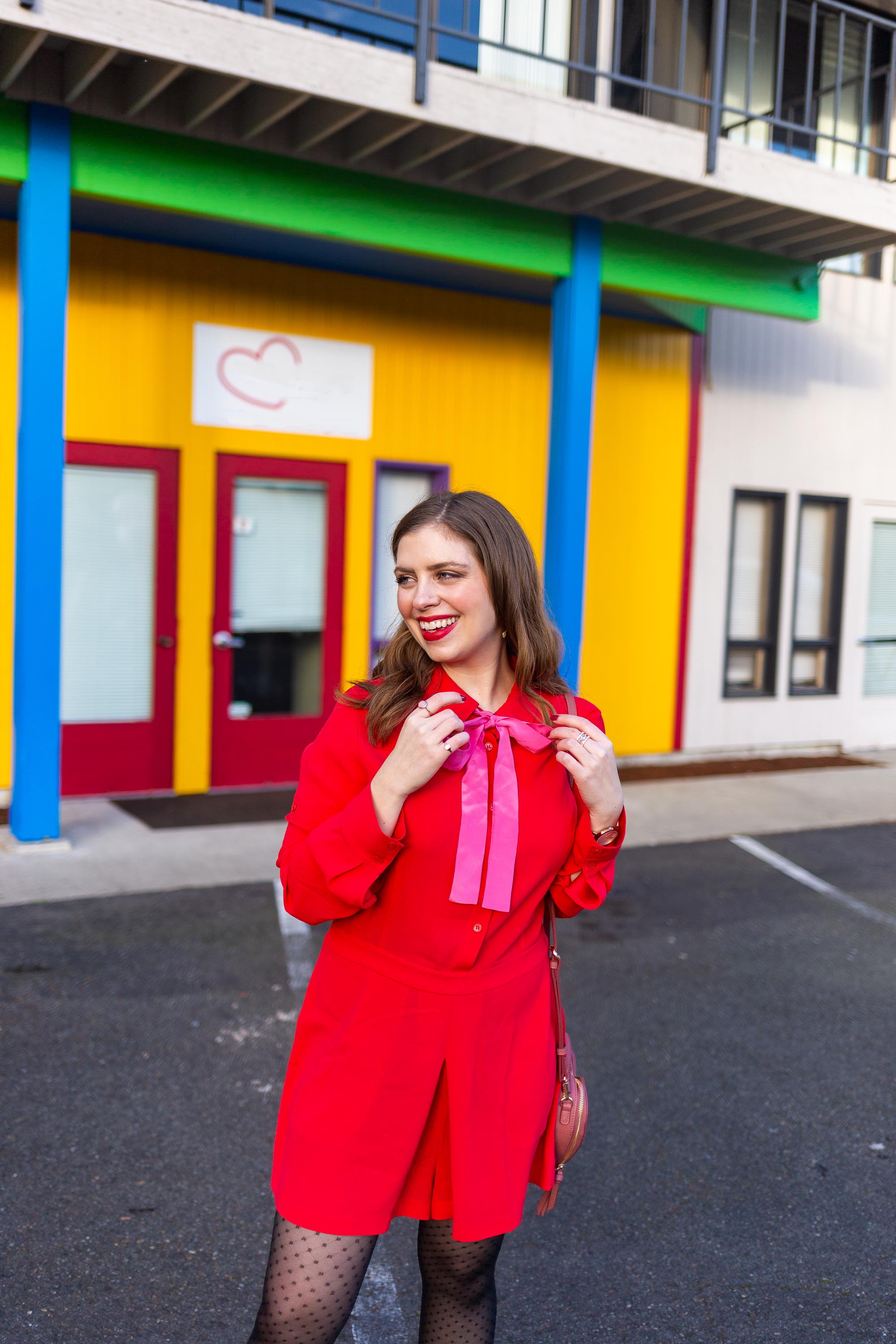 1. Galentine's Day Brunch Outfit
This first outfit is one that I wore a couple of years ago to celebrate Galentine's Day with my gal pals. My friend Sahily hosted us for a beautiful brunch in her home, and we had fun chit-chatting over sweet treats, breakfast eats, and mocktails. To see more about her brunch and how to host a colorful Galentine's party, check out her blog post here!

SHOP THIS OUTFIT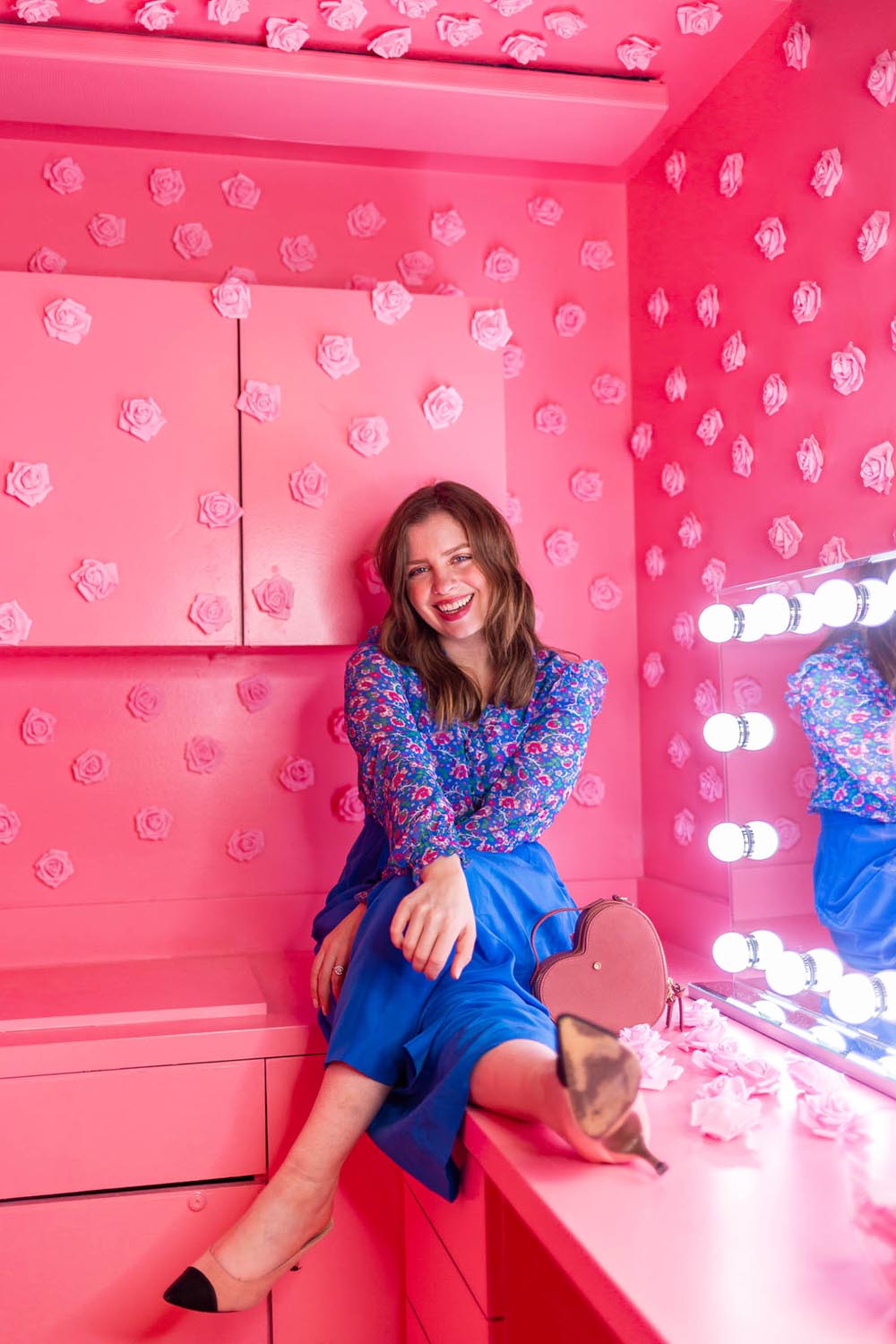 2. Girl's Day Date at Seattle Selfie Museum Valentines Day Outfit
Last year, my friend Sahily and I headed downtown to visit the brand new Seattle Selfie Museum. We packed a couple of outfits and had so much fun snapping photos of each other in the various brightly colored and designed spaces. This bright blue jumpsuit with pink floral and pink accessories was my favorite look! You can see more about the Seattle Selfie Museum on my Instagram Stories highlight here.
SHOP THIS OUTFIT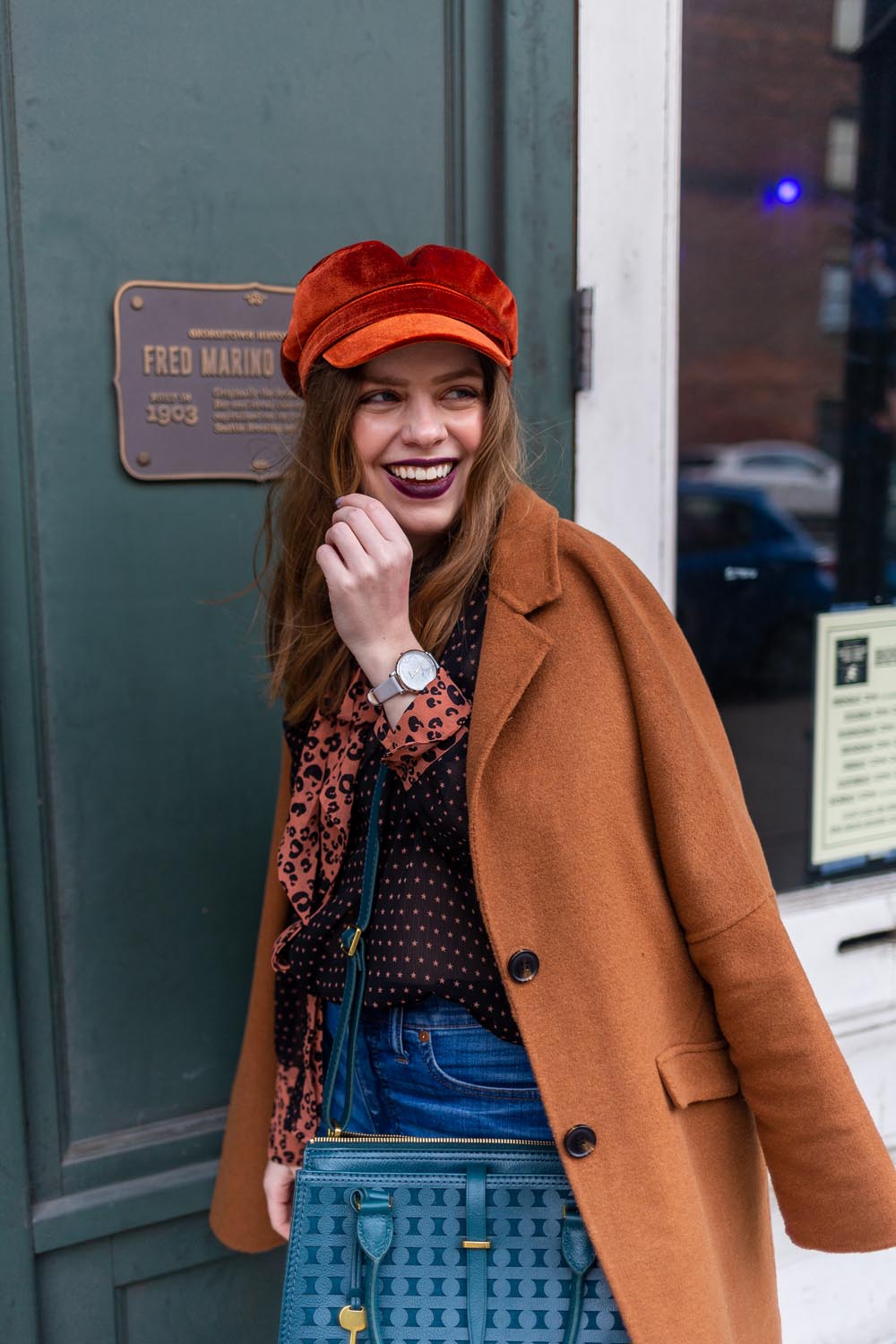 3. Casual Animal Print Valentines Day Outfit
I know not everyone loves pink or red, so I wanted to mix things up for this next outfit idea. For my alternative girls, animal print is a fun way to sneak in some feminine flair! I love this blouse from Scotch and Soda; it's a little sexy (it's sheer) but can be worn with a camisole underneath, or not. I paired it with jeans and a coat (because brr, it's cold here right now!) and my favorite marble Fossil watch.
SHOP THIS OUTFIT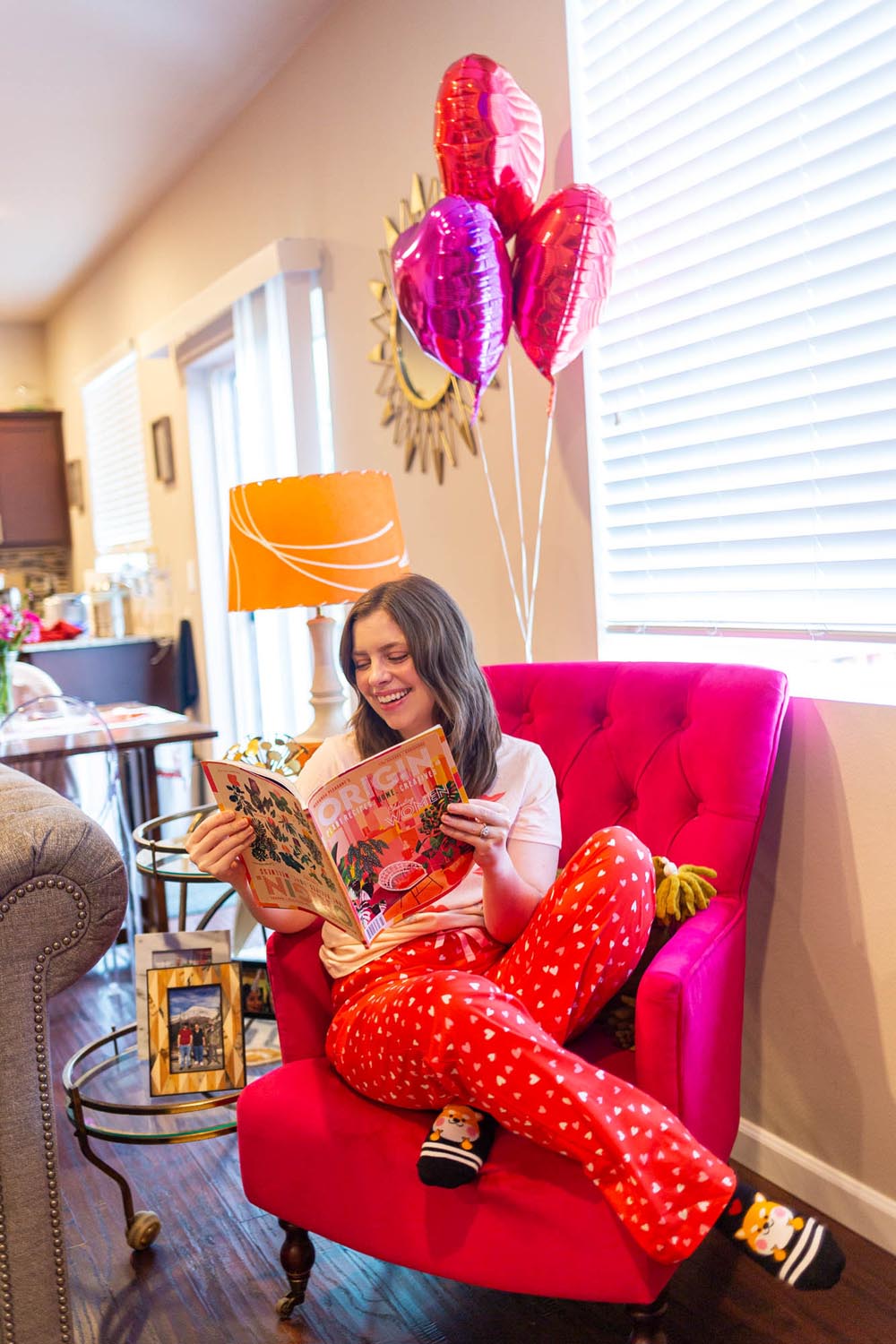 4. Valentines Day Pajamas For Staying In
Staying in this Valentine's Day? Get dressed for the occasion in a cute pair of Valentine's Day pajamas. I found these darling pajama pants at Old Navy. I paired it with a cute pink graphic tee for a cozy Valentine's Day outfit, perfect for lounging at home.
SHOP THIS OUTFIT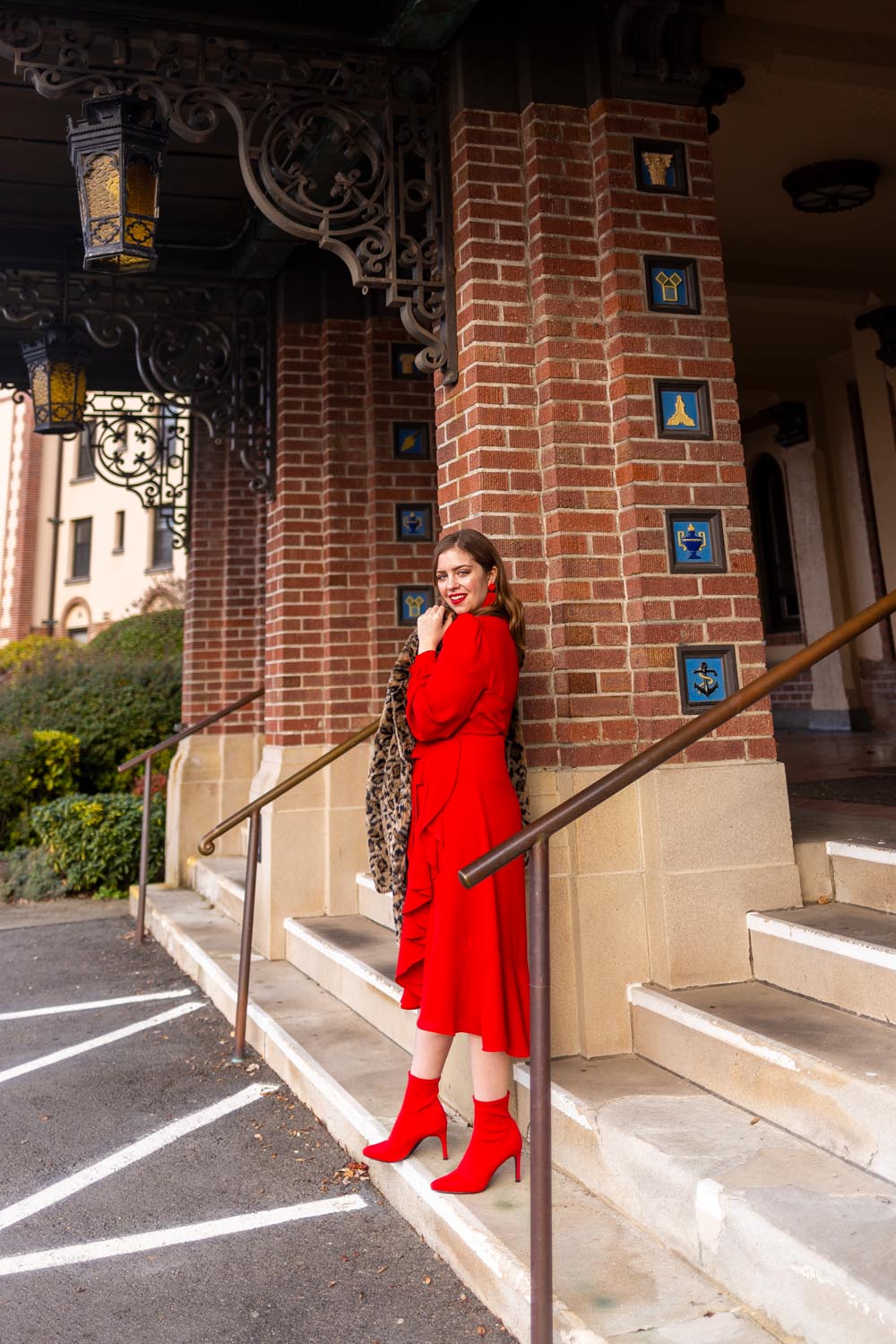 5. Red on Red Valentines Date Outfit
Who doesn't love a good color block outfit?! I sure do, which is why you'll often see me rocking red on red on red. This outfit combines a beautiful red ruffle wrap dress with a pair of splurge-y earrings from Sachin + Babi. Save on a pair of red booties, which you'll wear over and over again if you're a red lover like me. An animal print fur coat ties it all together!
SHOP THIS OUTFIT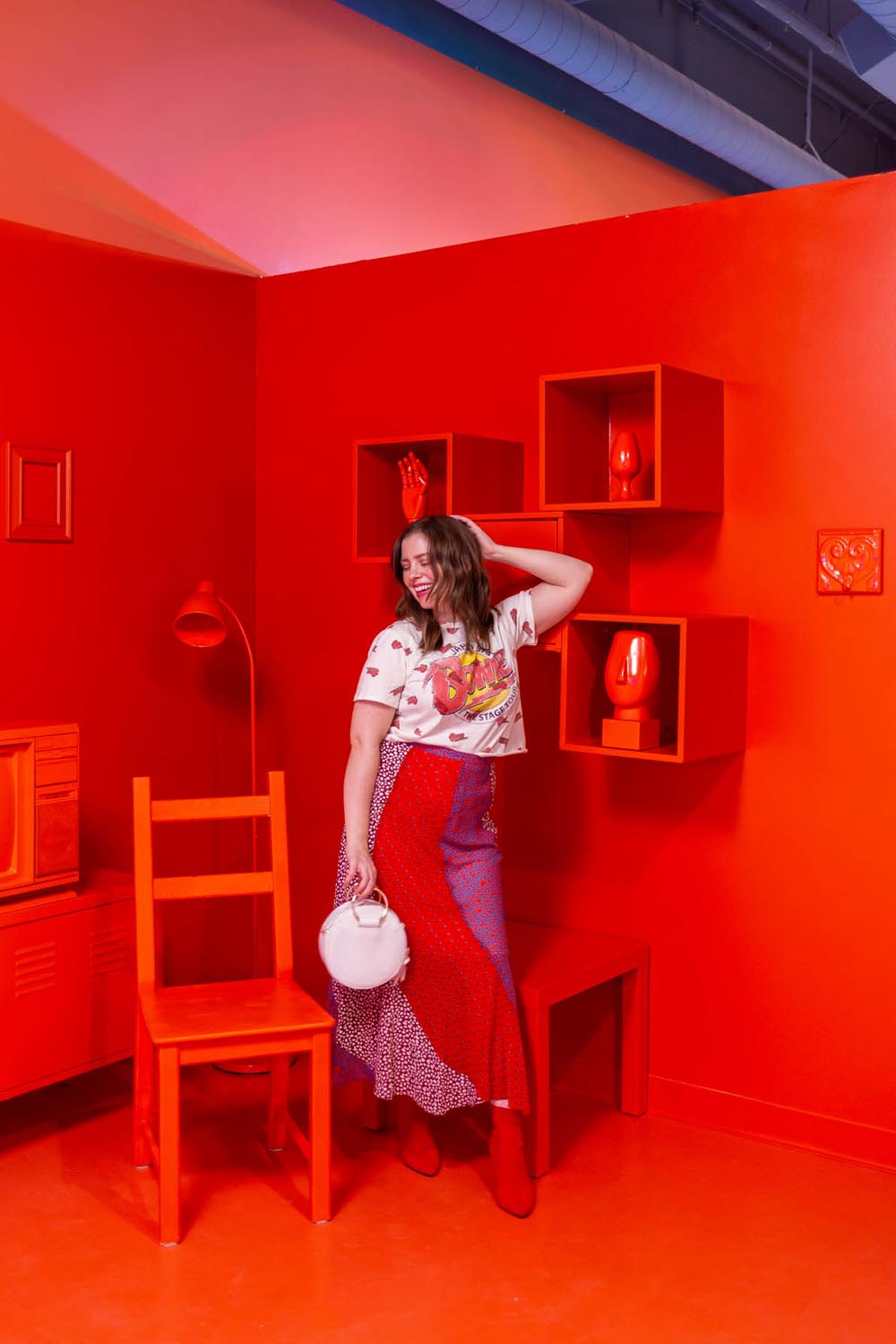 6. Graphic Tee and Patchwork Skirt Valentines Day Outfit
Don't want to get all dressed up for Valentine's day? Pair a dressier piece, like this patchwork skirt, with a more casual graphic tee. I went for a David Bowie Band tee for my casual layer paired with a dressier skirt, boots, and bag. Throw a leather jacket or blazer on top for a night out on the town!
SHOP THIS OUTFIT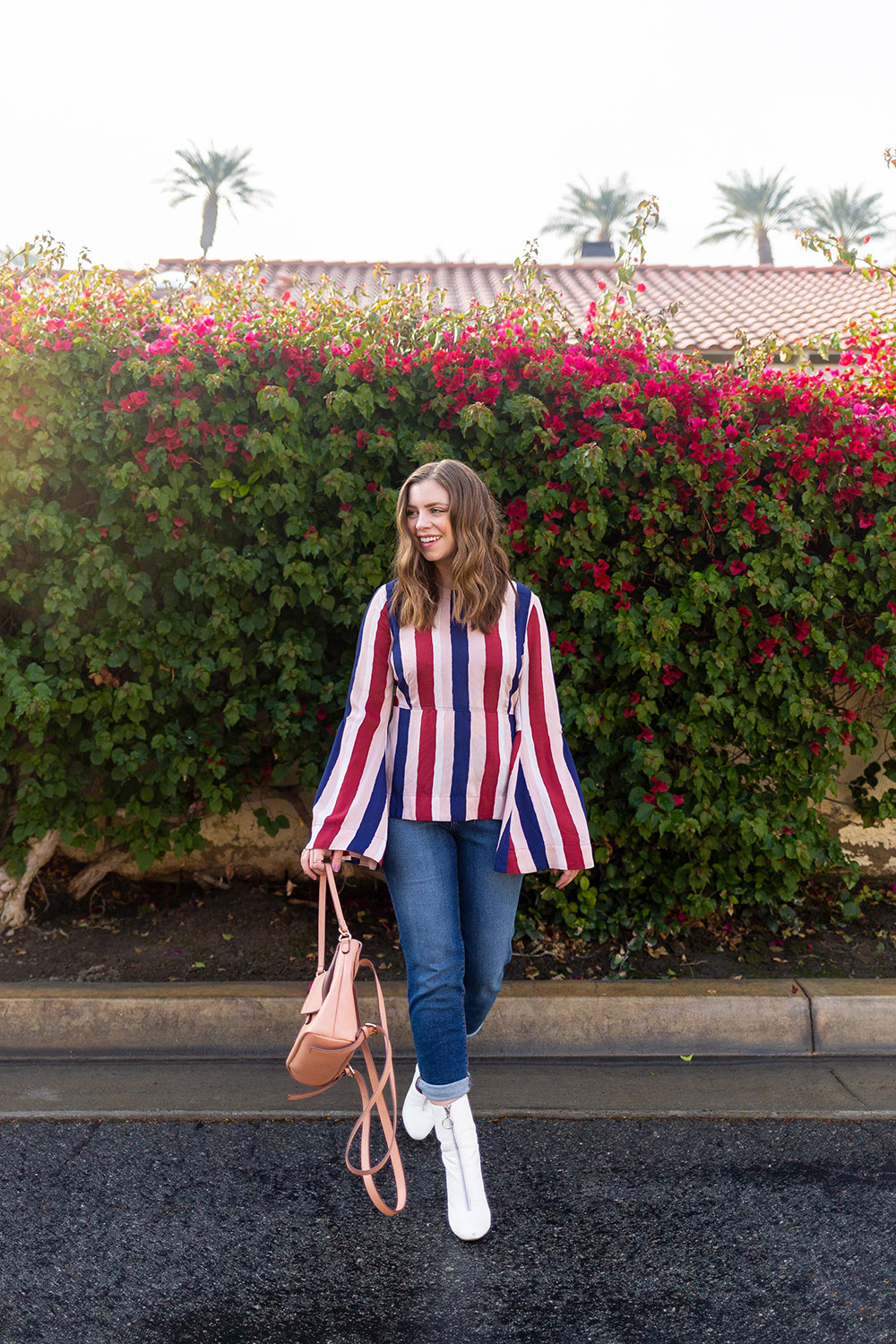 7. Pink and Red Striped Casual Valentine's Day Outfit
For those that can go coatless, rock a statement sleeved blouse for Valentine's Day! I borrowed this fun striped blouse with my Armoire subscription and I love the pink, red, and navy colors as a fun nod to the Valentine's Day holiday. A pair of mom jeans, mod white boots, and a pink backpack make this look complete (and comfy casual!)
SHOP THIS OUTFIT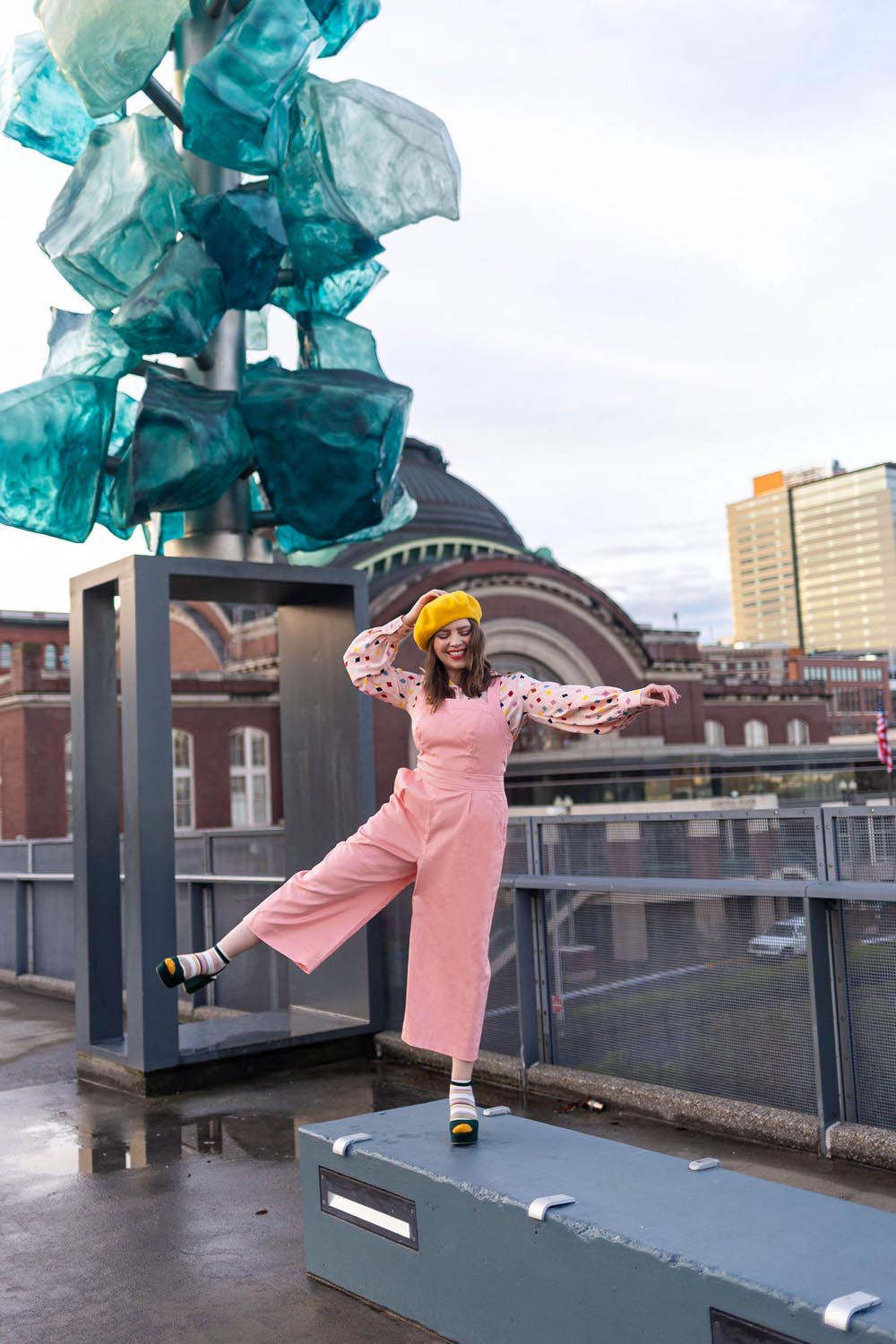 8. Quirky Valentine's Day Outfit
Show off your personal style this Valentine's Day with a quirky outfit that matches your personality. I paired a pink jumpsuit with a diamond print blouse, striped socks, and a coordinating beret for a recent visit to Tacoma, WA. I love how funky and unique this look is, and it definitely speaks to my colorful and quirky personality!
SHOP THIS OUTFIT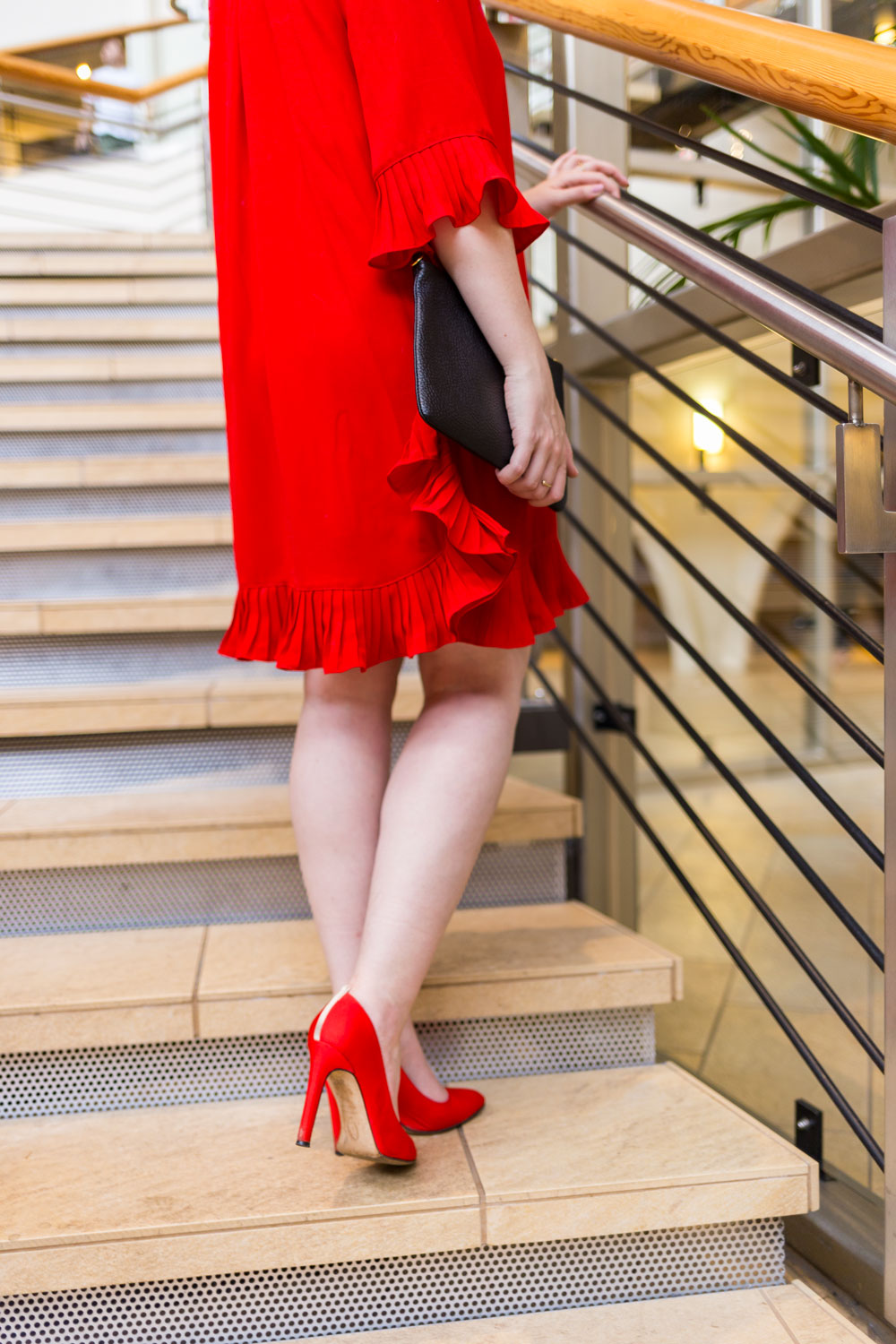 9. Ruffle Valentines Dinner Outfit
Who has dinner plans on Valentine's Day? While we usually stay in for V-Day, I know most couples enjoy a night on the town. If so, wear a flirty little red dress with ruffles and a pair of bright red heels to match! The best thing about this swing dress shape is that you can eat as much pasta and dessert as you want. ;)
SHOP THIS OUTFIT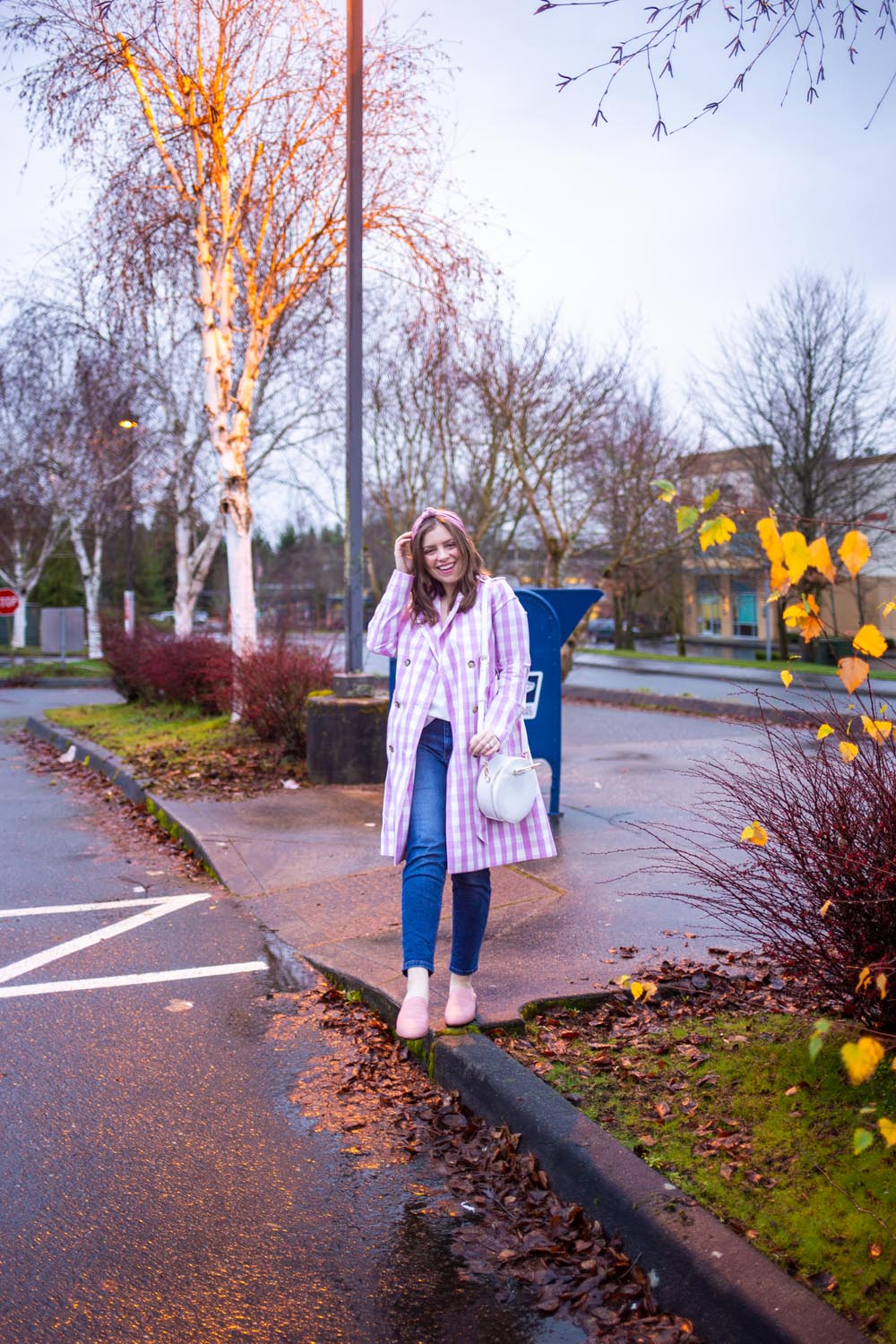 10. Pink Gingham for Valentine's Day
Pick a fun topper for your Valentine's Day style! This pink gingham trench coat is the perfect statement piece for a holiday like Valentine's Day. I paired it with my favorite comfy jeans, plus color-coordinated leather mules and a headband!
SHOP THIS OUTFIT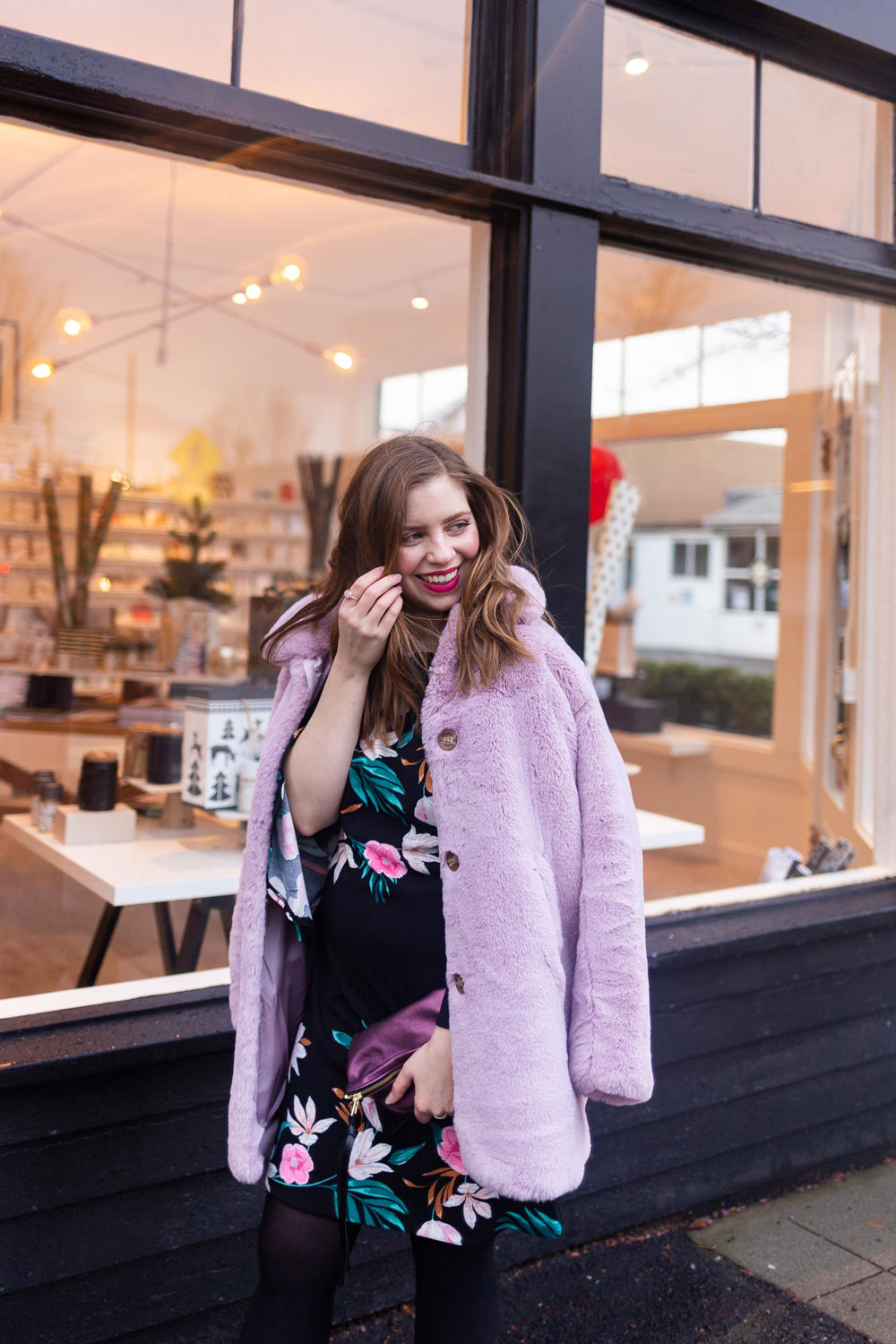 11. Lilac Valentine's Day Date Outfit
You might recognize this look from my New Year's brunch with my blogger girls a couple of years ago, and you'd be right! I know not everyone loves red or pink, so why not try a pretty lilac or light purple instead? This faux fur coat really makes a statement, and I love the feminine floral of this dress. Pop your essentials into a clutch from Chelsea Yaley, add a pair of black tights to keep your legs warm, and you'll be ready for a Valentine's Day date!
SHOP THIS OUTFIT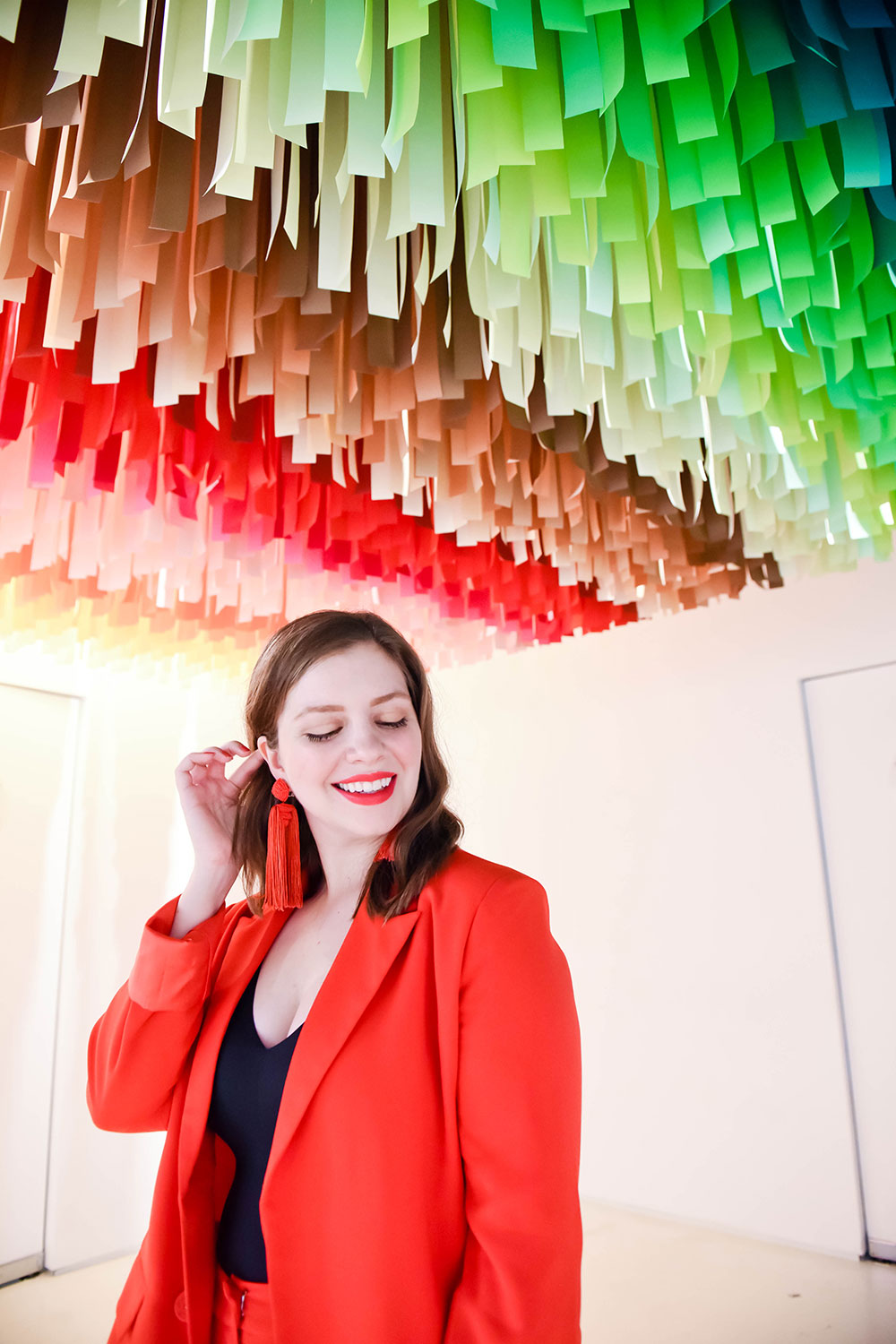 12. Valentine's Day Work Outfits Featuring a Red Pantsuit
Want to show your Valentine's Day spirit at the office? Why not put together a Valentine's Day work outfit?! All you need is a red pantsuit!
Ok, ok, I get that might not be practical for everyone. However, another great option to spice up your office look is to tie on a red, pink, or colorful neck scarf. I've linked a few fun options below!
SHOP THIS OUTFIT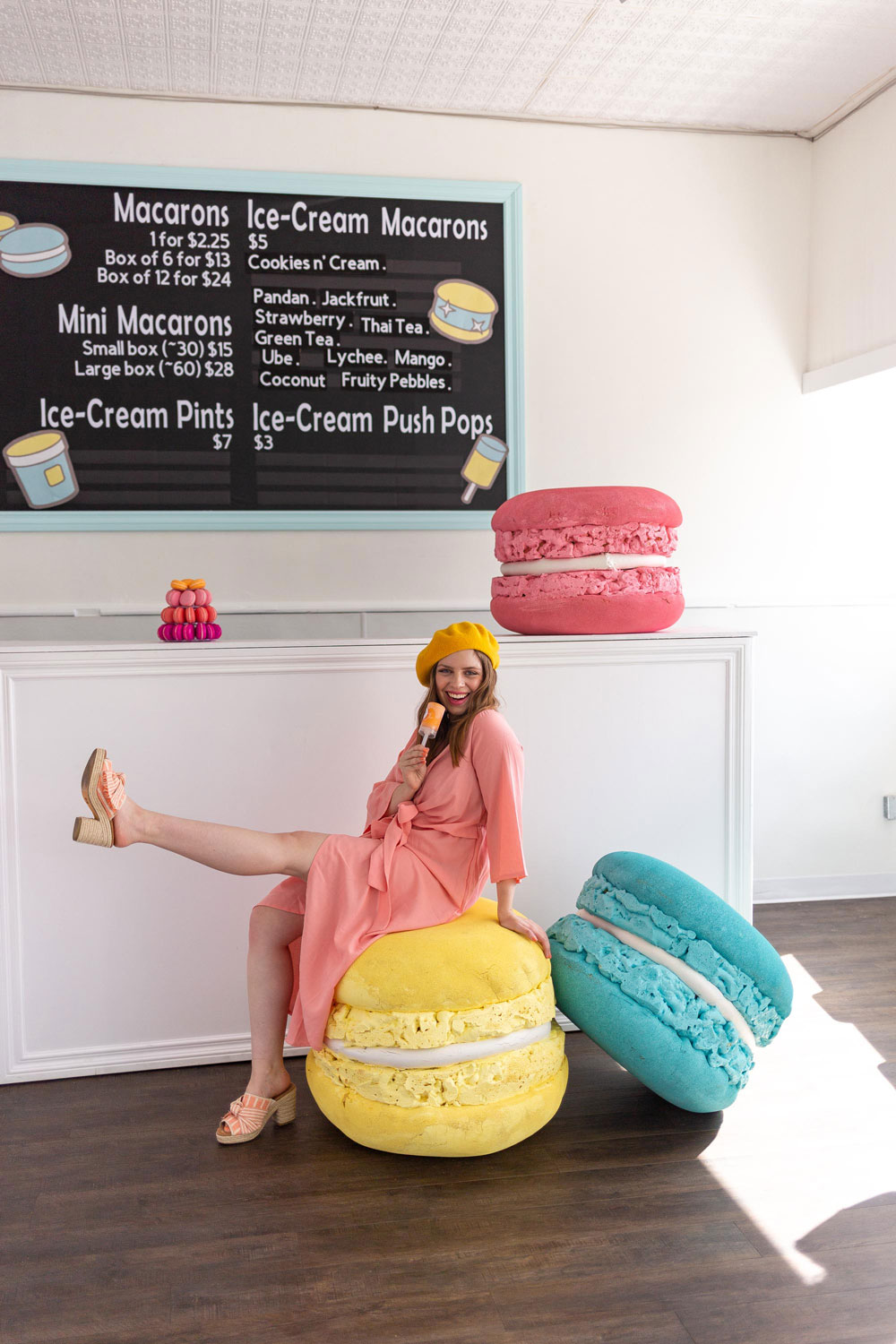 13. Pink and Yellow Outfit for Valentine's Day
If you love pink but aren't so crazy about red, another color combination that I love is pink and yellow! Pair a pink dress or blouse with yellow accessories. A mustard-colored beret looks amazing with a wide variety of pink tones!
SHOP THIS OUTFIT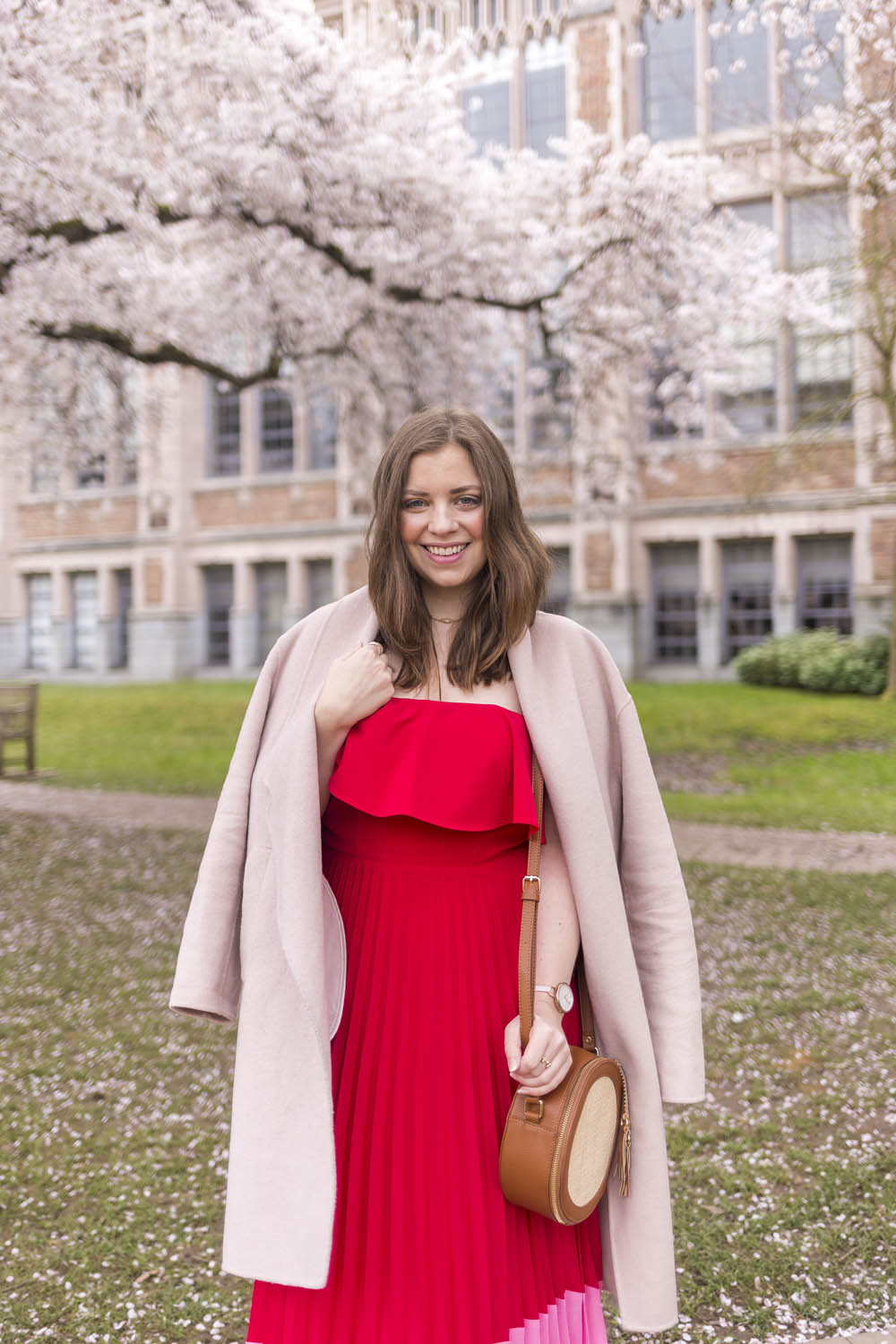 14. Valentine's Day Date Outfit Idea
Heading out on a date this Valentine's Day? There's no reason to avoid your favorite spring dresses. Just add a coordinating winter coat and you'll be good to go. I loved pairing this light pink coat with this two-toned dress last spring! It was chilly when we went to see the Cherry Blossoms at the University of Washington Quad so this coat was a lifesaver.
SHOP THIS OUTFIT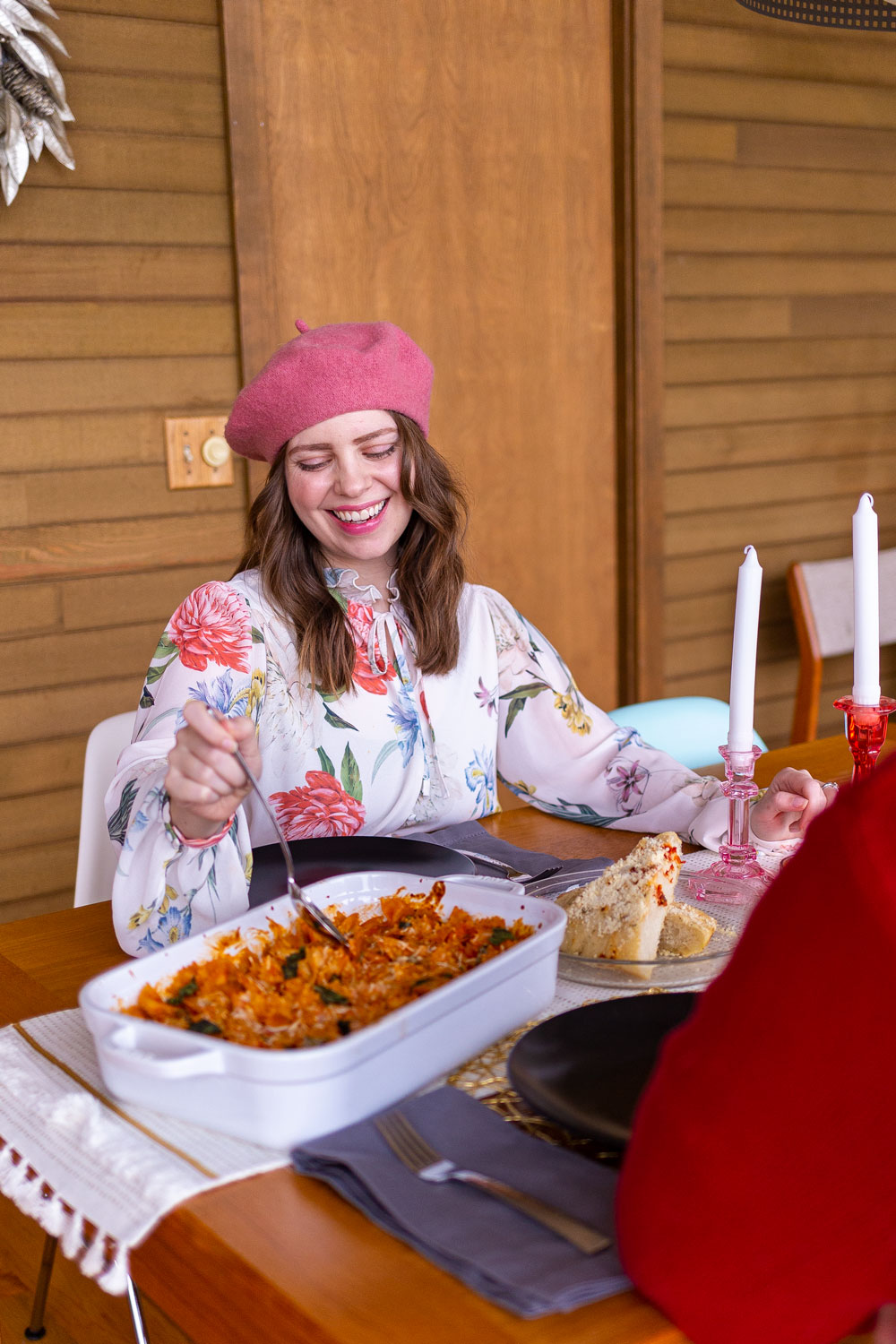 15. Romantic Outfit for an At-Home Valentine's Date Night
Staying in this Valentine's Day? I think most of us will be this year! Last year, we loved staying in and having a date night at home with this delicious, comforting pasta dish! Even if you're staying in, there's no reason not to get a little dressed up. I paired this ruffle floral print dress with a pink beret to create a sweet and romantic Valentine's Day outfit!
SHOP THIS OUTFIT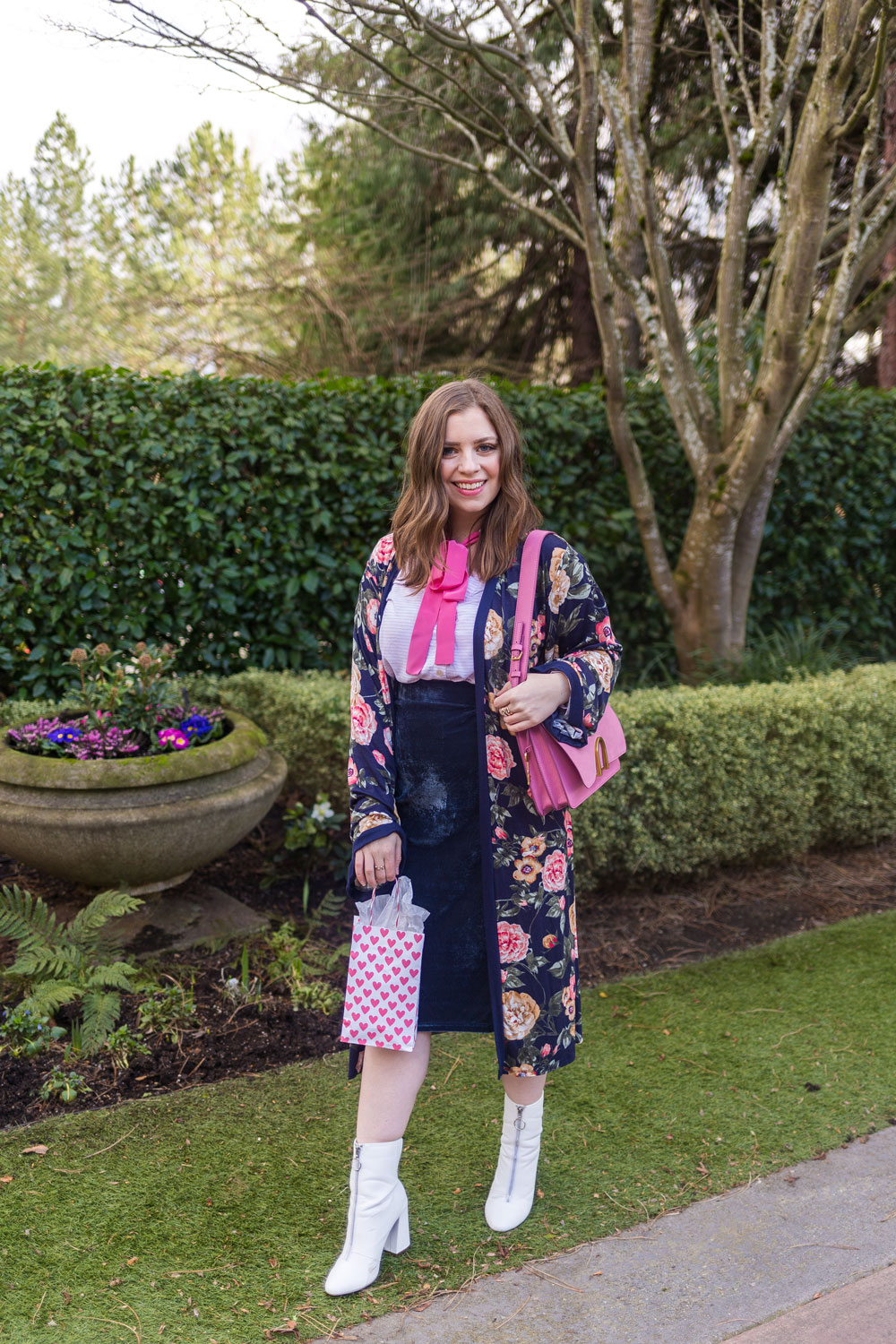 16. Put a Bow on It Valentine's Day Outfit
If neutrals are more of your thing, just add a pop of pink! A pink shoulder bag and this cute necktie from Andie & Erin make the perfect accessories to this navy floral look.
SHOP THIS OUTFIT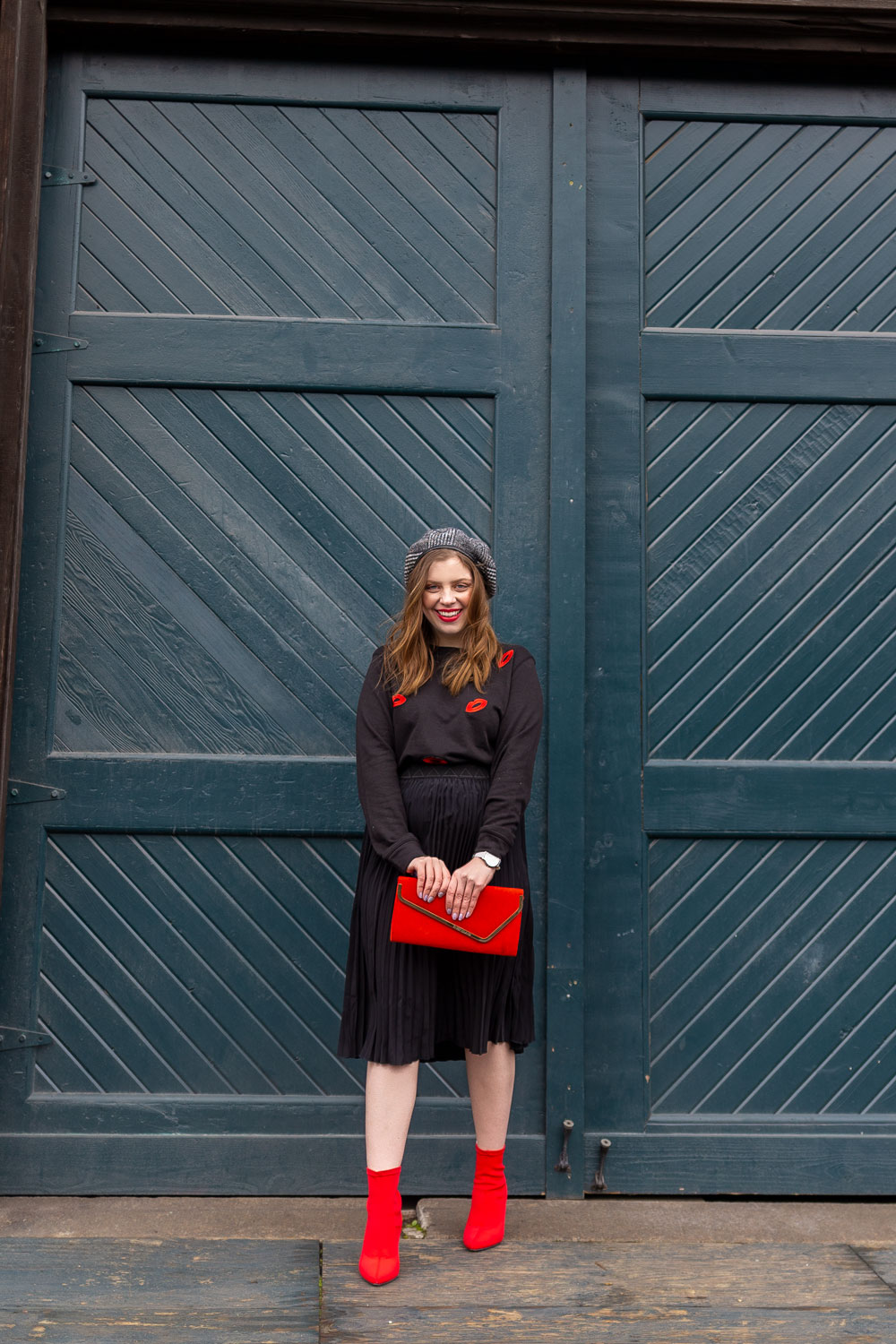 17. Lips Valentine's Day Outfit
A cozy lip embellished sweatshirt pairs perfectly with a pleated skirt. Add a pop of red and you'll be set for Valentine's Day! My accessories really add just the right amount of red to this mostly black outfit!
SHOP THIS OUTFIT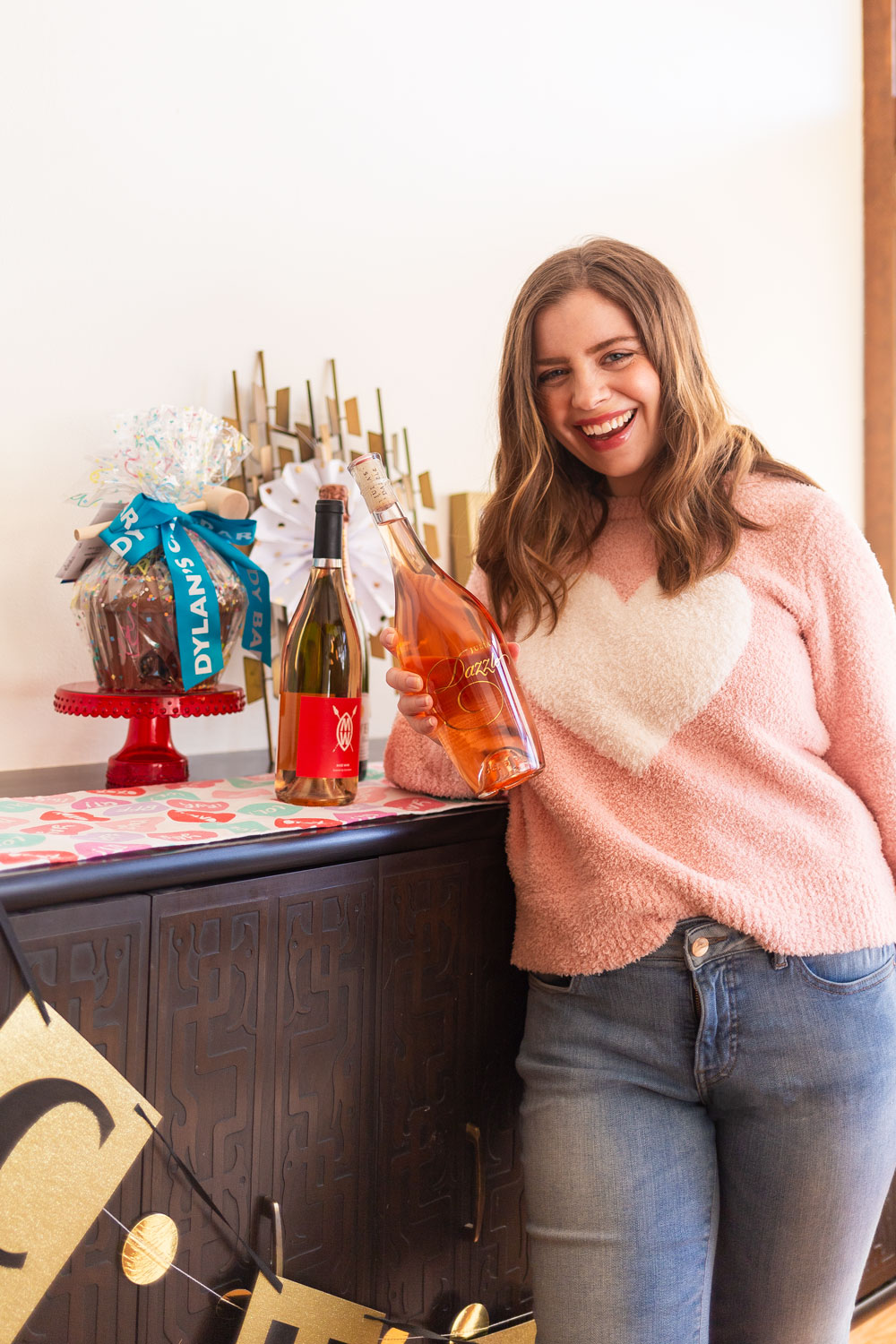 18. Fuzzy Sweater Casual Valentine's Day Outfits
Staying in for Valentine's? Cozy up in this fuzzy heart sweater that's totally budget-friendly. I saw it online and had to order it! It's so soft that I'm tempted to live in it 24/7.
SHOP THIS OUTFIT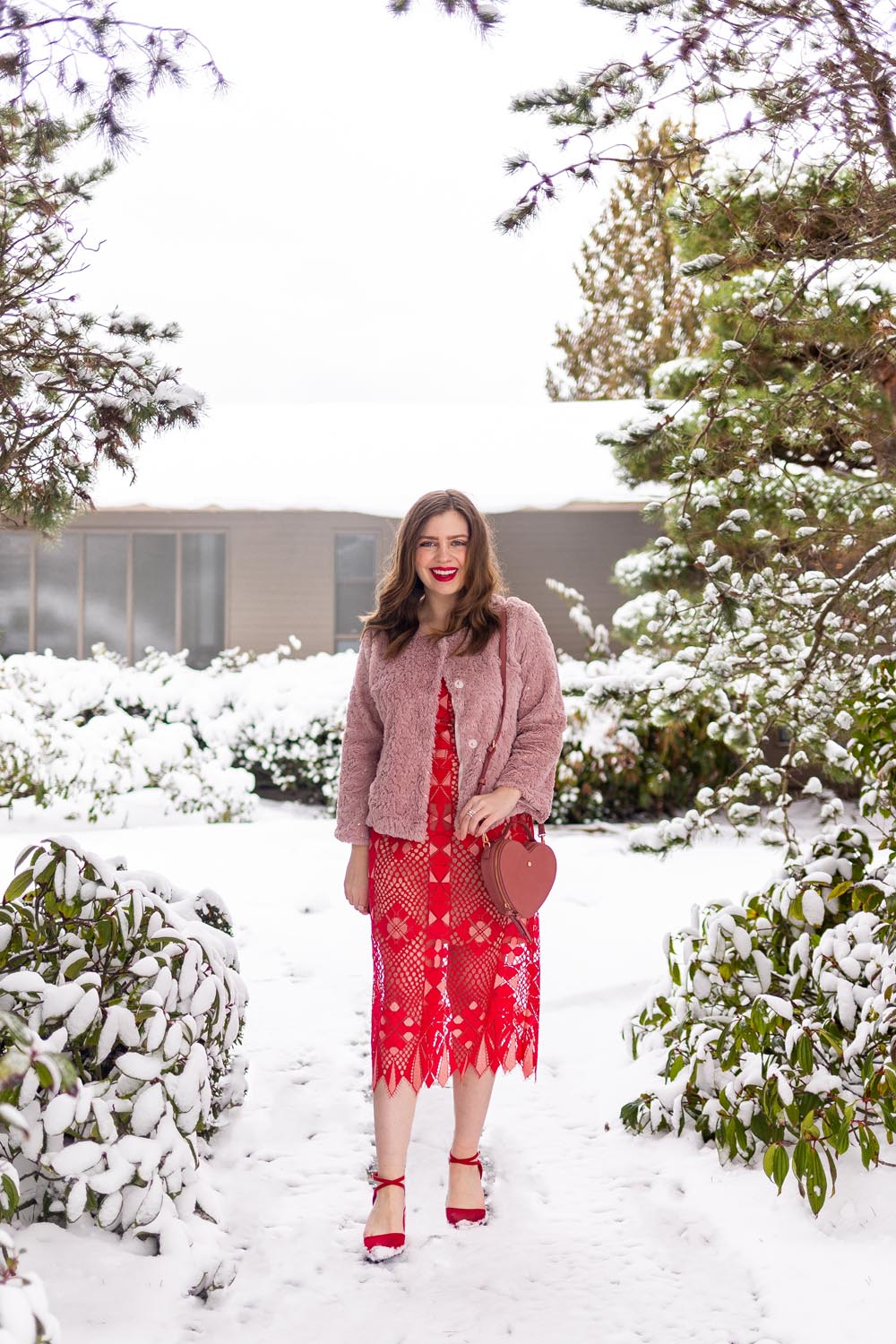 19. Valentine's Day Dinner Outfit
A few years ago, we were snowed in around Valentine's Day. What's a girl to do? Put on her Valentine's Day Dinner Outfit idea and head outside to document it, of course! This dress is one I picked out a few years ago to celebrate my birthday (thanks, Dave!) and I've updated it with a faux fur jacket, heart bag, and a pair of red heels.
SHOP THIS OUTFIT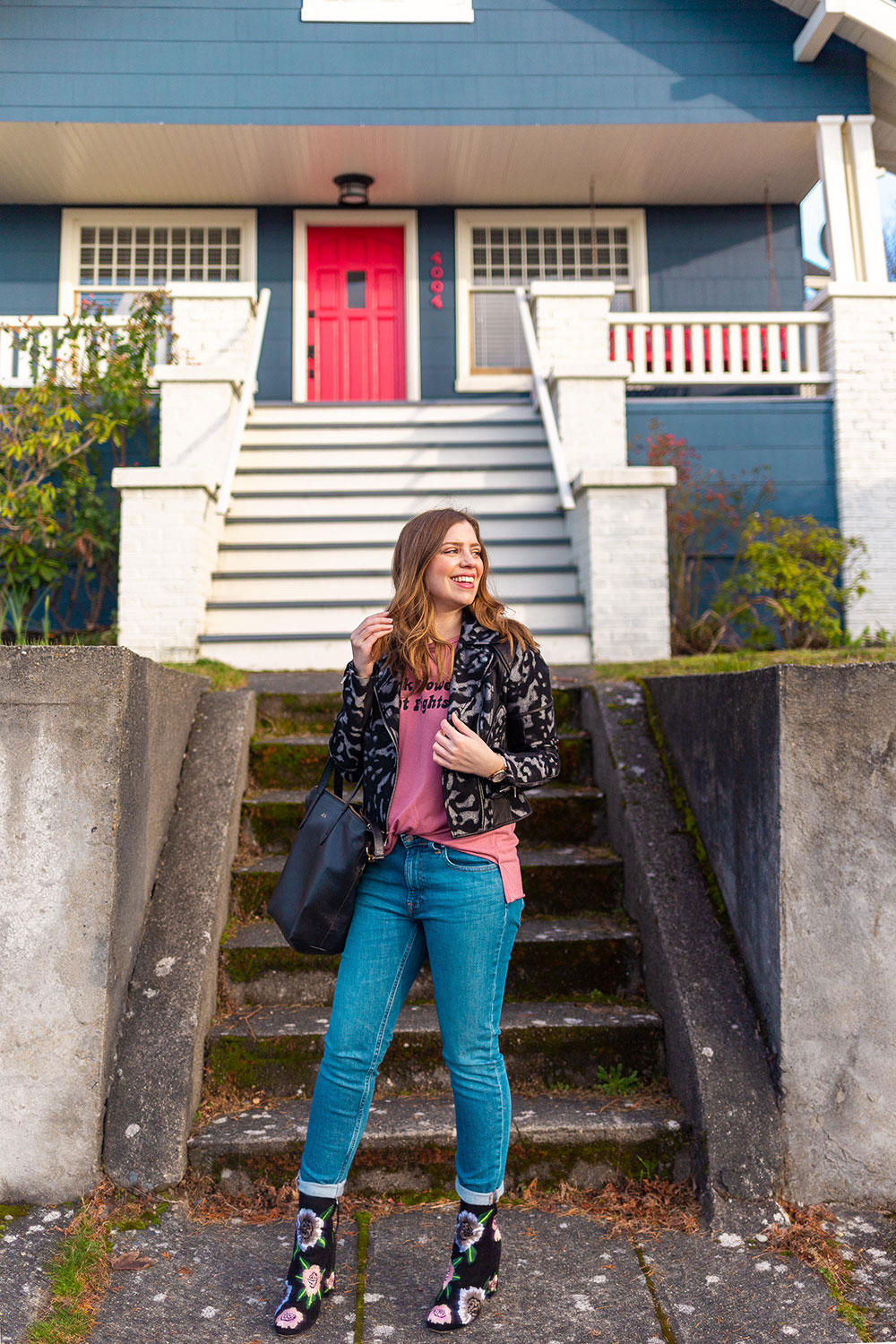 20. Cute Casual Valentine's Day Outfits with a Graphic Tee
For a cute and casual Valentine's Day outfit, why not pick a graphic tee? Mine says "Pick flowers, not fights" which is always a good choice for Valentine's Day. This look doesn't scream Valentine's, which makes it the perfect casual outfit for whatever you're up to!
SHOP THIS OUTFIT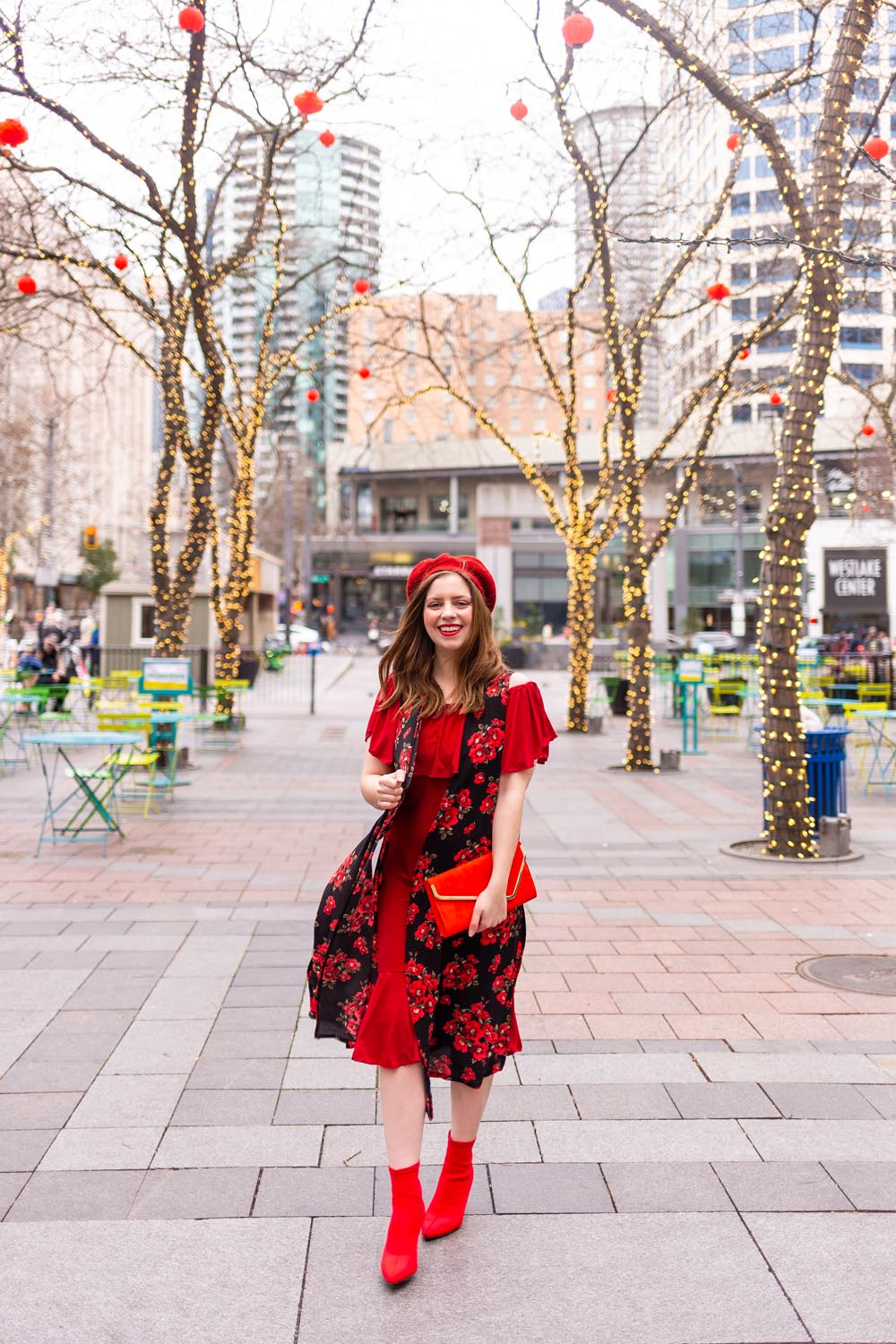 21. Floral Valentine's Day Fashion Look
This outfit reminds me of the red dancer emoji! 💃🏻 I love the ruffled, off-the-shoulder sleeves of this dress, and paired with a red floral vest it is just perfection! Add your favorite red accessories to this date night outfit and you'll be set.
SHOP THIS OUTFIT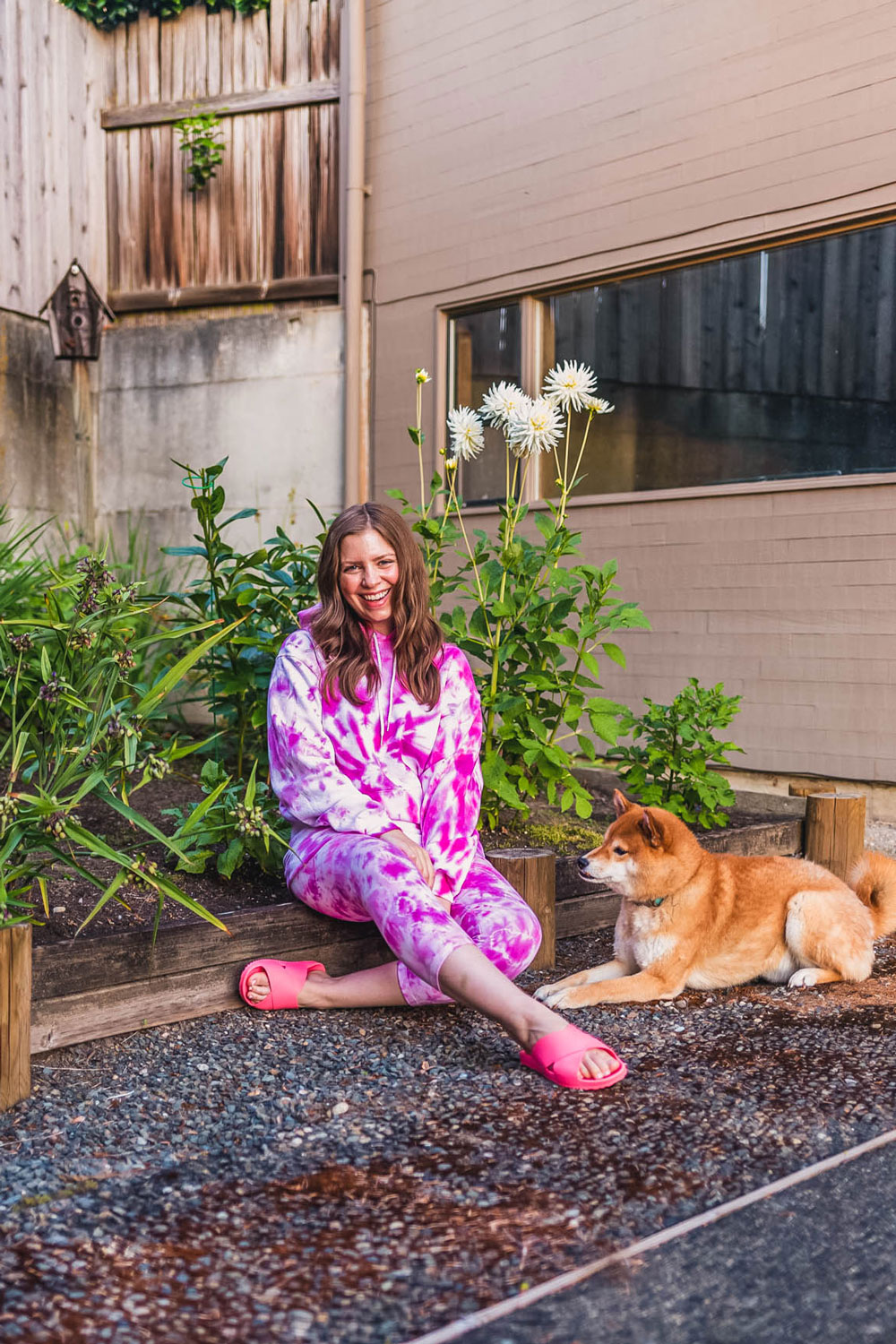 22. Rock a Tie Dye Loungewear Set for Valentine's Day
Anyone else been living in loungewear sets as of late? I created this tie-dye set several months ago. I'm linking all the supplies you need to make your own below, or a few already-tie-dyed sets if you're not into DIYing your own. ;)
SHOP THIS OUTFIT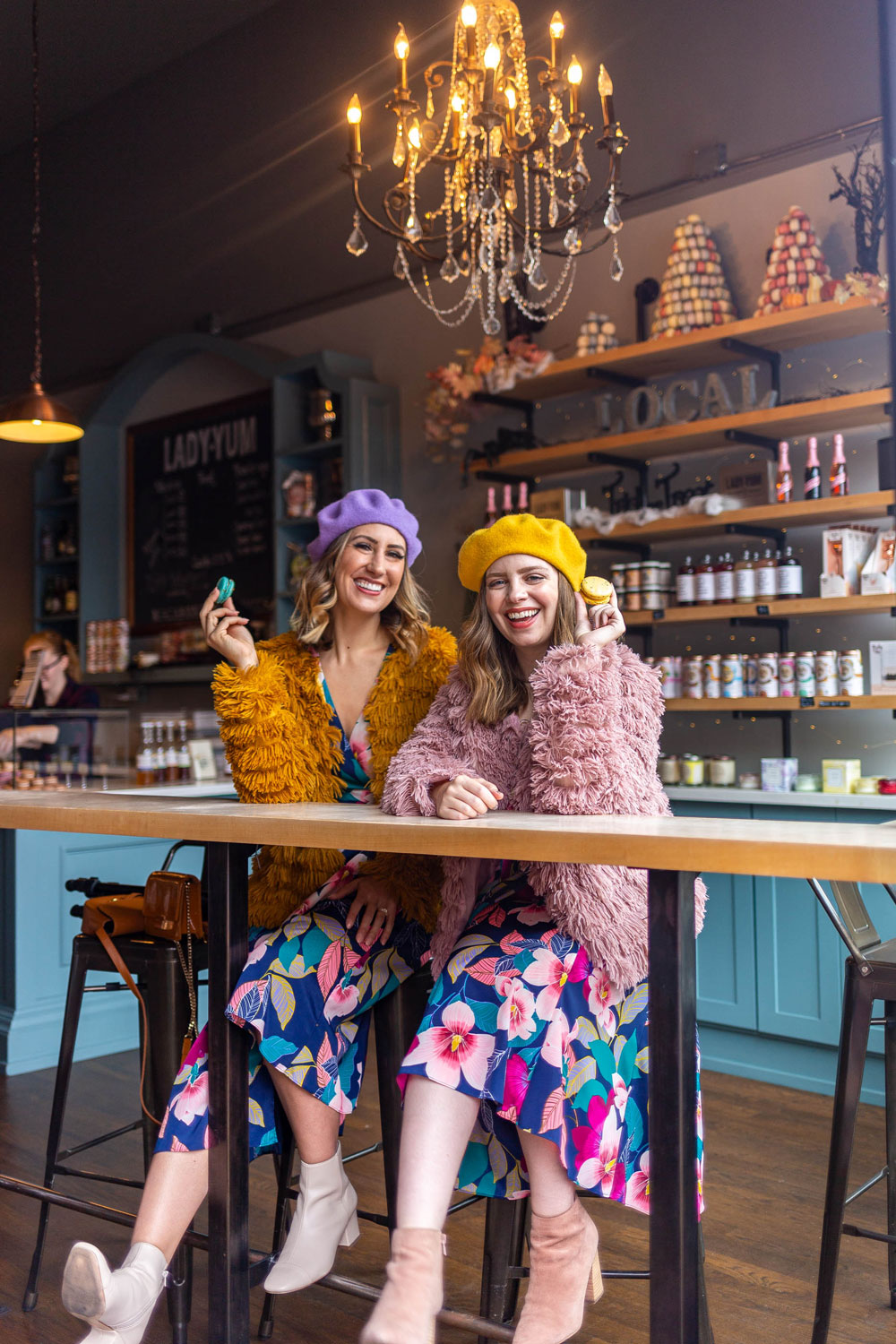 23. Twin with your Bestie in Cute Valentine's Day Outfits (Kirkland Lady Yum)
When visiting Kirkland, WA, my friend Megan and I thought it would be fun to dress up in coordinating outfits for a visit to Lady Yum, a darling macaron shop. Why not coordinate outfits with your bestie in time for Galentine's Day?!
SHOP THIS OUTFIT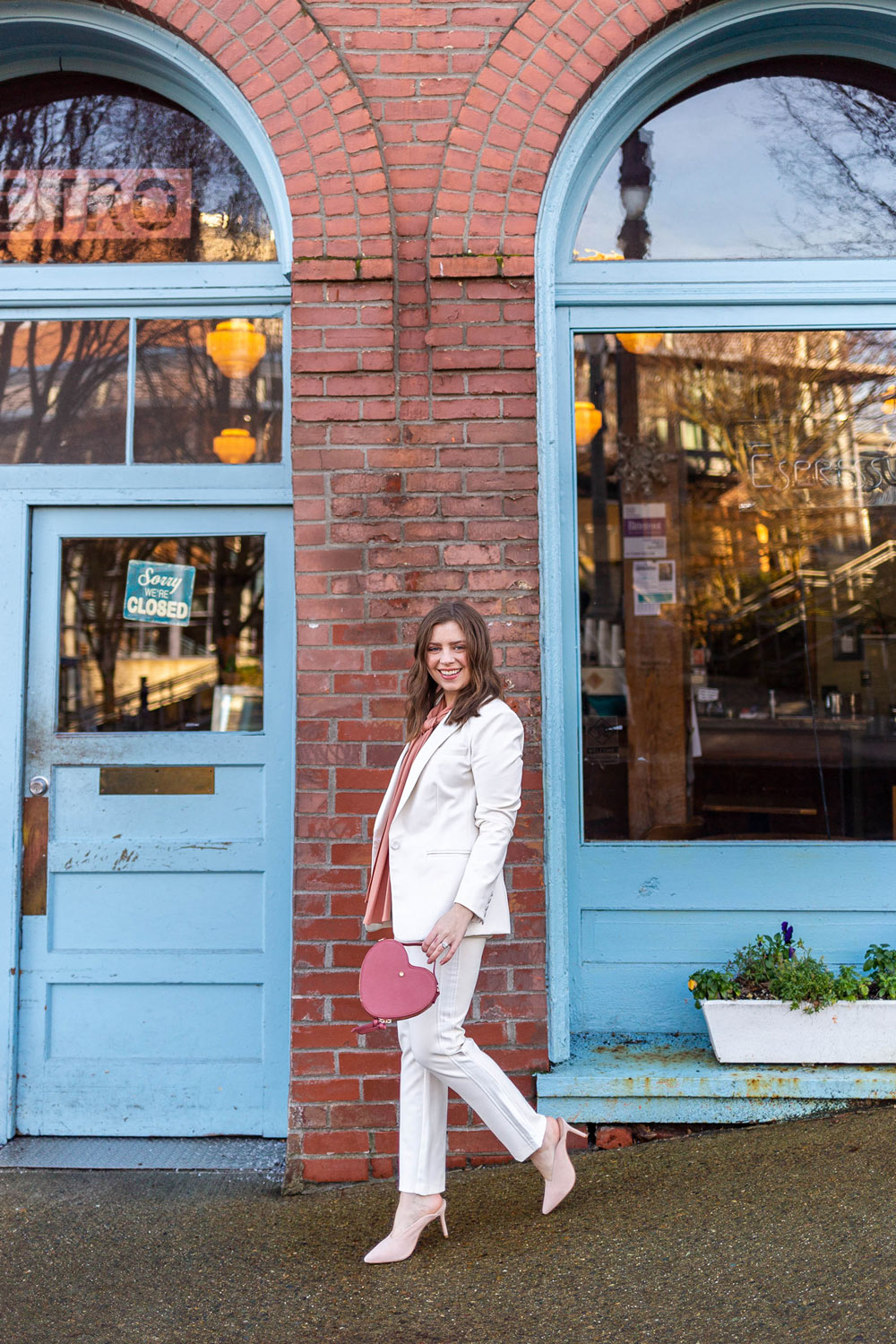 24. Not into Dresses? Rock a Pantsuit with a Pop of Pink for Valentine's Day
Love a classic pantsuit? Grab your favorite pantsuit and add a pop of pink. or red. I paired this classic white suit with a pink tie blouse and heart bag for Valentine's Day,
SHOP THIS OUTFIT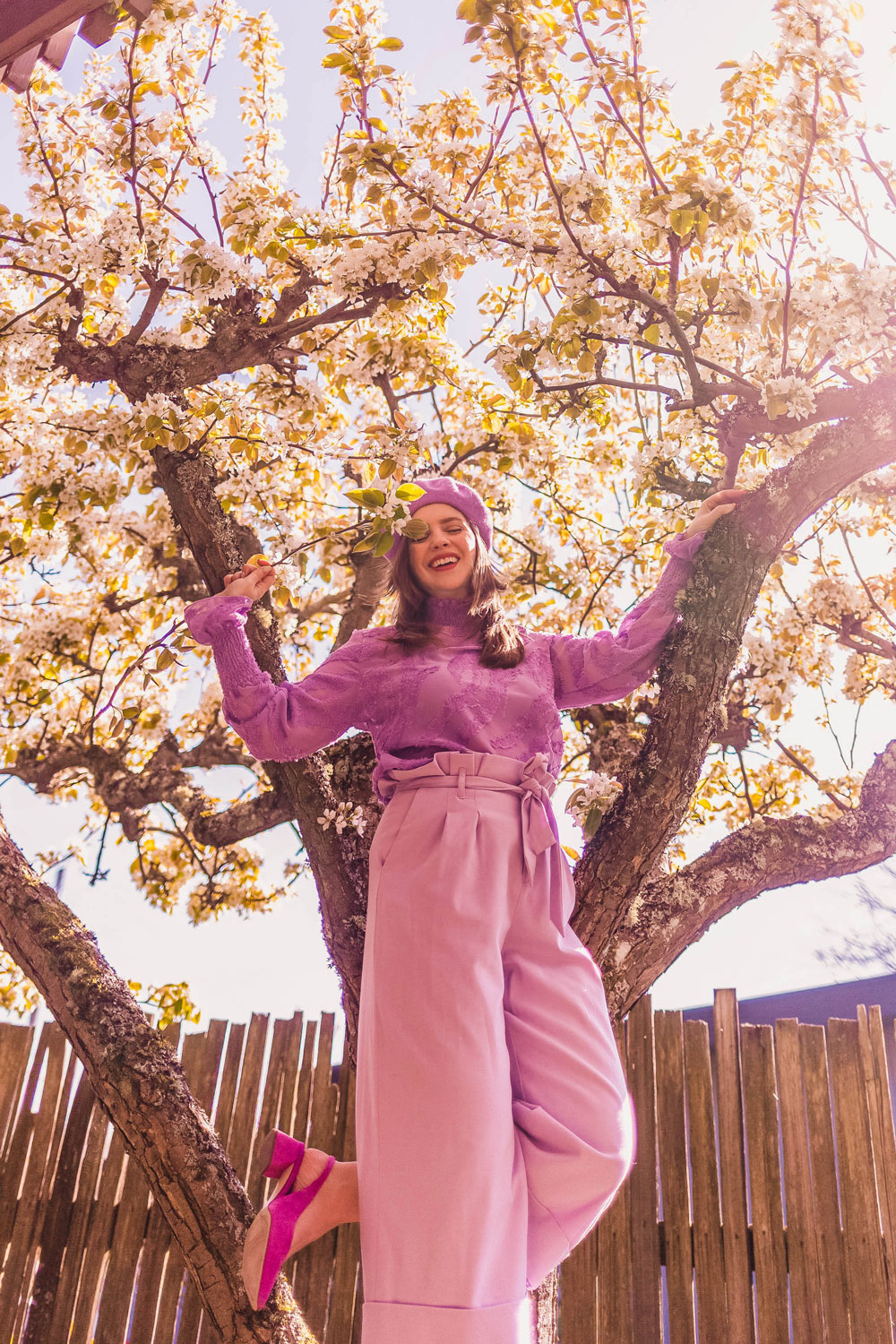 25. Go Monochromatic in an Unconventional Lavender Valentine's Outfit
Pastel hues are definitely in, and I love light purple or lavender for Valentine's Day Outfits! This all-purple look makes a statement and is totally holiday-appropriate if you ask me!
SHOP THIS OUTFIT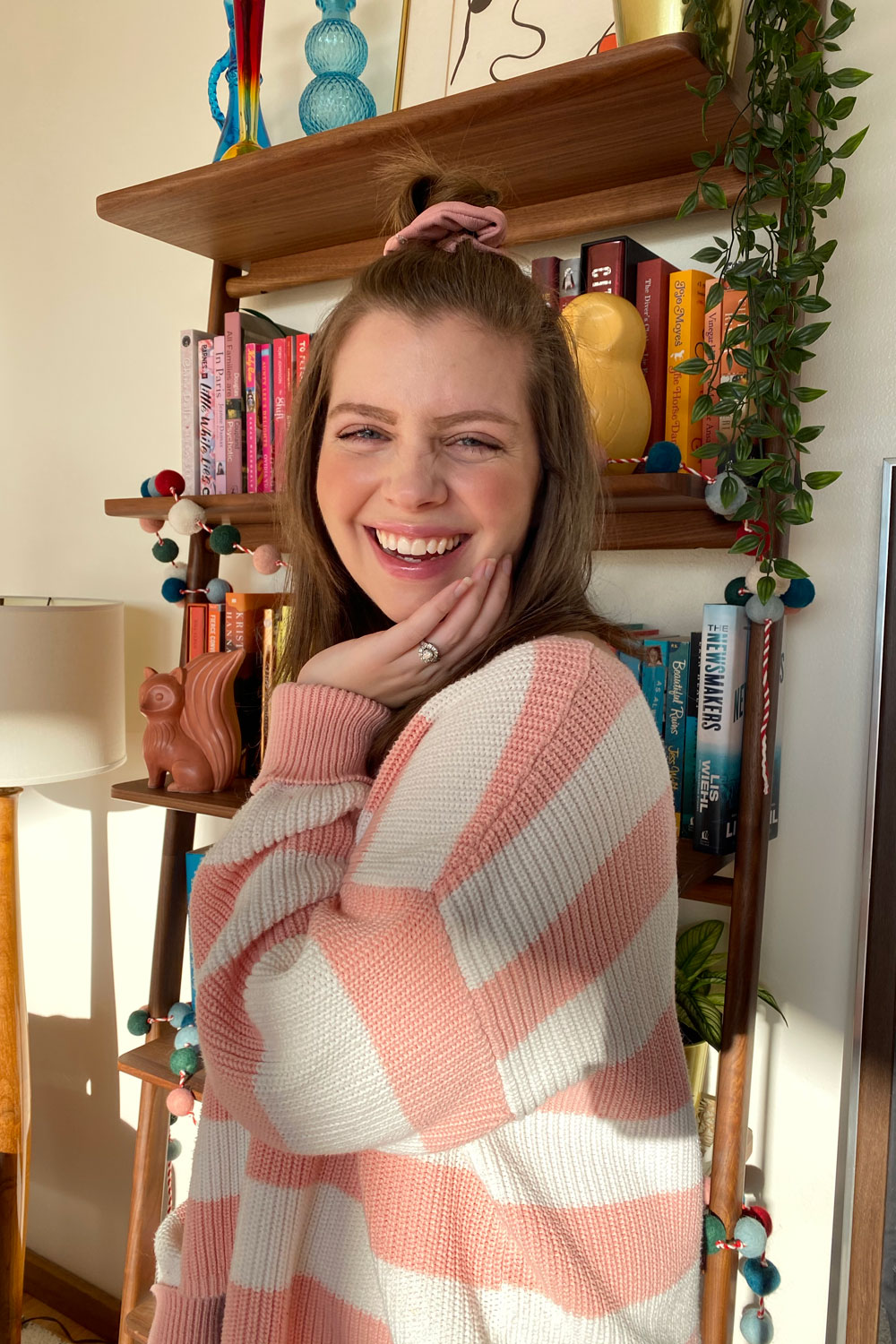 26. Keep it Casual in a Pink and White Striped Valentine's Day Sweater
Keeping things low-key this Valentine's Day? Wear a cozy pink and white striped sweater and pop your hair in a top knot with one of these pink leather scrunchies from Seattle-based Chelsea Yaley Designs!
SHOP THIS OUTFIT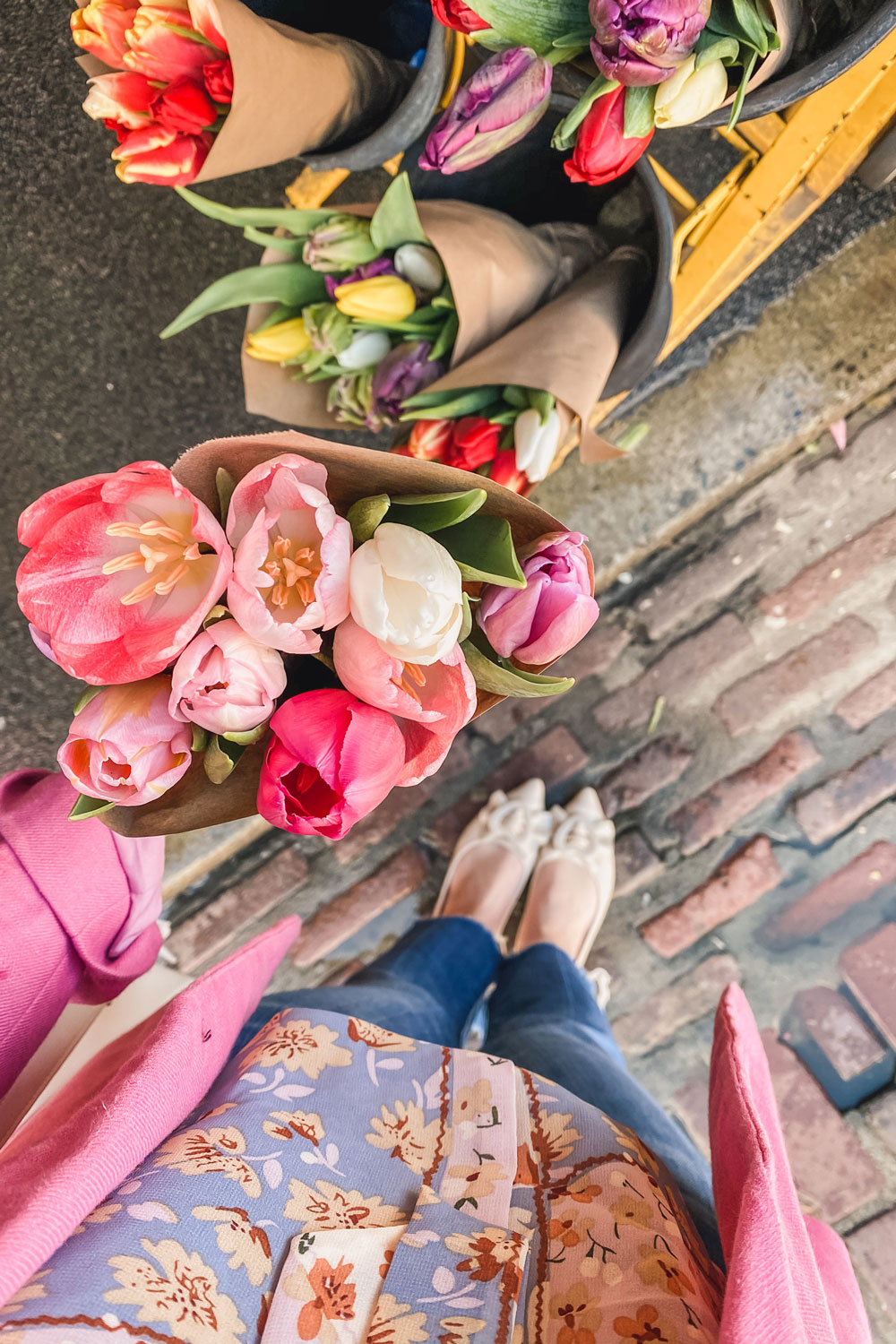 27. Dress Down a Pink Blazer with Jeans and Heart Flats
One of my all-time favorite purchases was a bright pink blazer, and it's the perfect pop come Valentine's Day! I love dressing it down with a pair of comfortable jeans and ballet flats.
SHOP THIS OUTFIT

I hope these Valentine's day outfit ideas have been helpful, and if you need more ideas, check out my posts below from previous years. Told you I have a thing for Valentine's and Galentine's Day!
What are you planning to wear this Valentine's Day? I'd love to hear about your outfits (and what you have planned!) in the comments!
---
Looking for Even More Valentine's Day Ideas? Try these!
Want to Save This Post for Later? Pin it!
This post was originally published on February 5, 2019. It has been updated to add even more Valentine's Day outfit ideas for 2021.
Valentines Day Outfit Ideas