When I showed Dave my "concept" for this outfit, his first thought was, "Are you going for the school girl look?" I had to laugh because it does remind me a lot of infamous Gwen Stefani Harajuku Girls video minus the ties, knee socks, and the pigtails. ;) I've loved the athleisure trend that's been happening for the past year or more, and this sweater is a nice transition piece between fall and winter. There are so many options as to what to wear with a v neck sweater, and this is one combo that (to me) is anything but boring.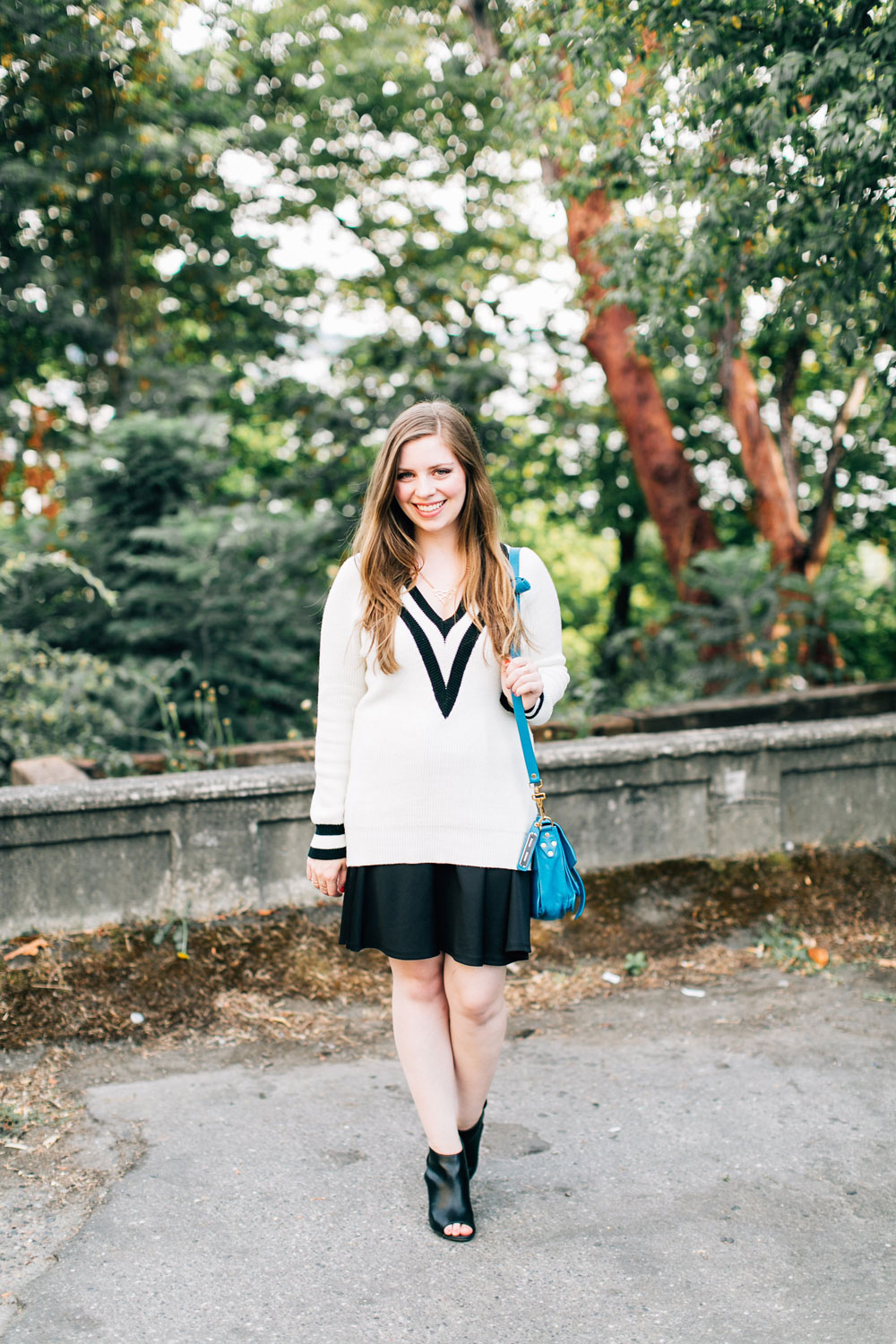 Photos by Jenna Bechtholt
What I'm Wearing
Sweater: Bongo (similar)
Skirt: Painted Threads (similar)
Booties: Xappeal Morgan c/o Rack Room Shoes (last worn here)
Bag: Proenza Schouler PS 1 Pouch (last worn here)
Rings: Forever 21 (similar)
Necklace: Slate Geometric Pendant Necklace borrowed via Rocksbox (Use code HELLORIBGYXOXO for your first month free!)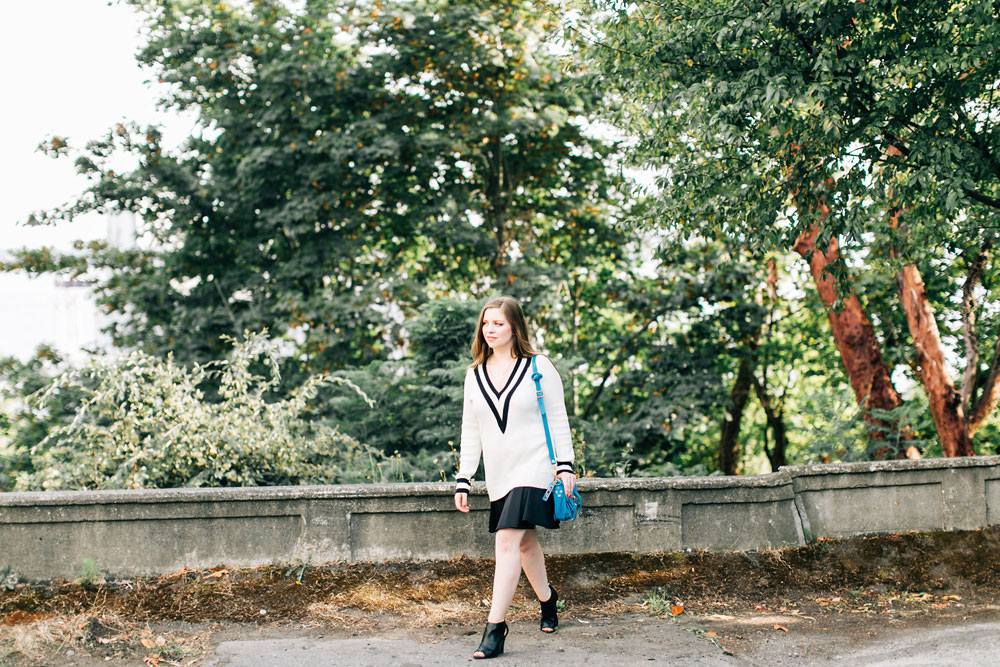 Because of my height and body structure, I typically avoid the drop waisted trend. Normally it's completely unflattering on me. However, with this sweater, I thought it might be fun to play with lowering the waistline by wearing a skirt underneath. It's not something I normally do, however I felt like it worked. And it did have a total schoolgirl vibe without looking too much like a costume.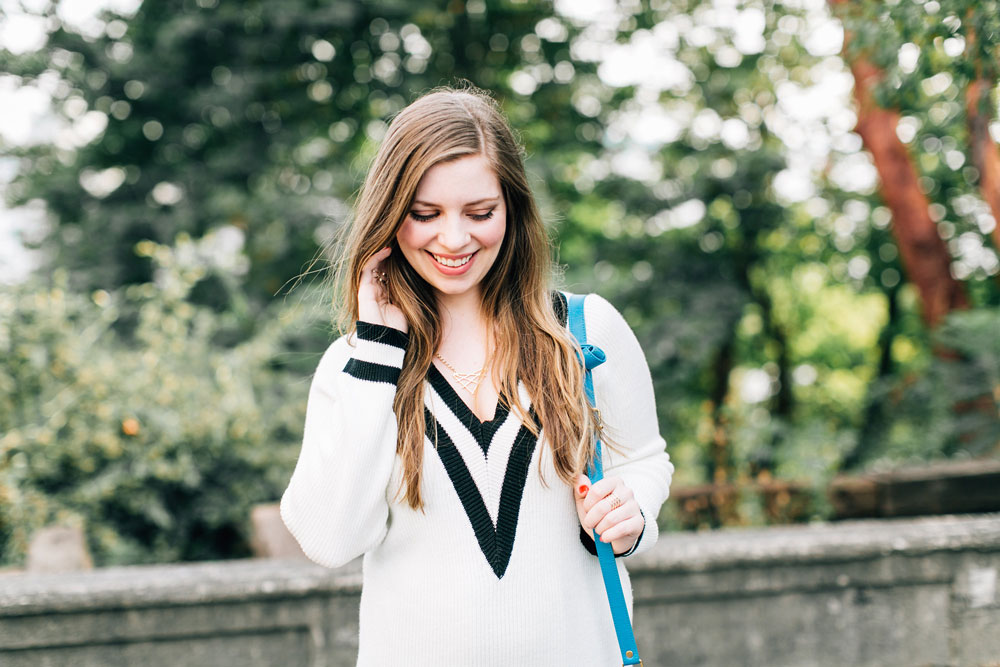 In looking at these photos, I realize that my shoe choice may not have been the best one. The oversized and tunic length of the sweater combined with the bulkiness of the skirt makes me look short. Add in the shoes that cut off right at the ankle and I end up looking even shorter. If I were to wear this combination again, a pump or wedge might have worked better. Live and learn, and sometimes it's hard to tell until you see the final look in a photo.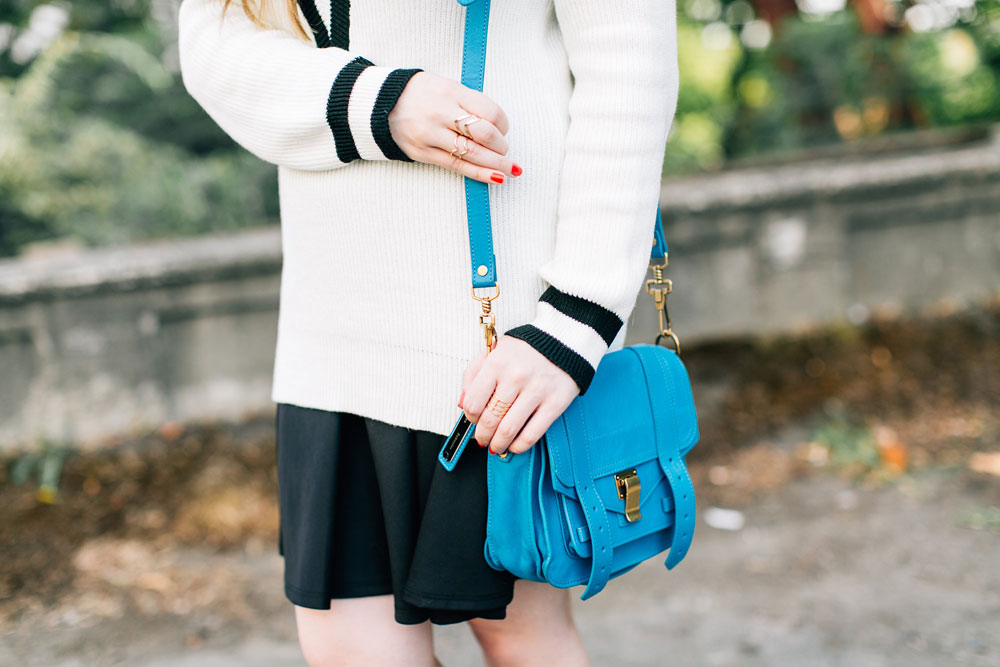 Speaking of living and learning (and on a totally different topic) I realize my reading goal for this year may have been a bit too lofty. I'm at 117 books right now with a goal of 150 and I'm not sure I'm going to be able to do it. I've started looking for shorter books to catch me up (I'm 11 books behind right now). Do you have any suggestions on books that are short and sweet but not a complete waste of time? I've read a lot of series when I've fallen behind like The Princess Diaries, Stephanie Plum series, and Pretty Little Liars, so I'd like to avoid those if possible. ;) Thank you in advance for any ideas or even just encouragement. I'm going to need it!
Have you ever found an outfit to look quite different on camera after you wore it? Or on another note, what should I read next? :)