Spring is finally here in Seattle! After a long, cold, and hard winter full of snowy days and freezing temperatures, I'm sure I'm not the only one craving the sunny days and colorful spring flowers. Seattle has a beautiful selection of places to see the flowers, and the Pacific Northwest, in general, has so many beautiful flower fields and gardens worth a visit.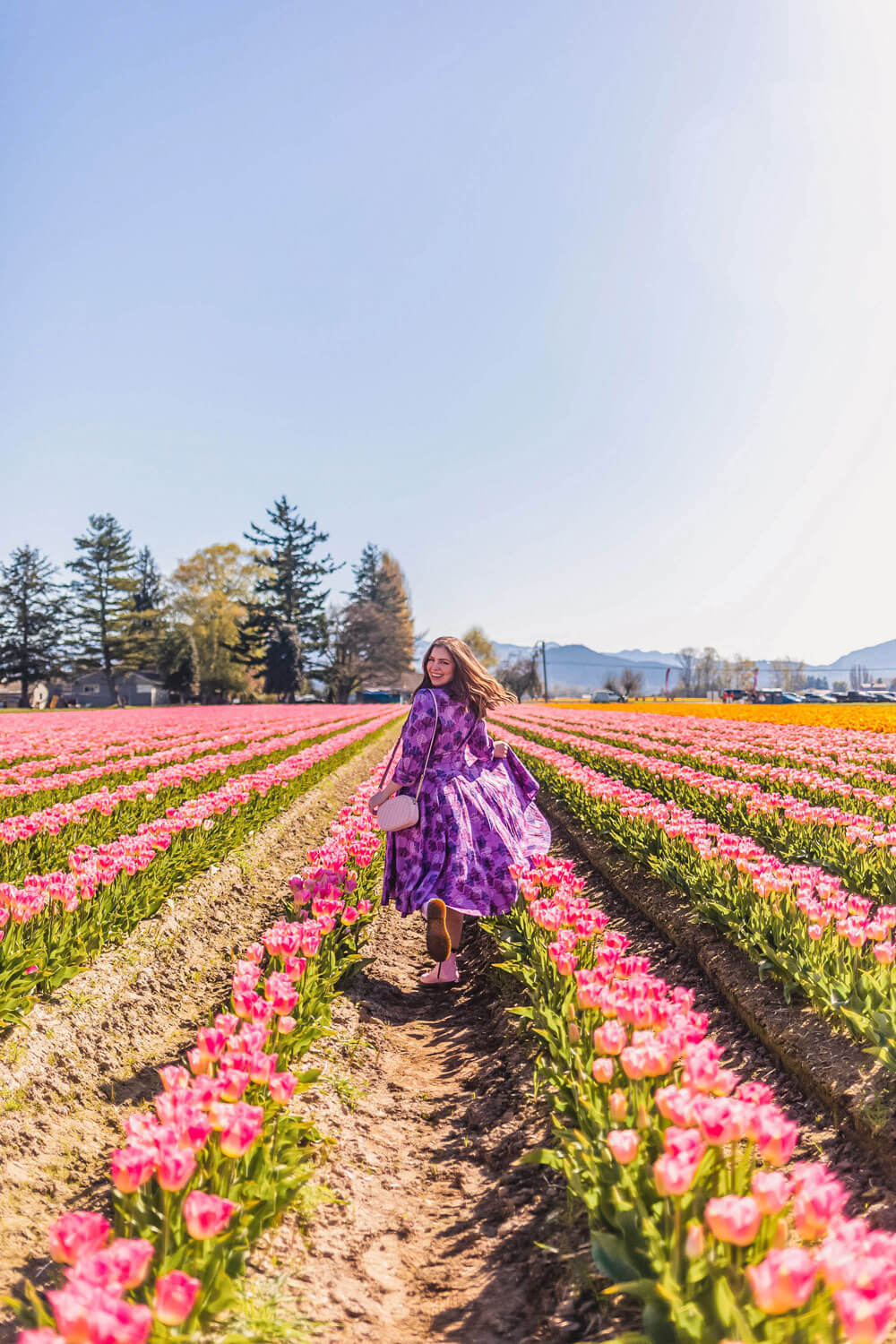 Today, I will be highlighting five of my favorite spring flower varieties and my top picks on where to see them, whether you're okay with crowds or would prefer to avoid crowds altogether. I'll be posting summer flowers later in the season, so stay tuned for even more places to see flowers near Seattle!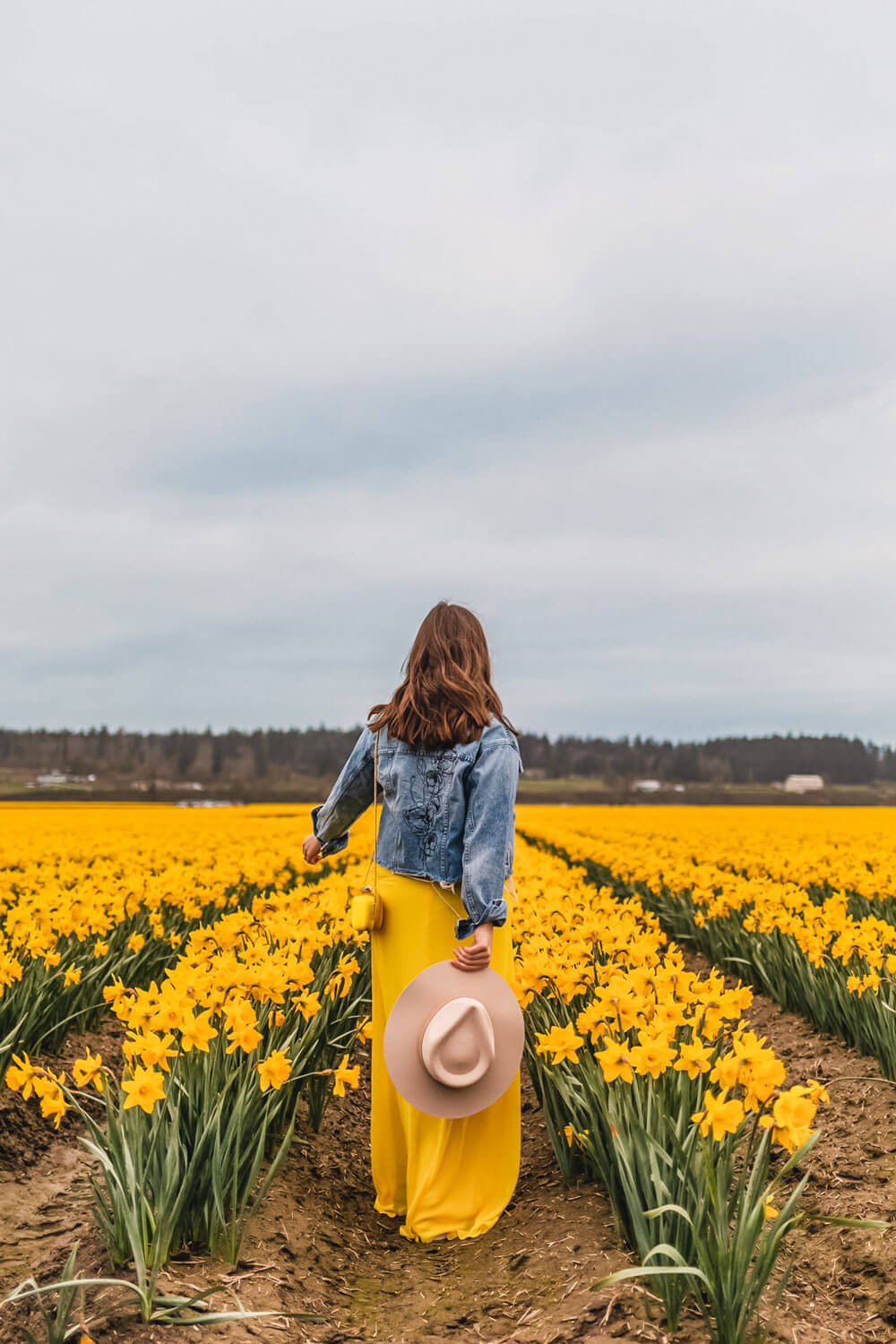 Where to See the Daffodils Near Seattle
Mid to late March, Early April | 🐕❌ Not Dog Friendly
Drive up to Skagit Valley to enjoy the flowing yellow fields of daffodils. Technically you can see daffodils in conjunction with the tulips very early in April, but if you prefer fewer crowds, go in mid to late March when the tulips aren't in bloom yet.
16244 McLean Road, Mount Vernon, WA 98273
While there isn't exactly one place as it varies by year, I'd recommend checking the Tulip Town Map for the most up-to-date spots for daffodils (and later in the season, tulips too!) In 2021, we visited the field listed above.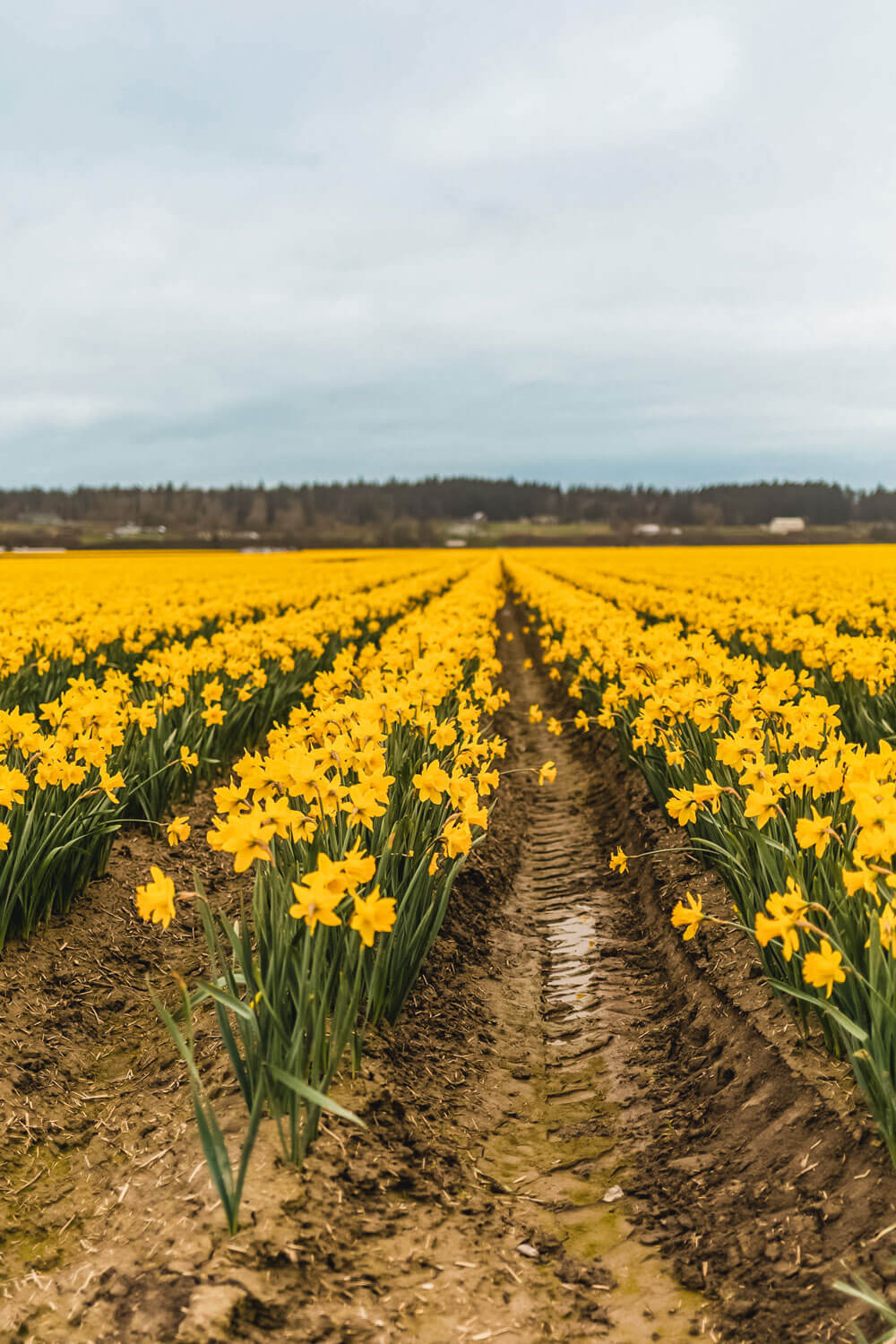 While there were no trespassing signs present at this field, there was not anyone within miles to enforce it, and I treated the flowers with respect by:
Not going too far off the road into the field
Not running or trampling on any of the flowers
Not picking any of the flowers
Please be respectful should you choose to go to any field, especially one that does not advertise to the public, and leave it better than you found it when possible.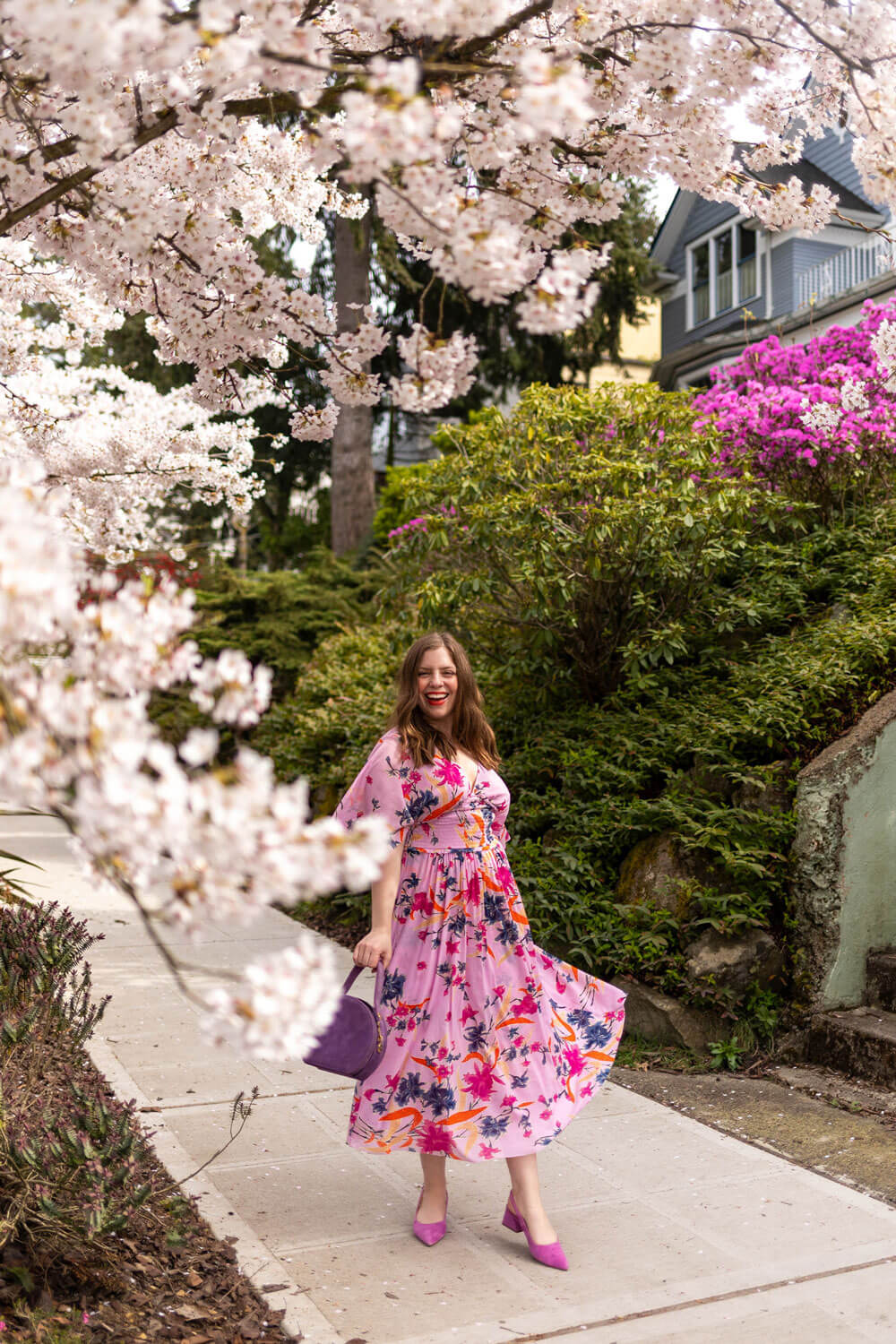 Where to See Cherry Blossoms in Seattle
Mid-March to Late-April (Depends on the variety) | 🐕 ✅ Dog Friendly
I'm sure by now you have heard of the infamous cherry blossom spot in Seattle: the University of Washington Quad. If you haven't, I have a post dedicated to it here. I recommend visiting this location only in the early morning at sunrise to beat the crowds. Typically, blossoms start appearing in early March and are at peak bloom in mid-to-late March.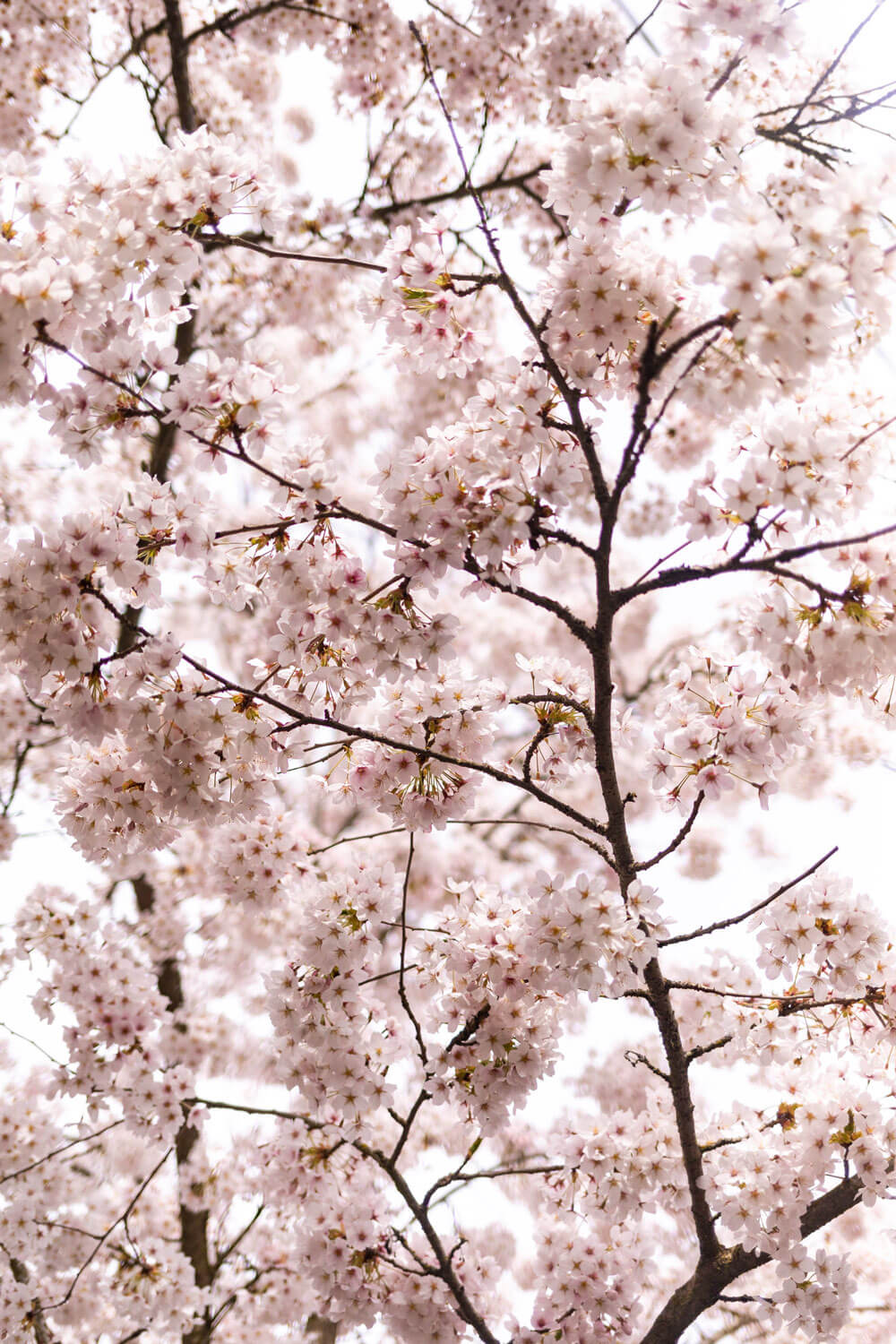 No worries if you're not a fan of crowds and don't want to get up early! I have even more Seattle cherry blossom recommendations for you! I highly recommend checking out the following locations for cherry blossoms.
International District in Seattle, WA
Green Lake Park in Seattle, WA
Seward Park in Seattle, WA
Queen Anne in Seattle, WA
West Seattle Junction in Seattle, WA
Ravenna neighborhood in Seattle, WA
Even better? You have more time to see peak bloom, as different tree varieties bloom at earlier and later times. Head to the UW Quad and International District early in the season for the Somei-Yoshino and Mt. Fuji Cherry trees in bloom. In April, you'll still have time for when the flowering cherry trees are in bloom in the Green Lake and Ravenna neighborhoods.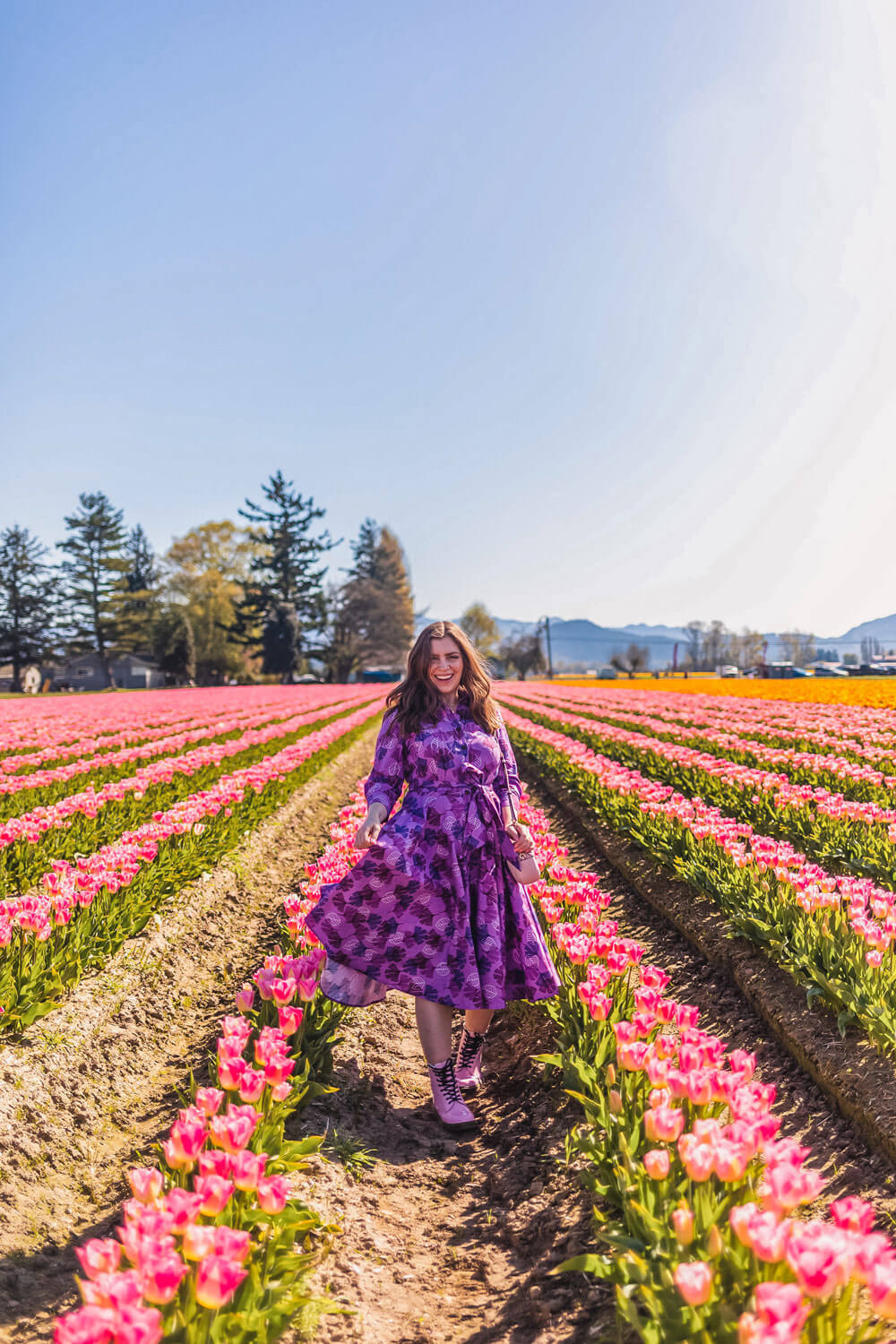 Where to See the Tulips Near Seattle
Mid to late April | 🐕❌ Not Dog Friendly
Depending on the rain, the tulip season can be variable in the Pacific Northwest. If the tulips bloom early in April, I highly recommend getting there as soon as possible because the rain will likely cause the fields to close early. If we don't have a rainy spring, you can typically find tulip fields to visit near Seattle through the end of April!
Your best bet for tulip viewing, especially if you haven't been before, is at Roozengaarde. It's the most famous tulip field and for a good reason. They often have daffodils (if you go earlier in the season), cut flowers to purchase, huge fields with a variety of colors, plus a beautifully landscaped garden with a windmill making for a picture-perfect adventure. Additionally, the nearby Tulip Town field is another popular tulip destination. Both make great visits for first-timers to the tulip festival with similar offerings.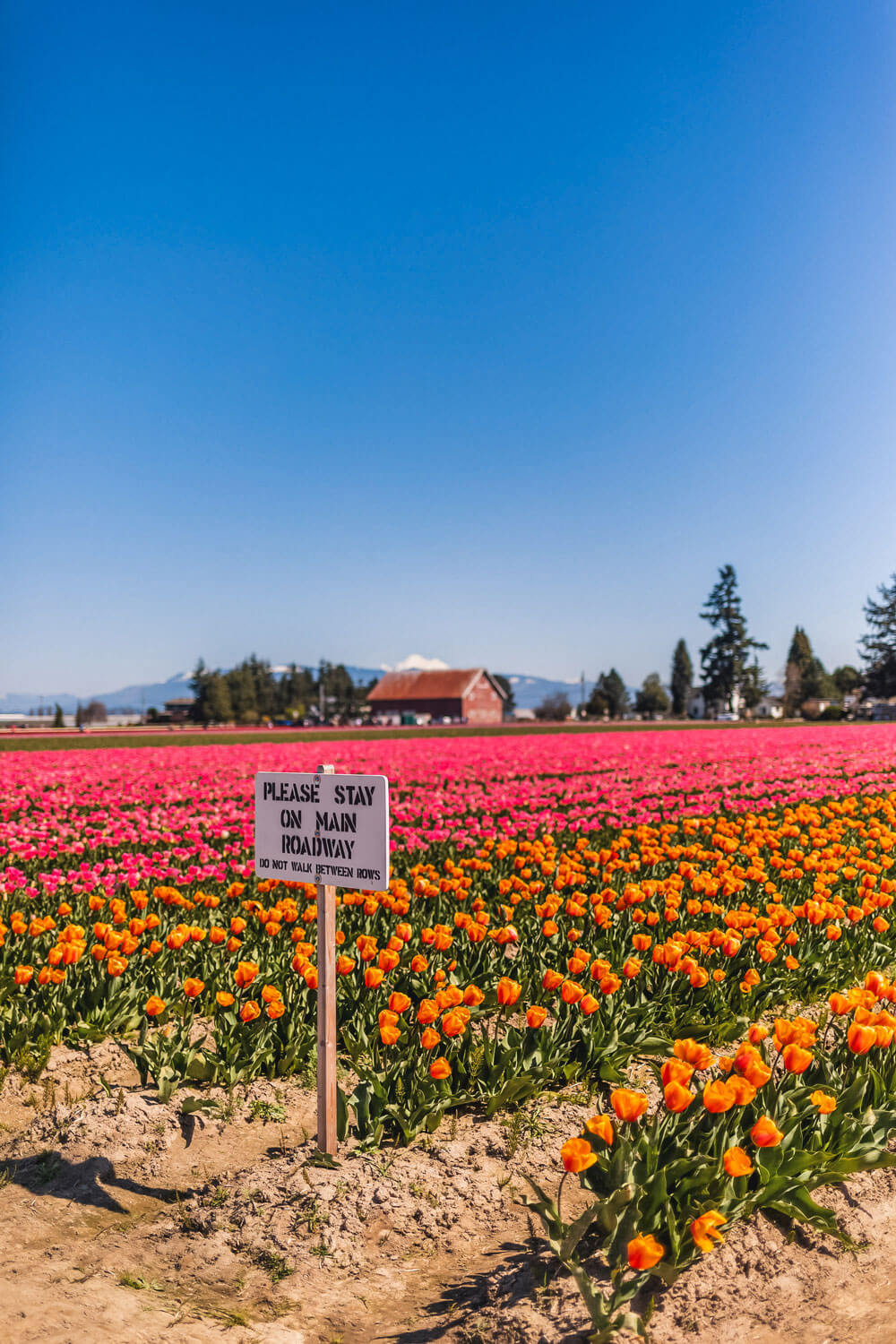 With that said, neither are my favorite place to see the tulips because, as I mentioned, it is very popular and thus is very crowded. I think the best place to see tulips is at the following smaller fields, also owned and operated by Roozengaarde, but without the touristy extras. By visiting one, you get entry to another on the other side of the highway, which may or may not have different colors. It's also much quieter!
1674 Beaver Marsh Road, Mount Vernon, WA
In addition to the quiet fields, you'll also pay less to enter. At this tulip field, you pay the price of parking and can use that parking pass to visit their "sister" field for free. (In 2021, it was $15 per car.) In the other fields, you pay per person for entry (In 2020, it was about $12 per person). Some require tickets to be purchased in advance, so do double-check before you go.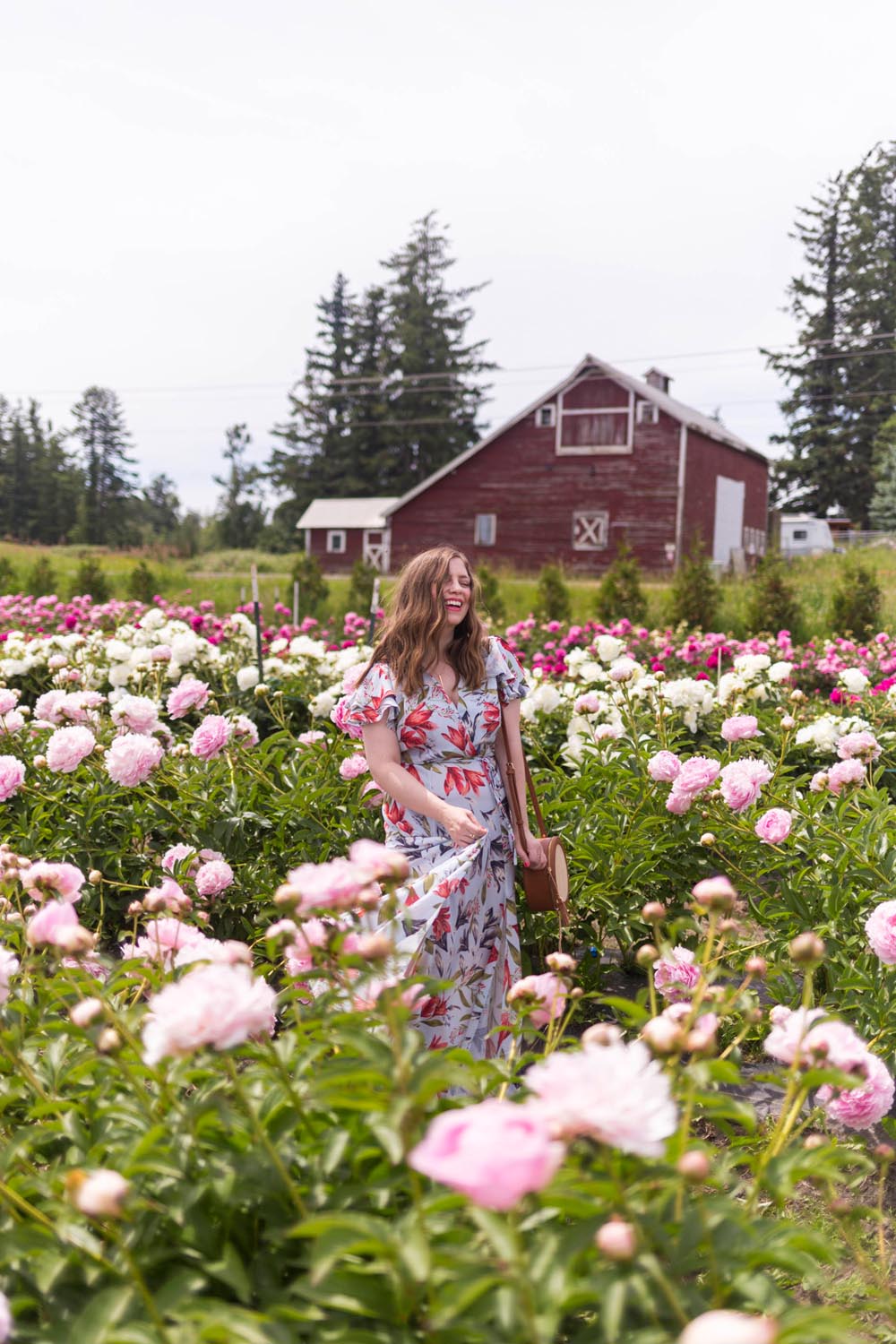 Where to See Peonies Near Seattle
Mid May to early June | 🐕❌ Not Dog Friendly
Peonies have the smallest window of all the flowers I'm aware of. Typically they're in peak bloom towards the end of May, but you may want to call or email the peony farm directly before visiting to confirm. This is one of my favorite flower field experiences because, for the most part, it is not as popular or well-known as all of the other flower spots mentioned previously. Because of this, you may have a more intimate and fun experience!
I have a full detailed blog post about the entire experience of visiting the peonies near Seattle, what to expect, where to find the farm, and how visiting works on the farm.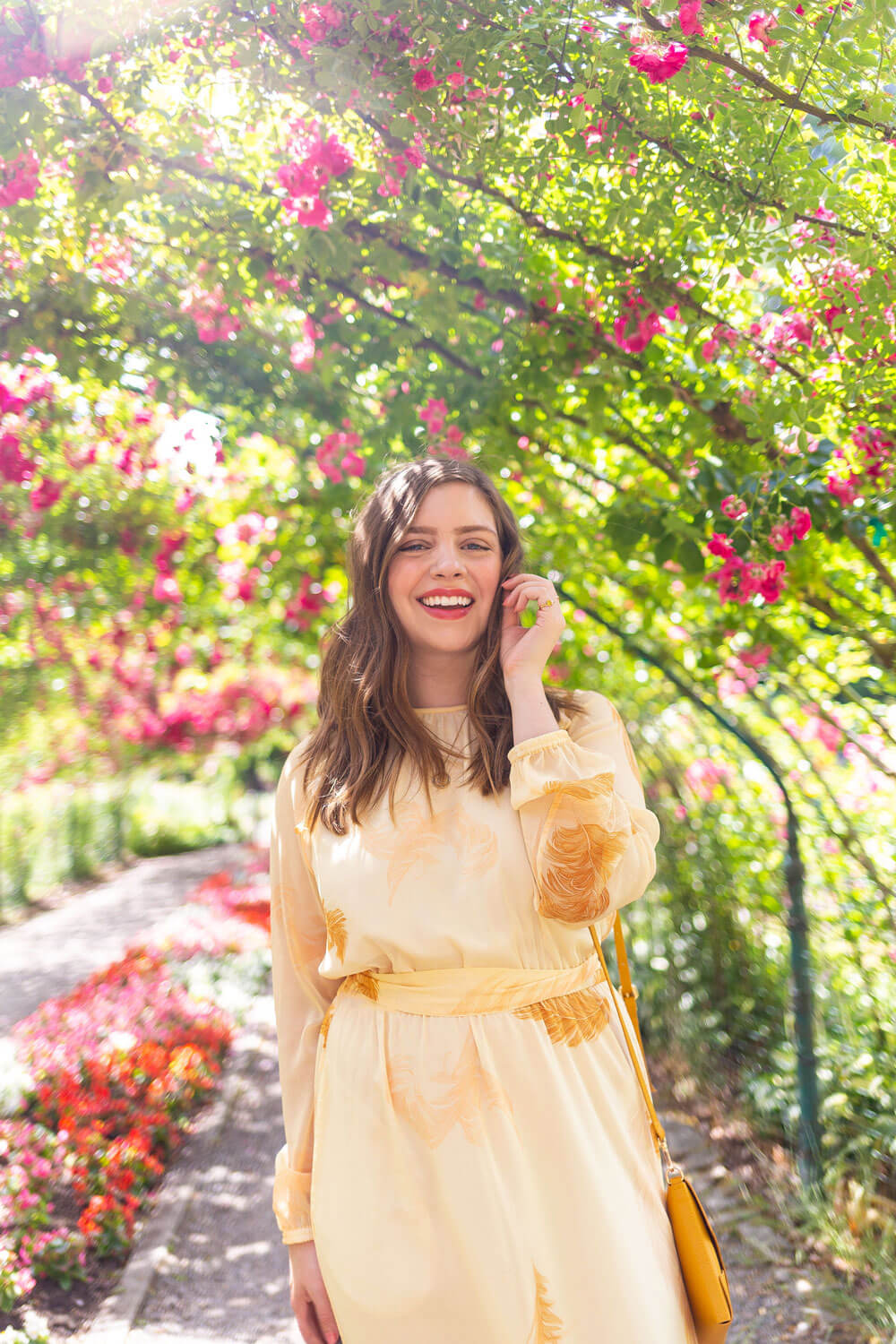 Where to See Roses Near Seattle
June | 🐕✅ Dog Friendly (Leashed dogs only unless in the off-leash dog park)
Roses are in peak bloom in June. You can find roses near Seattle at various locations, from parks to zoos and more. However, if I had to select just one, I'd send you to Point Defiance Park in Tacoma.
Not only do they have a gorgeous rose arch that is in peak bloom, typically by mid-June, but they also have a variety of other roses in a beautifully maintained, volunteer-driven garden. It smells divine, and you'll be in awe of the unique and gorgeous varieties cultivated here.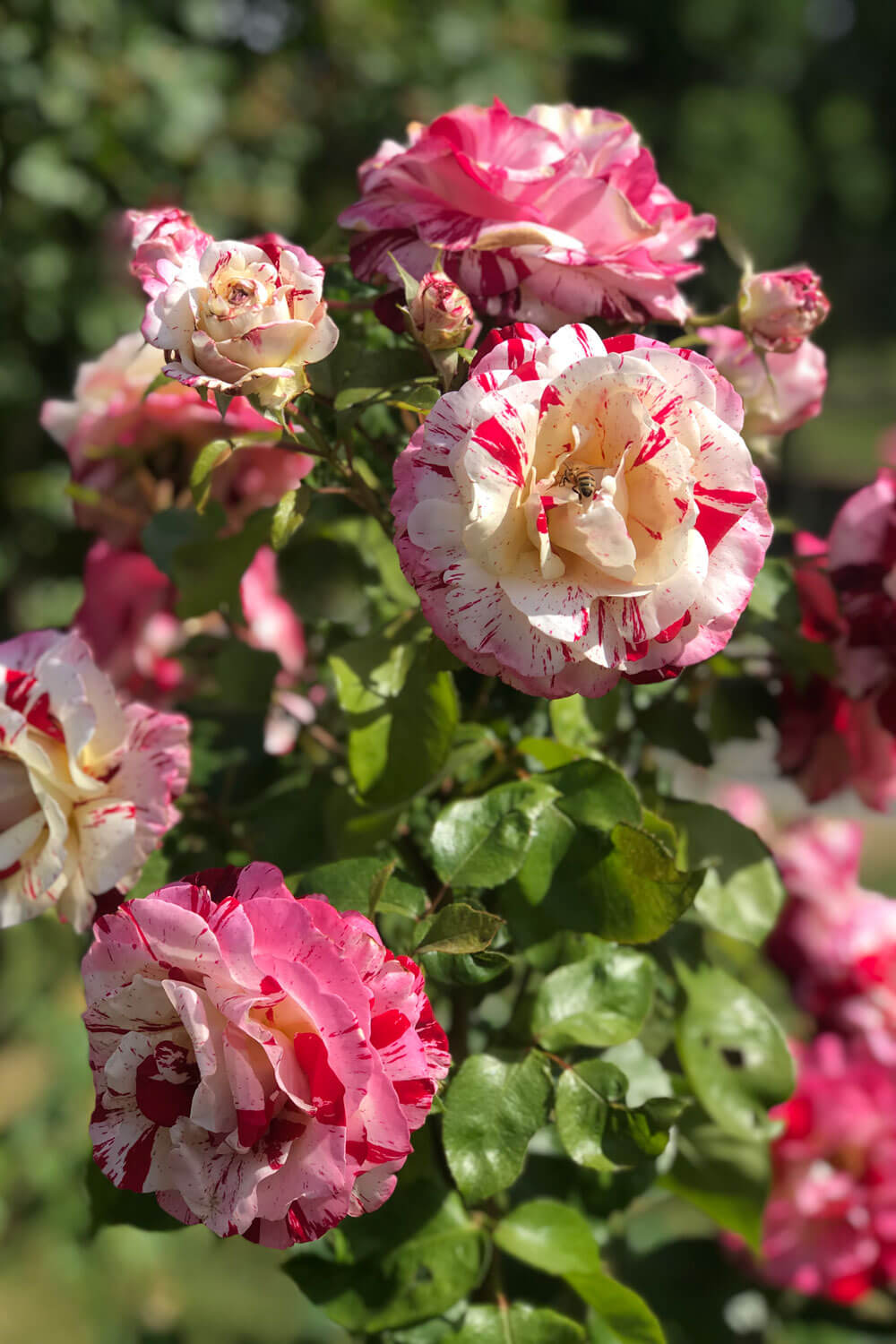 If you're in the city of Seattle and prefer staying in that area, head to the Woodland Park Rose Garden. Finally, if you're up for a bit of a road trip, the International Rose Test Garden in Portland, Oregon, is absolutely gorgeous. We visited in July several years ago and thoroughly enjoyed this manicured park.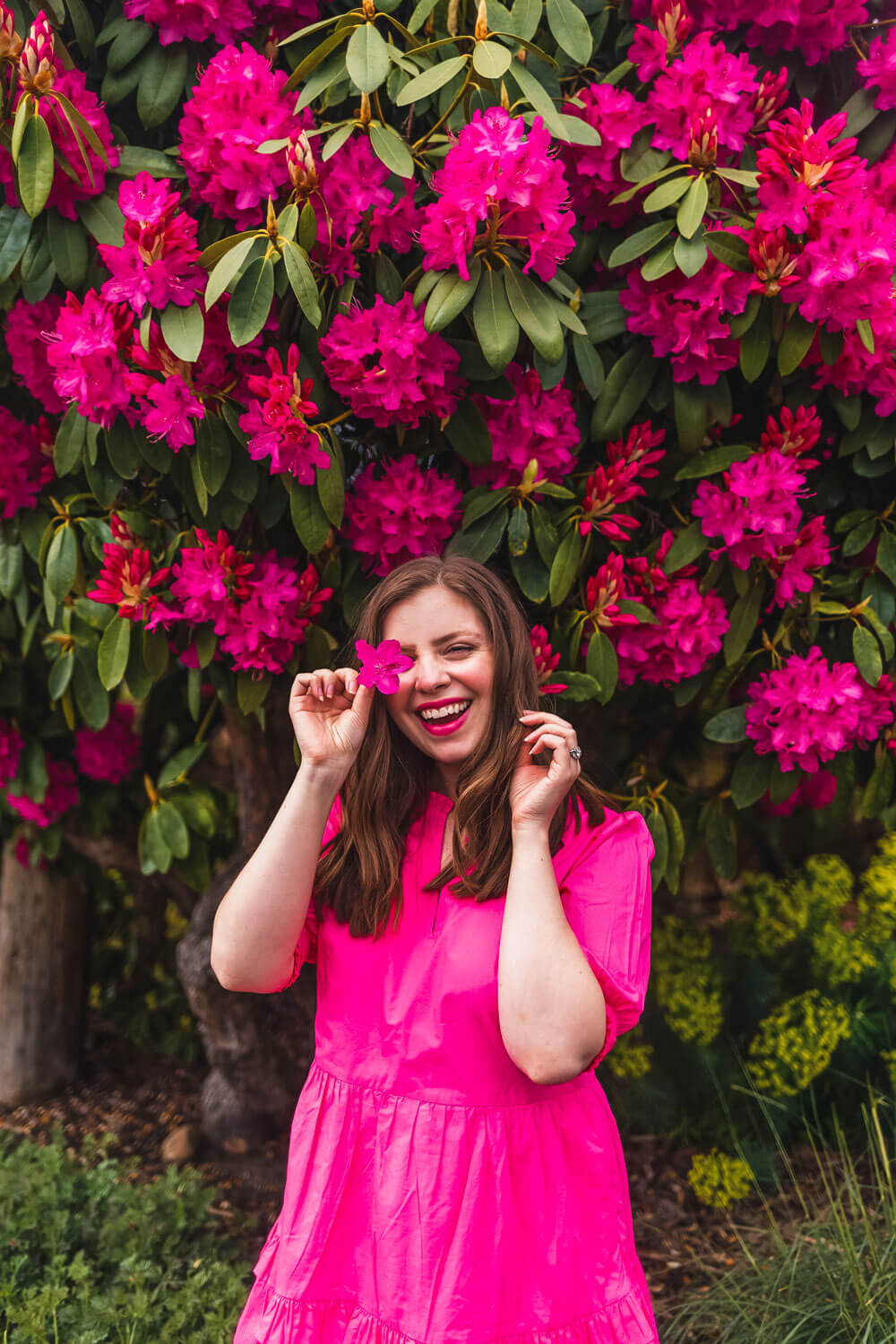 Where to See Rhododendrons Near Seattle
April to June | Gardens: 🐕❌ Not Dog Friendly
Rhododendrons are a Pacific Northwest classic, and Seattle is home to many gorgeous rhododendron plants. Lovingly referred to as "rhodies," you will see many of these bloom throughout the spring and summer.
I prefer the plant colors that bloom in May or very early June, as I find the colors are the most vibrant at this time, with bright pinks and reds popping open. Now, of course, it varies by the exact color you want to see. My favorite place to see rhododendrons is just walking around my neighborhood. I find the best rhododendron plants (or even trees, honestly) are in the communities with the most houses built in the 1950s and 1960s. Think Edmonds, Burien, and many of Seattle's 1960s neighborhoods such as Olympic Manor, Shoreline, and more.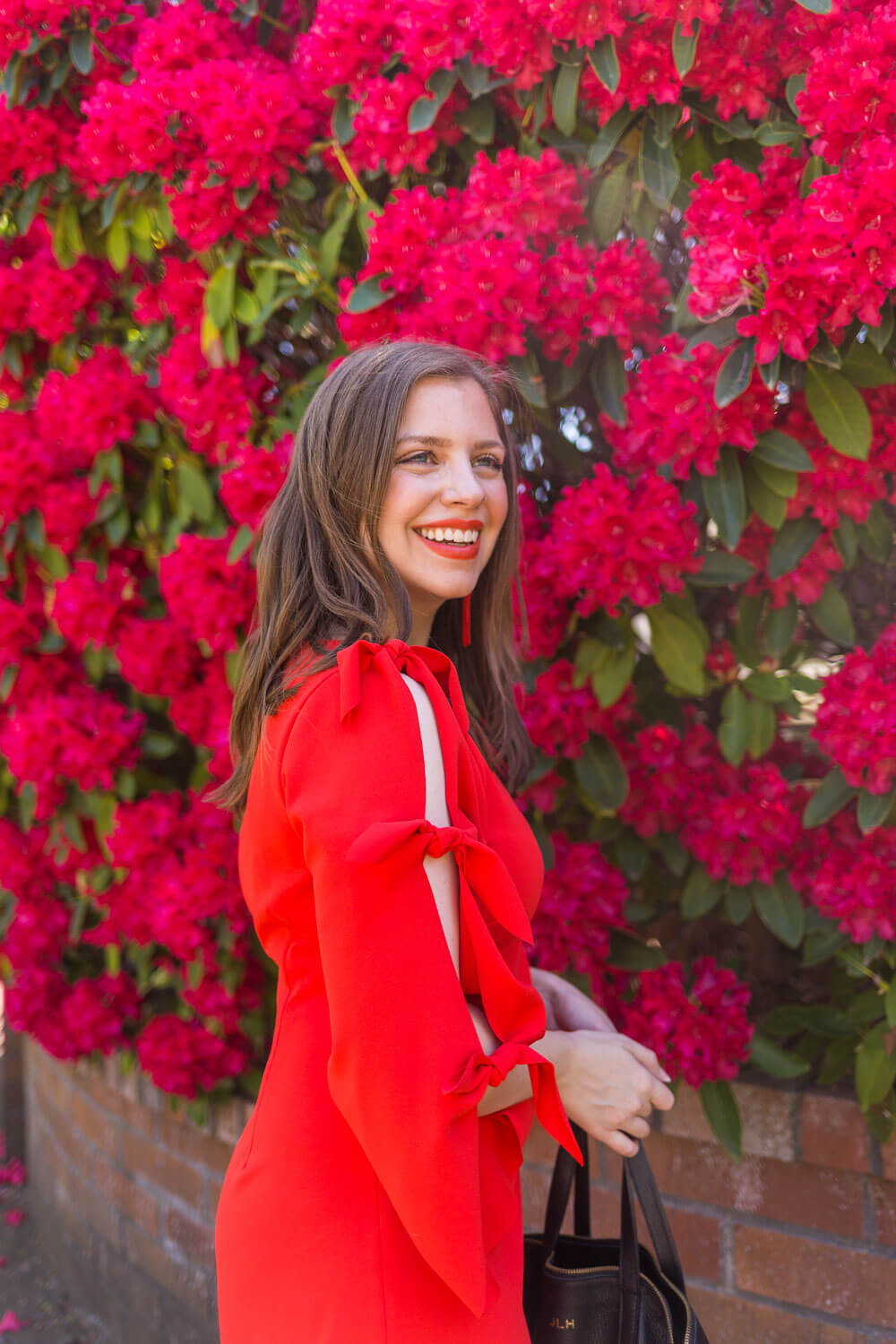 Of course, there are more official places to see rhododendrons, such as these best places to see Rhododendrons near Seattle:
Rhododendron Species Garden in Federal Way, WA
Powellswood Garden in Federal Way, WA
Lakewold Park in Federal Way, WA
Kubota Garden, Seattle, WA
Rhododendron Park in Kenmore, WA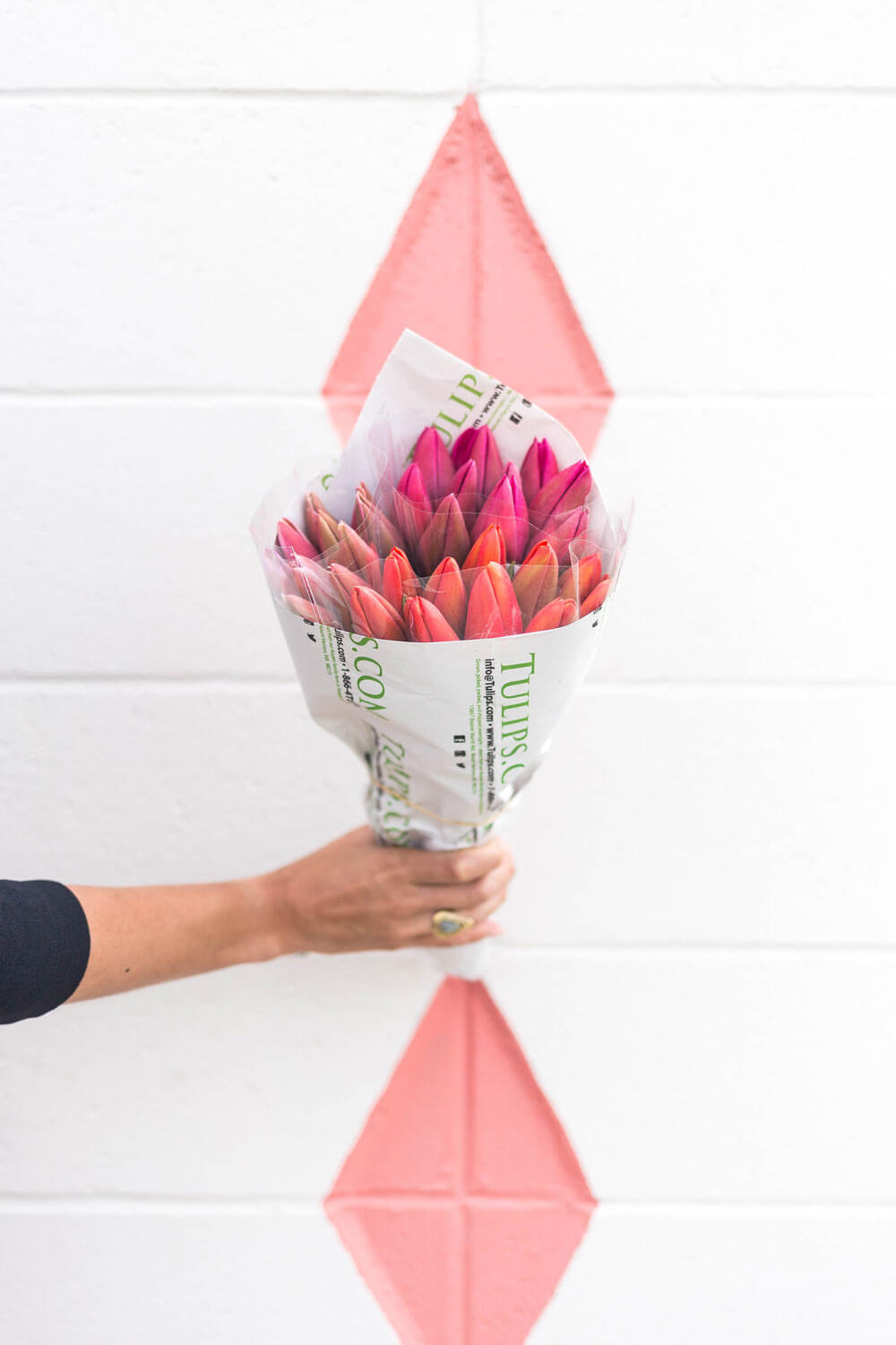 As you can see from this list of where to see flowers near Seattle in spring, there is no better time than now to get out and see the blooms! Plan a trip to a local garden or park this weekend, or plan a visit to the daffodils or tulip field for next year. Don't forget to save a place in your calendar for a trip to the peonies or to see the roses in Tacoma later in the season, too! They're gorgeous and totally worth the drive.
I hope these recommendations were helpful and useful! If you visit one of my recommendations, please tag me at @hellorigby on Instagram or TikTok. I love seeing where you visit!
Have you visited any of these flower spots near Seattle? Where will you be visiting first this spring? Be sure to share your favorite flower spot in the comments below!