The countdown is on! Are you feeling the pressure as the holiday rush is coming to an end? I hope you have all of your major shopping done, but if you don't, that's okay too because today I've got one final gift guide perfect for the procrastinator. If you're planning a last minute Christmas shopping adventure (let's be honest, I always am shopping the day before Christmas for something, even if it's just a garnish for a dish!) then here are my suggestions for everyone that may still be on your list.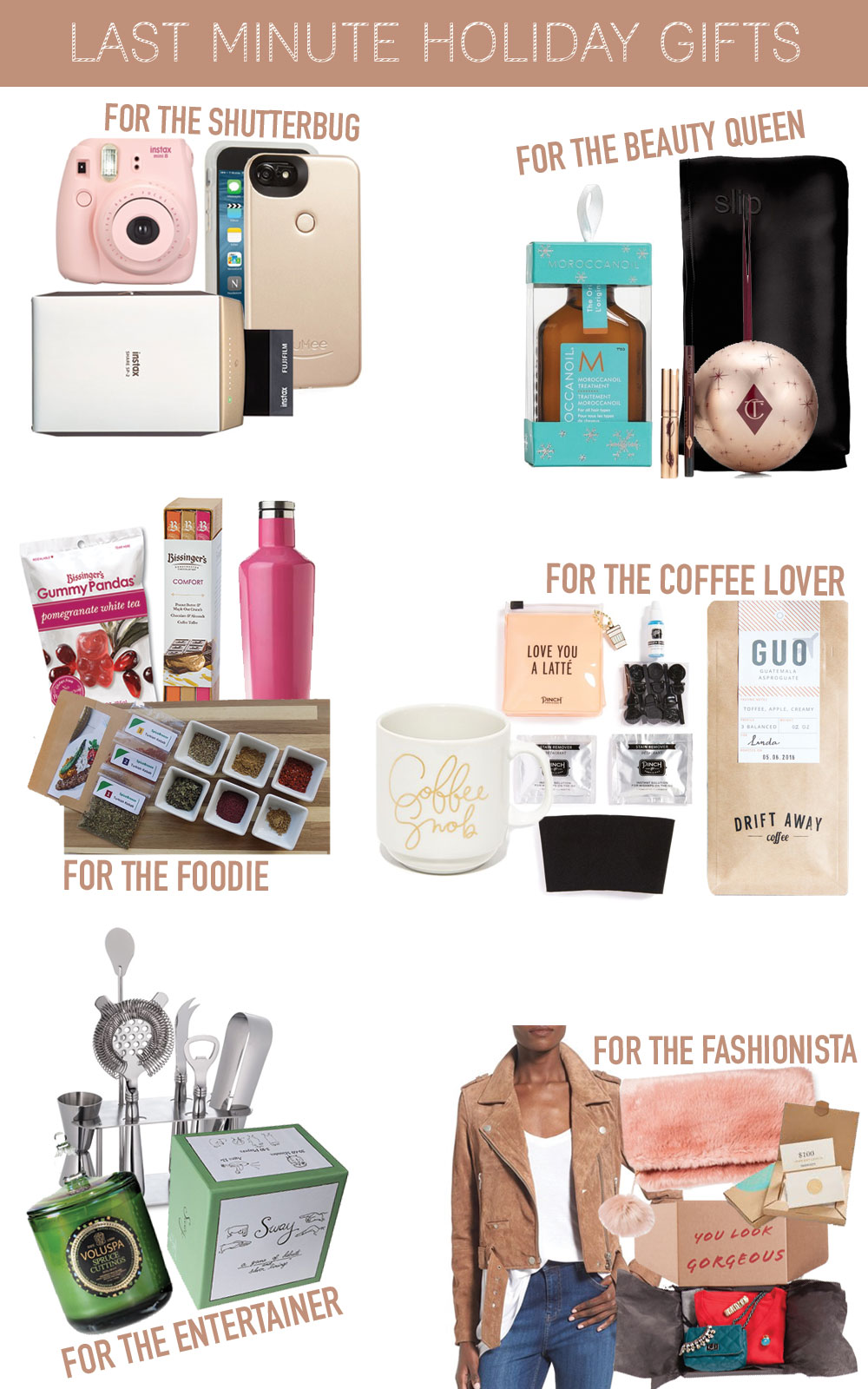 Disclosure: This post contains affiliate links. All opinions are my own!
Gift Ideas for Last Minute Christmas Shopping
From gifts for the shutterbug, the hostess with the mostess, the coffee snob, and more, you'll be sure to find something you can pop into their inbox (think subscriptions and gift cards) or order by 12/23. Yes, many of these websites are guaranteeing delivery up until the end! As with my previous gift guide for fashion lovers, makeup junkies, and crazy dog ladies, I'm also bringing you a chance to win one big ticket prize (and a bonus smaller one), so be sure to read through until the end!
Gifts For the Beauty Queen
Slip Pure Silk Pillowcase, $78
Order Deadline: Pick up in store, or 12pm ET on 12/23
Anyone on your list will love the silky smooth hair they'll have after sleeping on a silk pillowcase! Plus, it's also supposed to help prevent signs of aging like fine lines and wrinkles.
Moroccanoil Treatment Ornament, $15
Order Deadline: Pick up in store, or 3pm ET on 12/23
Moroccanoil is one of my favorite products to use on my hair, especially in the winter. Keep ends looking less damaged and keep flyaways at bay with Morroccanoil, and this ornament size is perfect for stocking stuffers or as a small gift!
Charlotte Tilbury Legendary Party Eyes Set, $27
Order Deadline: Pick up in store, or 12pm ET on 12/23
I love splurgey gifts that come in smaller packages as a way to give my friends and family a way to feel luxurious without costing me a ton of money.  This ornament set is a perfect way to introduce someone to Charlotte Tilbury, one of my favorite luxury beauty brands!
Gifts For the Shutterbug
Fujifilm Instax Mini 8 Instant Camera, $60
Order Deadline: 12/22 at 12pm ET for 2-day shipping
Besides the obvious cute factor, the Instax camera is a fun gift for photographers of all skill sets (beginners to advanced) and ages. Don't forget some Instax Film, too!
Fujifilm Instax Share SP-2 Printer, $170
Order Deadline: Pick up in store, or 12/21 at 3am ET for free express shipping
For those who already have and love their Instax camera, check out the Instax Share Printer! This printer is compact but mighty. Send your photos to the printer from your mobile phone, then watch them print on Instax film. Plus, I have one of these to giveaway, so be sure to scroll to the bottom of this post to win! :)
LuMee II Lighted iPhone Case, $60
Order Deadline: Pick up in store, or 12/23 at 12pm ET
For those who are attached to their phone, they'll love the LuMee Lighted iPhone case. Snap it on, then forget about needing a flash ever again! Bloggers and vloggers will love this gift too.
Gifts for the Coffee Lover
Drift Away Coffee Subscription, $39-375
Order Deadline: None, email your gift to your recipient!
Who doesn't love fresh coffee? Drift Away delivers freshly roasted coffee to your mailbox every Friday. Send a gift subscription to your recipient via email just in time for Christmas!
Coffee Snob Mug, $12
Order Deadline: 12pm ET on 12/22 for Prime 2-day
Give the coffee lover in your life this adorable Coffee Snob mug. The gold detail is lovely, and who doesn't love a sassy mug?
Pinch Provisions Love You a Latte Coffee Kit, $12
Order Deadline: Pick up in store, or 12pm ET on 12/23
For the coffee lover on the go, give them a coffee kit that includes stoppers and a reusable coffee sleeve.
Gifts For the Foodie
Bissinger's Gummy Pandas and Chocolate Bars, Price Varies
Order Deadline: Find in store at Whole Foods, Fred Meyer, or Central Market
Who doesn't love candy? Fill a stocking with these yummy gummy pandas or one of the many chocolate bar flavors from Bissinger's!
Spice Breeze Subscription, $6-137
Order Deadline: None, email to your recipient!
Anyone that loves to cook will love Spice Breeze, which provides recipes and spices. Sign someone up for a gift subscription to enjoy!
Corkcicle Canteen, $25
Order Deadline: 12pm ET on 12/22
What better way to keep your wine chilled than in the Corkcicle? It comes in a variety of colors and makes for the perfect gift for any wine lover!
Gifts For the Entertainer
Sway Game, $30
Order Deadline: 12pm ET on 12/22
Any good host knows that guests need to stay entertained! What better way to spend time with your guests than with a little debate? Sway is a card game where you have to debate the positives of odd things like cavities. Don't miss the chance to win this game by entering below! :)
Stainless Steel Bar Set with Stand, $90
Order Deadline: Pick up in store, or 3am ET on 12/22
This convenient bar set is perfect for the serial entertainer! If you don't want to spend that much, check out this set from Nordstrom for $37 instead!
Voluspa Maison Holiday Decorative Candle, $35
Order Deadline: Pick up in store, or 12pm ET on 12/23
Voluspa makes my favorite holiday scented candles, so treat your favorite host to one! They come in a variety of sizes (starting at just $9), so they'll fit within any budget.
Gifts For the Fashionista
Stitch Fix Gift Card, $20-1000
Order Deadline: None, email your gift to your recipient!
I don't think it's a secret that I love my monthly Stitch Fix shipments, and I know any fashion lover on your list will be a fan too, even if they do love shopping for themselves! Don't forget that Stitch Fix also has a men's subscription, and offers options for maternity and petites too!
Le Tote, $25-1000
Order Deadline: None, email your gift to your recipient!
Another subscription service that fashion lovers will love is Le Tote. It's like Netflix for clothes; get a package, wear items you love, send them back, and get more! See what I've received in mine here.
Who What Wear Fur Clutch, $30
Order Deadline: Pick up in store, or 4pm ET on 12/21
Pretty sure there's nothing that screams winter season more than faux fur. This clutch from Who What Wear is perfect for a fashion lover, and you could even hide something extra special inside!
BlankNYC Morning Suede Jacket, $188
Order Deadline: Pick up in store, or 12pm ET on 12/23
My absolute favorite jacket (I'm wearing it today!) is this Morning Suede Jacket from BlankNYC. If you can splurge on a gift for someone, then get them this!
And of course, a gift guide wouldn't be complete without a giveaway. One winner will win a Fujifilm Instax SP-2 Printer for yourself or to gift to someone else, and a runner-up will win a copy of the card game Sway and some goodies to enjoy while you play! Good luck!
Who are you shopping for this holiday season? What is your favorite gift idea on this list? I'd love to hear your thoughts in the comments below!