February was a short month, but that didn't mean I didn't get my read on. Sure, I didn't complete as many as in January (I also didn't take a week off for vacation!) but I still made more progress on my reading goal this year. If you're new here, that's 150 books. I'm currently 3 books ahead, but unfortunately in February I read quite a few duds. (And continue to have this problem into March… yeesh.) But, that doesn't mean that I won't tell you all about them! ;)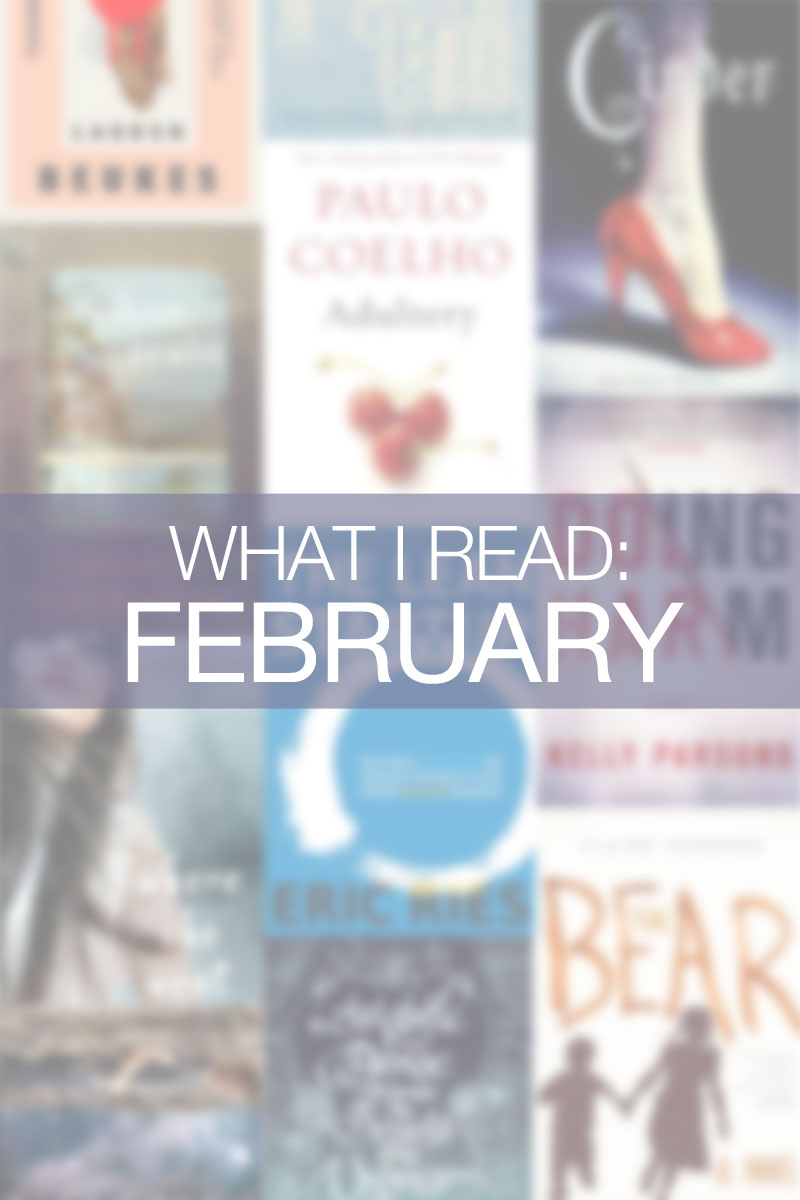 What I Read: February 2015
The Bear by Claire Cameron – ★★★ – Told from the viewpoint of a 5-year old child who sees her parents being ravaged by a bear, this is not a happy book. However, it is very interesting but I wouldn't read it again. Some of the descriptions of her little brother, "Stick" were absolutely disgusting. If I never have to hear a description of baby, um, business again I will be very happy.
c/o NetGalley
Broken Monsters by Lauren Beukes – ★★ – Not my favorite, but I must say this scored bonus points for the cat named "Nyan Cat". Dark, gross, disturbing. That is how I would describe a lot of this book. It just wasn't for me, and for that reason I won't recommend it.
c/o NetGalley
Alienated by Melissa Landers – ★★½ – Based on the cover, I thought I'd like this. Not so much. It wasn't bad, per say, but it wasn't amazing either. I did think it was humorous that the main character, Cara, had her own blog that she obsessed about (hits, followers, etc.) But otherwise, I found this unremarkable and not really my thing, and I don't think I'll be bothering with the sequel.
Doing Harm by Kelly Parsons – ★★★★ – After a few snoozers, I knew a thriller would pick me back up, and it did. Someone on Goodreads called this a "really good episode of CSI". Absolutely agree. Dr. Steve Mitchell is kind of a hot mess – he loves his wife, but you can tell he's kind of bored. At work, he's screwed up a major surgery and he's hoping that his patient makes it through. Suddenly, patients who were getting better are dying and he's being blamed for it. All and all, I enjoyed this for the purpose of being entertained. Descriptions of women in the novel left me feeling a bit… odd, but the plot twists were good, even if a bit predictable. What can I say, I like reading about psychopaths.
c/o NetGalley
Sarah's Key by Tatiana de Rosnay – ★★★★ – I absolutely loved this. Such a captivating story. The story is about two women – Sarah who was arrested with her family in a French Police round-up, and modern-day Julia, a journalist who is retracing Sarah's story. I much preferred the past story to the present storyline (as you'll see below, I had the same sentiments with Orphan Train.) Either way, still a solid book that I would recommend.
Orphan Train by Christina Baker Klein – ★★★★ – I really enjoyed this, however, I would have much preferred less of the present day storyline and more of the Orphan Train story line. It was much more interesting to me (ironically, since I generally prefer modern-day to historical fiction.) I thought the storyline was great though I'm not sure the writing was particularly amazing considering some of its accolades. Still a solid read and one I would recommend.
Aristotle and Dante Discover the Secrets of the Universe by Benjamin Aliere Saenz – ★★★★ – What a sweet coming of age young adult book! I was listening to this a bit in the car with Dave and even he was getting into it. It's the story of Aristotle and Dante, two unlikely friends who find each other and "discover the universe" together. I'll leave it at that, no spoilers.
The Lean Startup by Eric Ries – ★★½ – This was really boring. I think the problem with some of these startup business books is that they tend to share a lot of similar anecdotes, and Dave and I felt like we had already heard them in other books. Perhaps if we had read this earlier, it would have been better, but if you're into these sorts of business books, this may not be worth it. (And if you want a recommendation, get Creativity Inc. by Ed Catmull on audiobook. We are listening to it right now on our daily commute and it is amazing.)
Cinder (Lunar Chronicles #1) by Marissa Meyer – ★★★★ – I've been wanting to start this series forever. I finally did, and I'm glad I did. This is such a creative take on the classic, Cinderella, but done in a futuristic way. I will definitely be reading the other books in the series as well.
Adultery by Paulo Coehlo – ★★★ – Another Paulo Coehlo book! I couldn't help but be curious when this came out and I read the description. It sounded so… modern. And it was. I liked it at first, but honestly, by the end I was glad the book was over. It's a lot of inside the mind of some bored suburban mom who really wants to up the "excitement" in her love life, so she does this by cheating on her husband. I'm sure you can see where this goes…
A Visit from the Goon Squad by Jennifer Egan – ★★★ – I wanted to like this one, but honestly I just couldn't get into it. Some books don't work well on audiobook, and I think this may have been one of them. I already own the book, so I may try a re-read it at a later date.
Where She Went by Gayle Forman – ★★★ – I really liked If I Stay, but I'll have to admit… I wasn't as into this. It picks up where the last book left off, albeit a few years later. However, it's told in the boyfriend's perspective. I just didn't enjoy that as much and would have liked the same narrator. I kind of felt like this wasn't really a necessary read and that the first novel could have been enough.
My Reading Challenge Updates
Total Books this month: 12
Total Books read this year: 27 / 150
Total Books Read for the Modern Mrs. Darcy Challenge: 3 / 12
Total Books Read for the Semi-Charmed Winter Book Challenge: 8 / 13 (DNF)
Linking up with Modern Mrs. Darcy
What have you been reading lately? Any recommendations? P.S. let's be friends on Goodreads if we aren't already!