Athleisure has to be the trend of the year for 2020. I've never spent more time in joggers and sweatshirts than this year, and I can't lie: I'm loving it! Athleisure outfits for fall are versatile; you can easily take your look from day to night or from comfy to stylish with incredible ease.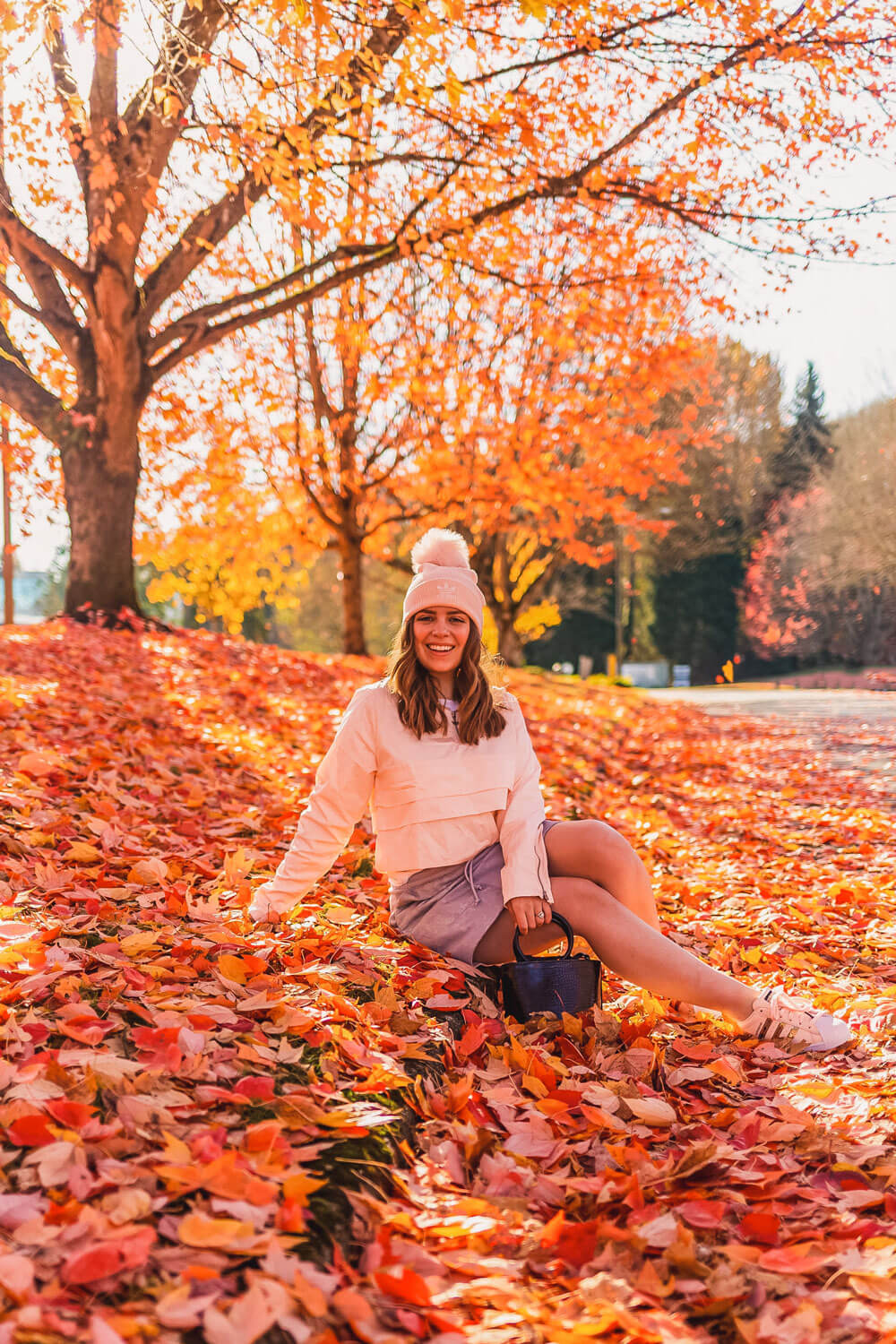 Disclosure: Thanks to Adidas for partnering on this post. All opinions are my own!
That's why I'm so excited to team up with Adidas to share their Glam On Collection! It's taking some of your favorite classic Adidas styles and putting a glam spin on them. Whether it's a beanie with an oversized furry pom pom, soft cascading layers, or a shimmery detail, this entire collection will have you seeing stars!
Today, I'll be sharing how to mix and match pieces from the collection to achieve athleisure outfits for fall! Take these looks from day to night with ease, whether you're craving something cozy and comfortable to enjoy time outside with friends, or are heading to a socially distant soiree!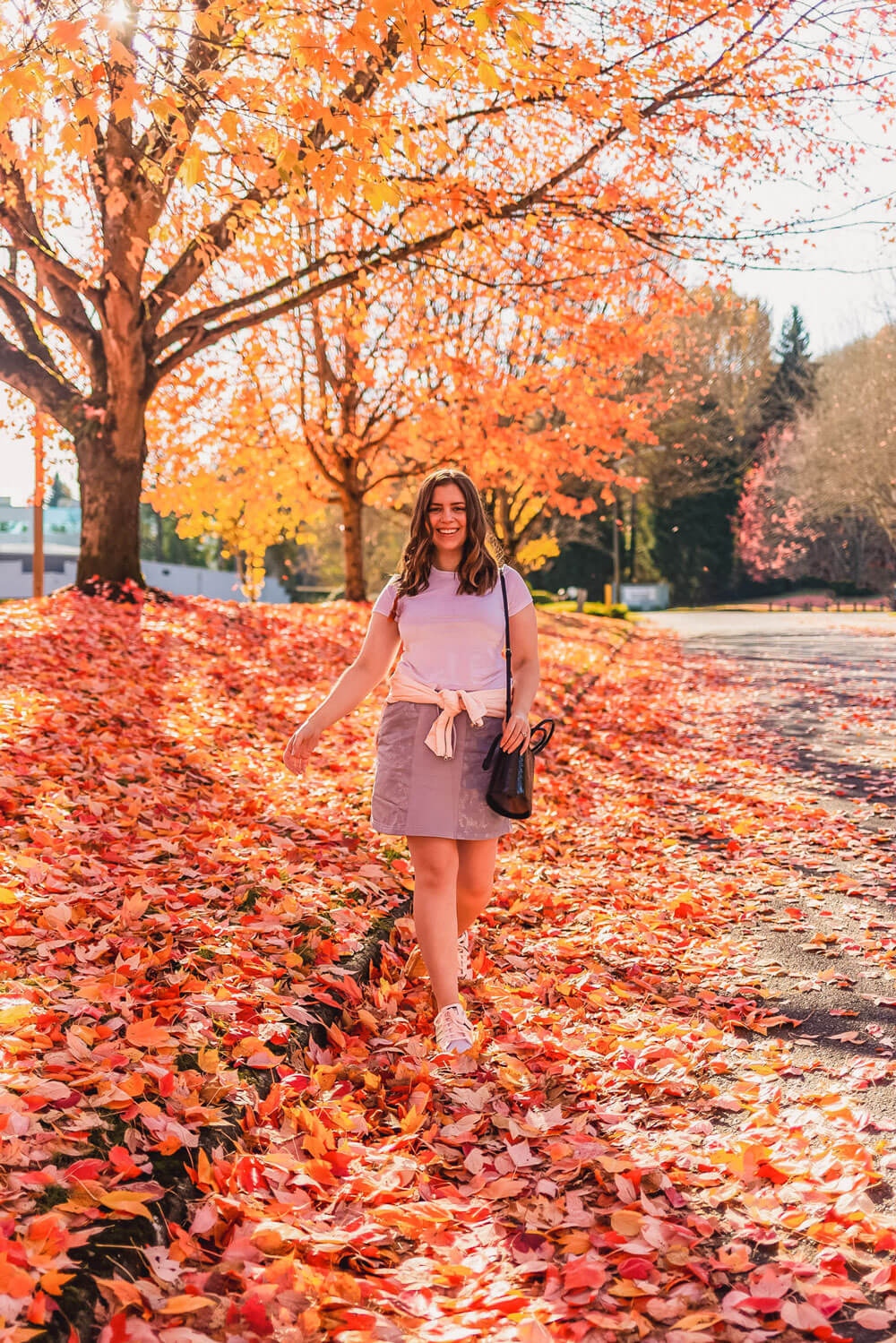 Athleisure Day Look: Meeting up for Brunch
One of my favorite socially distant activities is meeting up with friends for brunch! While brunch looks a little different these days, my friends and I still will grab takeout from our favorite spots and meet at a park, or even sit in the trunk of our cars, so we can enjoy each other's company at 6 or more feet apart.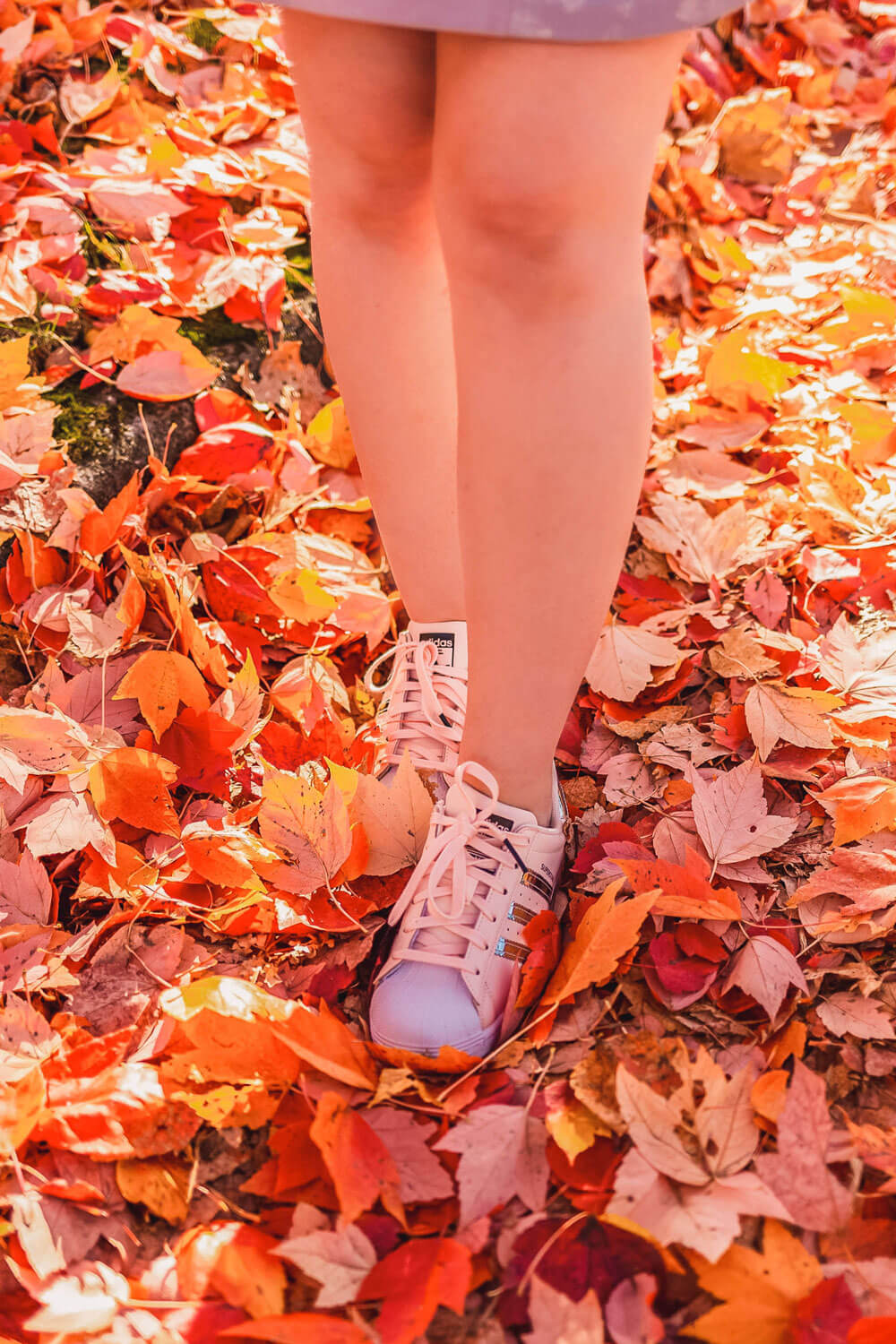 For this type of activity, I love to use it as an excuse to wear something cute yet comfortable. Dress up a white tee with this Adidas Skirt in Glory Grey! It has a lovely silver sheen detail that really elevates it from athletic to stylish. The drawstring waist makes it comfortable, even if I overindulge at brunch. Tie the Adidas Track Top around your waist in case it gets chilly, and finish the look off with a comfortable pair of sneakers. The Superstar Shoes in Pink Tint with Silver Metallic has a shiny accent that really makes them stand out!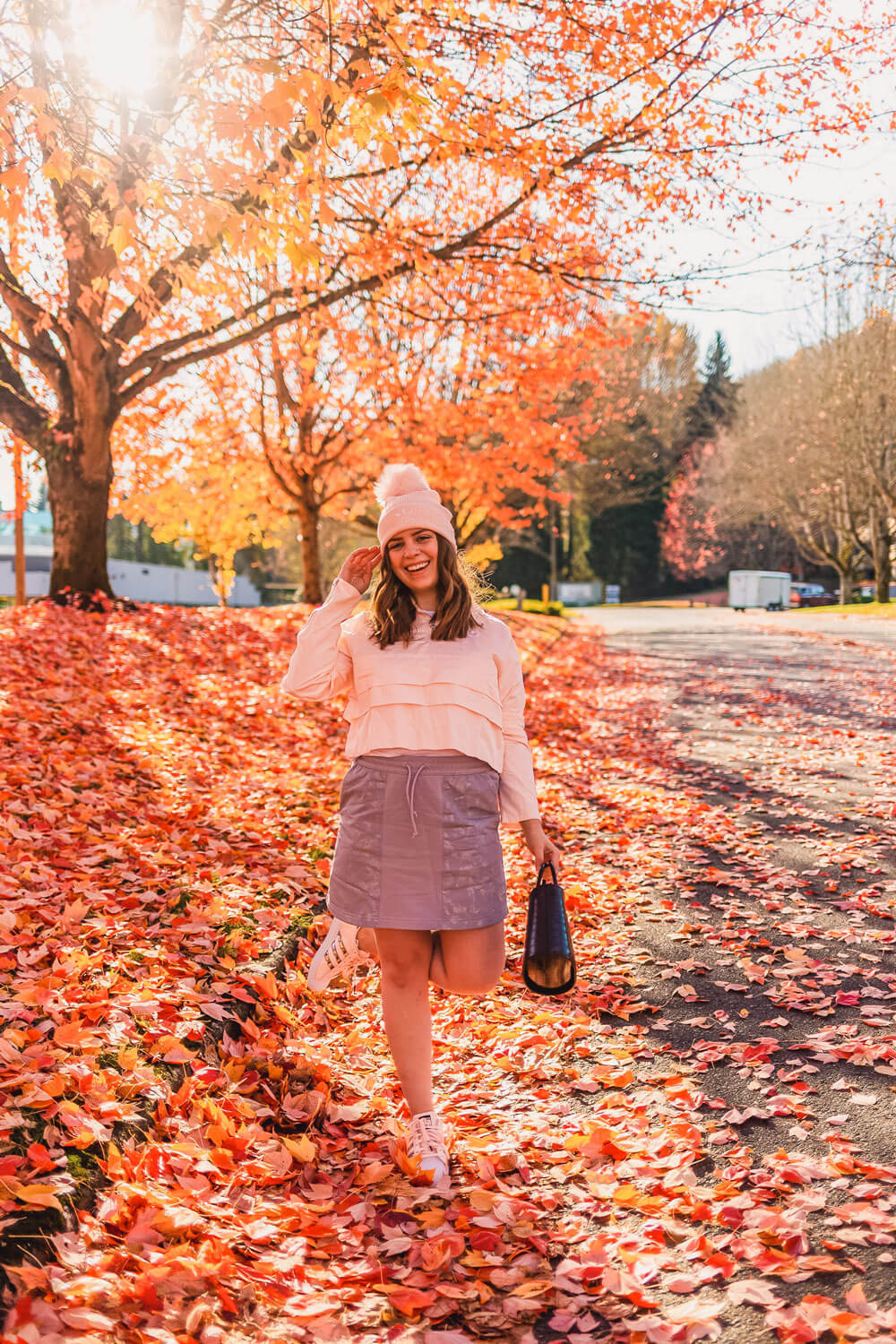 Athleisure Night Look: Cozy Date Night
Take your brunch look and change it up slightly for the perfect cozy date night! Lately, we've been having movie nights at home since going out isn't safe right now. We use this as an excuse to pop some popcorn, binge on our favorite sweet snacks, and cozy up in our comfy clothes.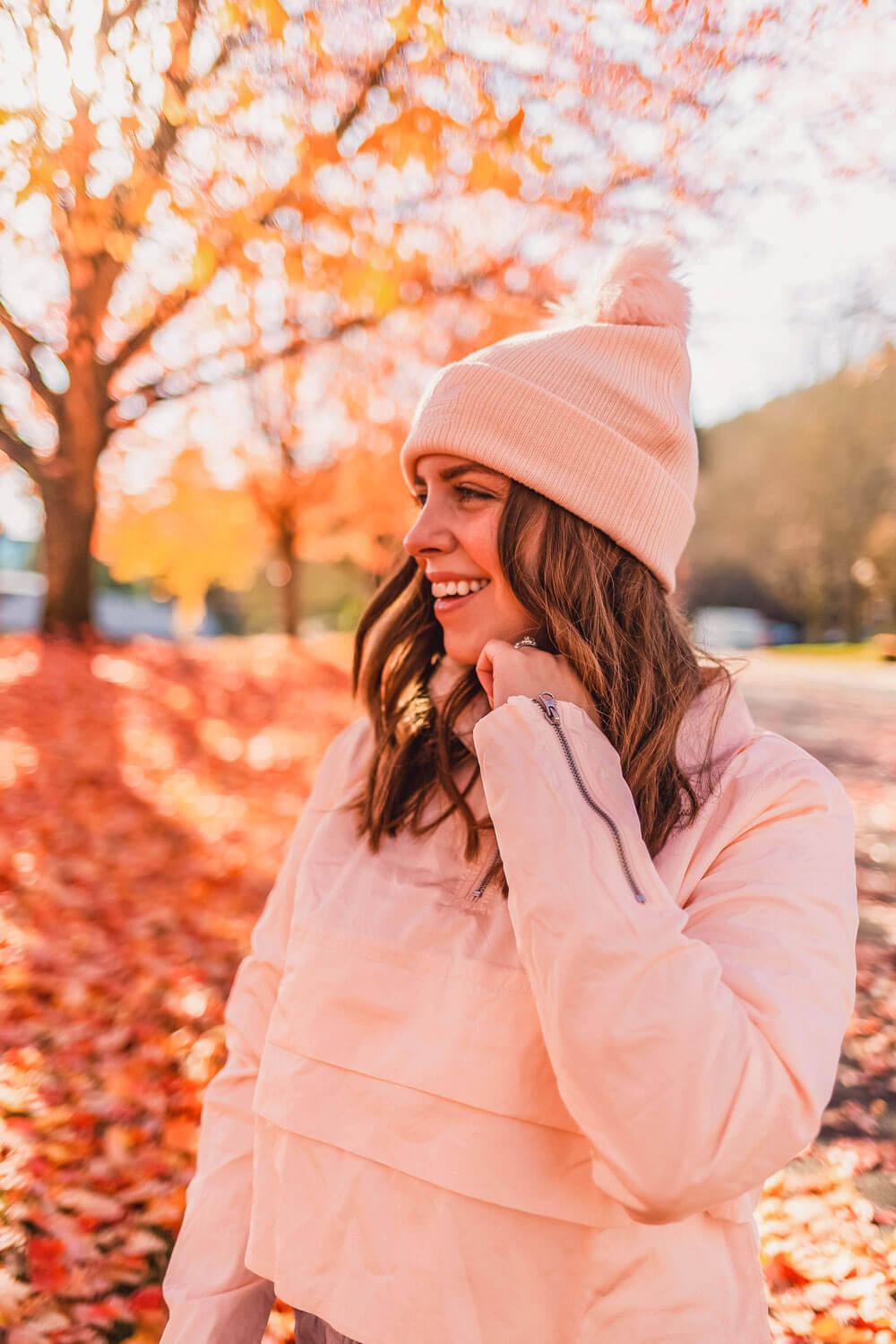 Take your brunch outfit and add a few extra layers! For this look, I've paired my Adidas Skirt with the Track Top Pullover. I'm finishing off the look with the Faux Fur Pom Pom Beanie and the Superstar Shoes, but you could pair this cozy outfit with slippers, too, if you're staying in!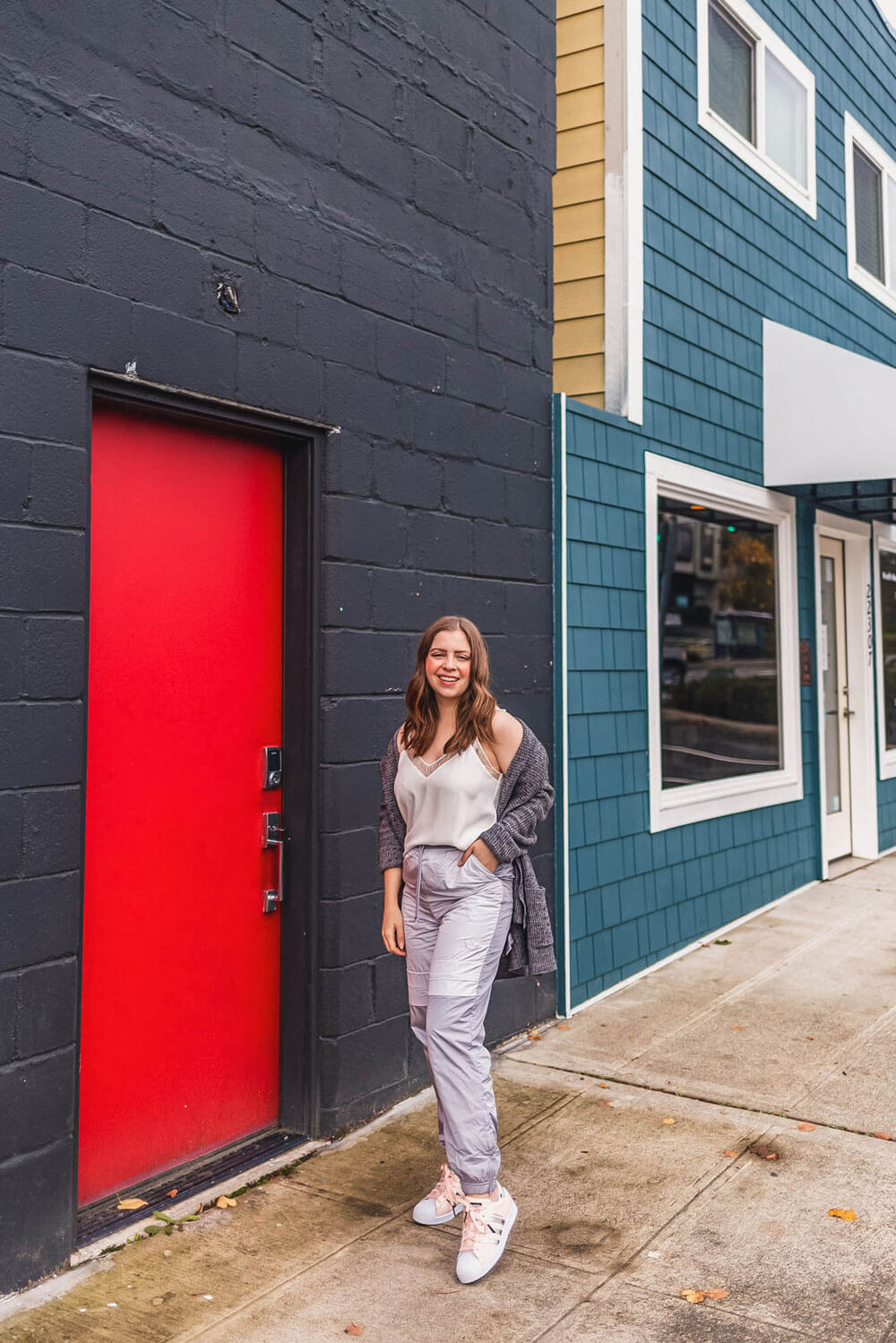 Athleisure Day Look: Work from Home
Dressy on top, comfortable on the bottom! That's been my go-to look over the years of working from home. Be ready in an instant to hop on a last-minute Zoom call thanks to this look.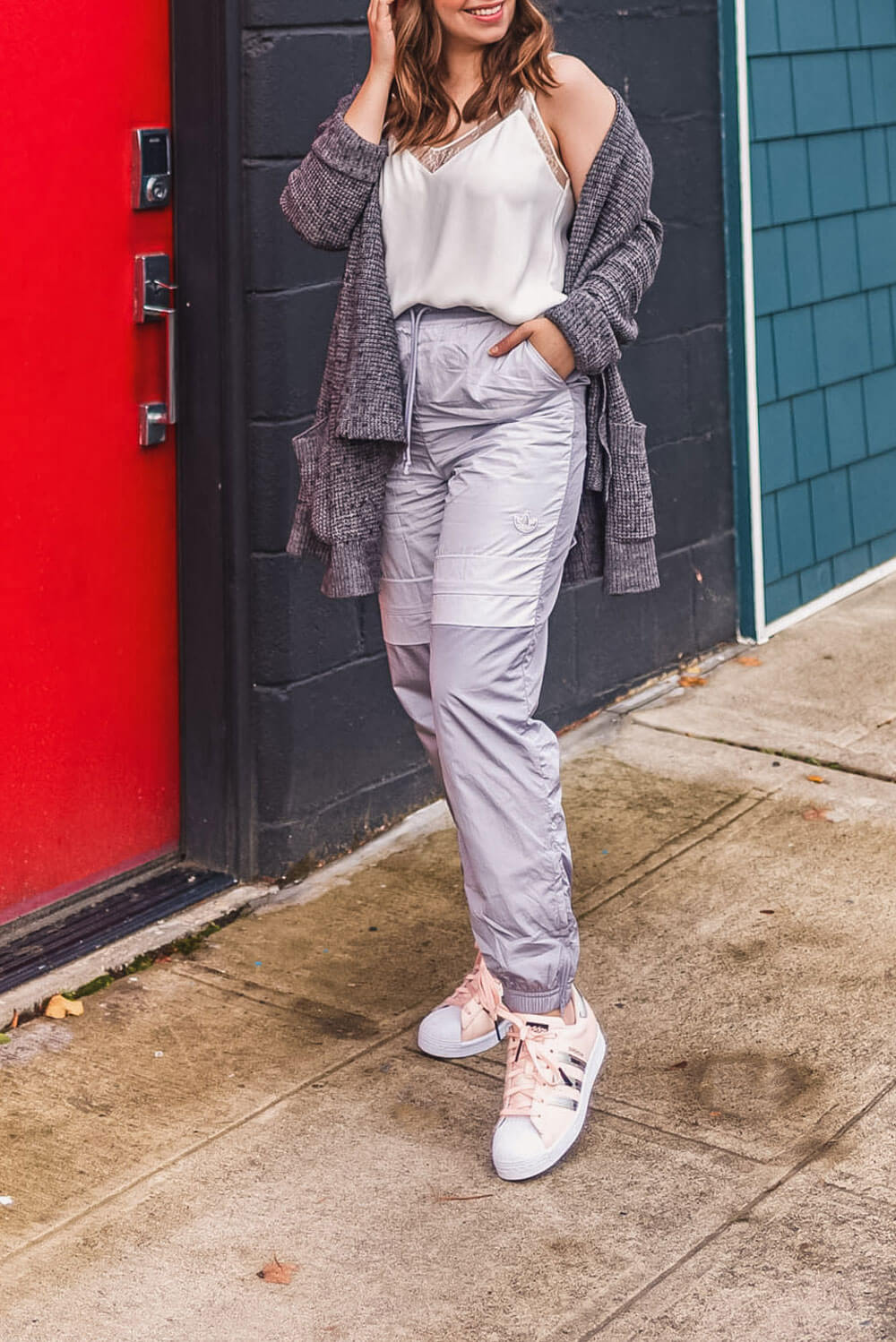 Pair a dressy camisole or blouse with a cozy sweater, and then rock your Adidas Cuffed Pants on the bottom. These comfortable pants are sure to please with their knit lined interior and fun color-blocked exterior! They come in Glory Grey or opt for the cute Pink Tint option. Don't forget to add an on-trend sneaker to the look! These Superstar Shoes are not only comfortable but come in so many fun colors, like this Pink Tint and Silver Metallic option!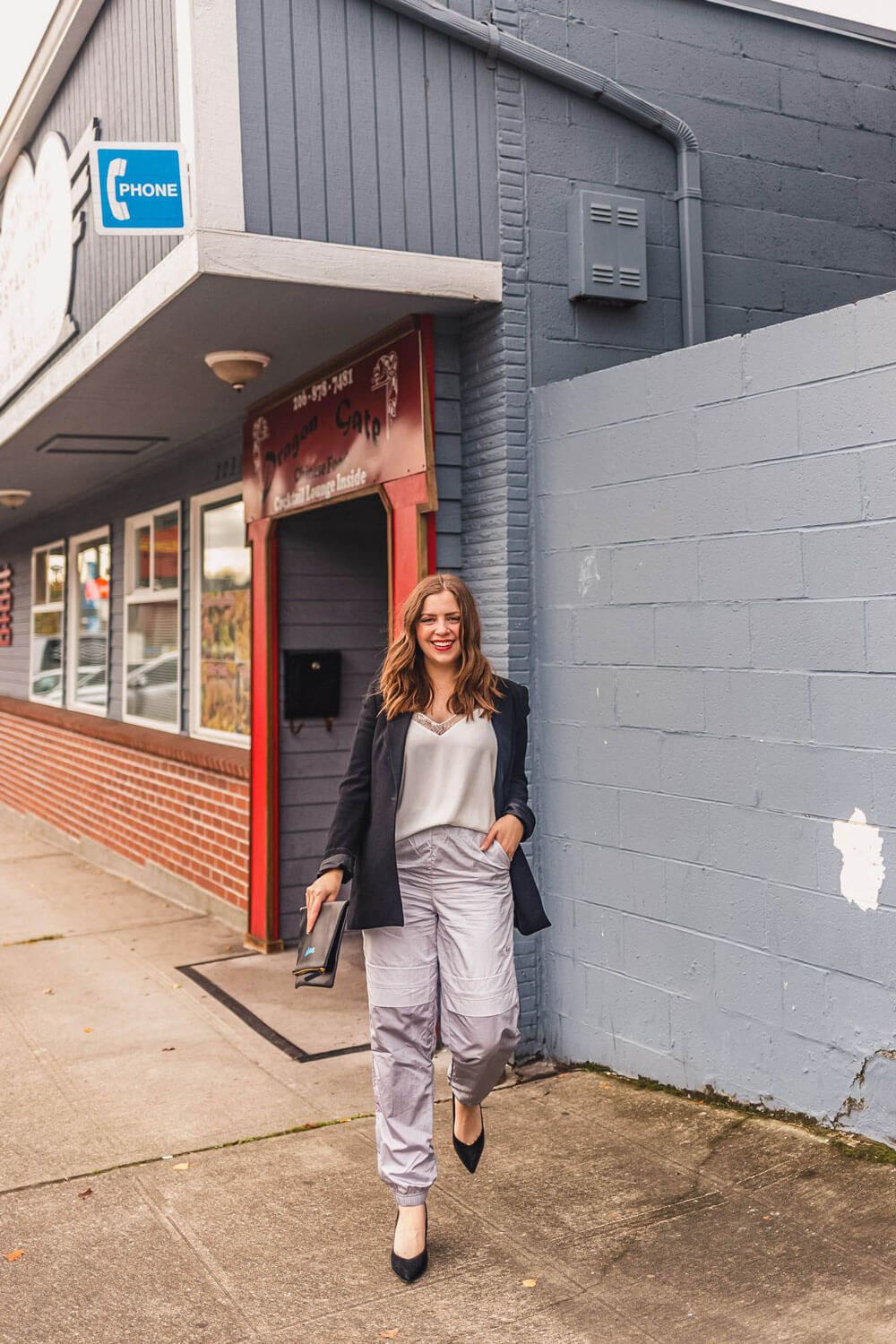 Athleisure Night Look: Socially Distant Happy Hour
At the end of a long workday, what's better than kicking your feet up with friends at happy hour?! Whether you're meeting virtually or in real life, I always think it's a good idea to get a little dressed up for the occasion!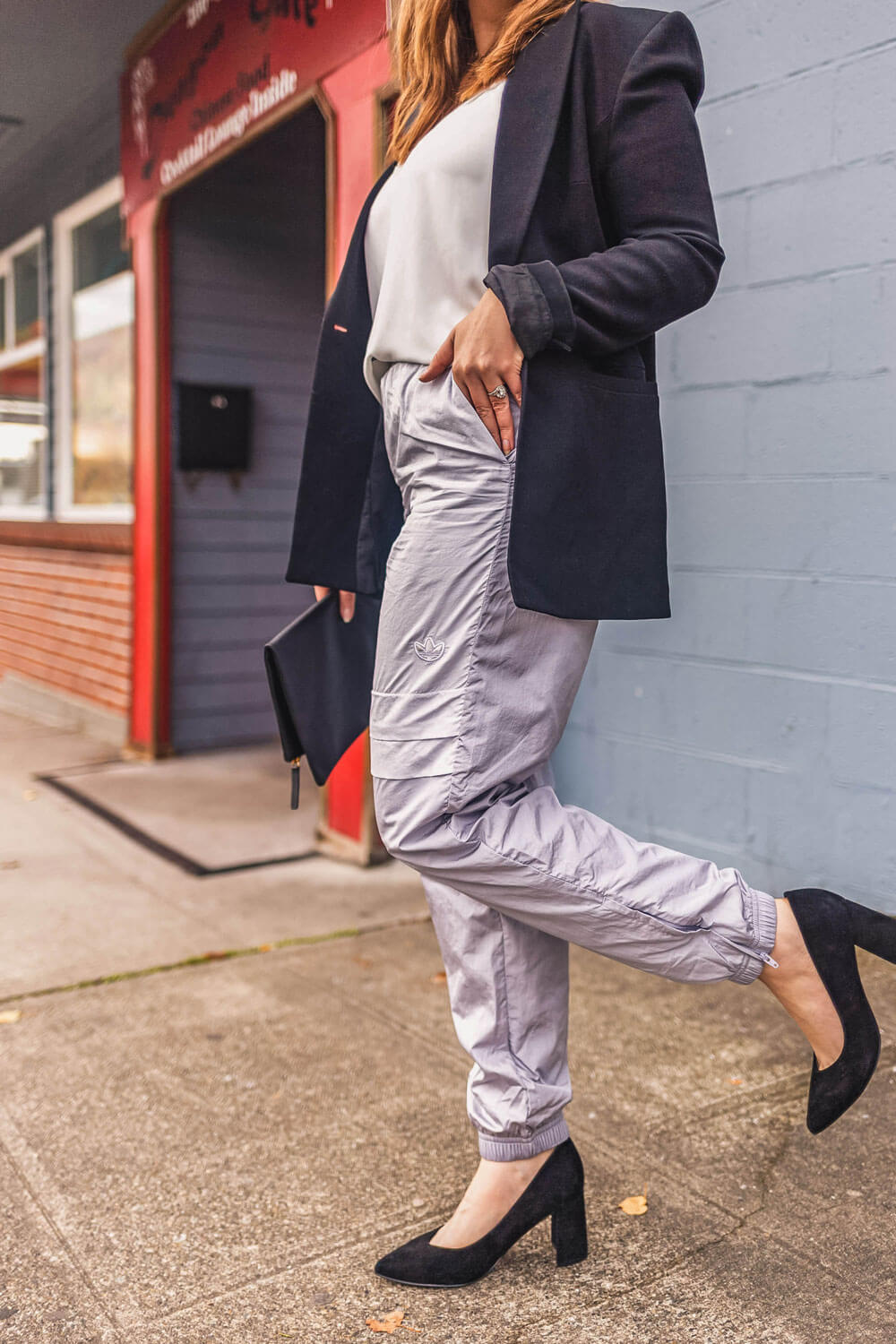 For this look, take your work from home look's Cuffed Pants and blouse, then add your favorite blazer. I love a good black blazer to instantly dress anything up! Finish with a pair of heels and a clutch if you're heading out the door. Now you've successfully styled taken your athleisure look to glam status!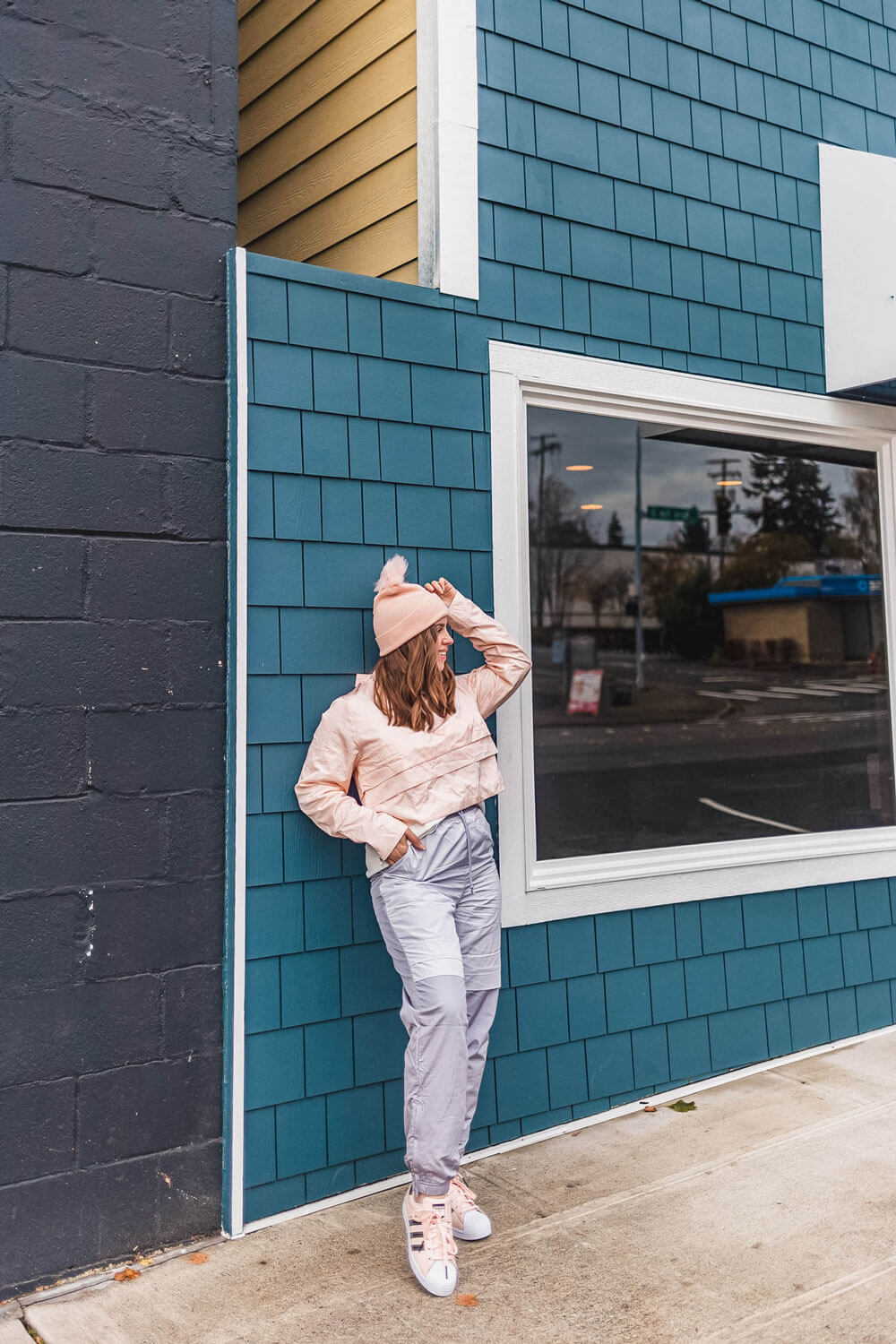 Athleisure Day Look: Chilly Errand Day
There's a chill in the air here in Seattle which has me craving all the layers of cozy and comfortable clothing! This look might be my favorite yet: it's a little snow bunny and very much on trend for the cold days ahead! It's the perfect layered look for running errands or attending a casual outdoor event.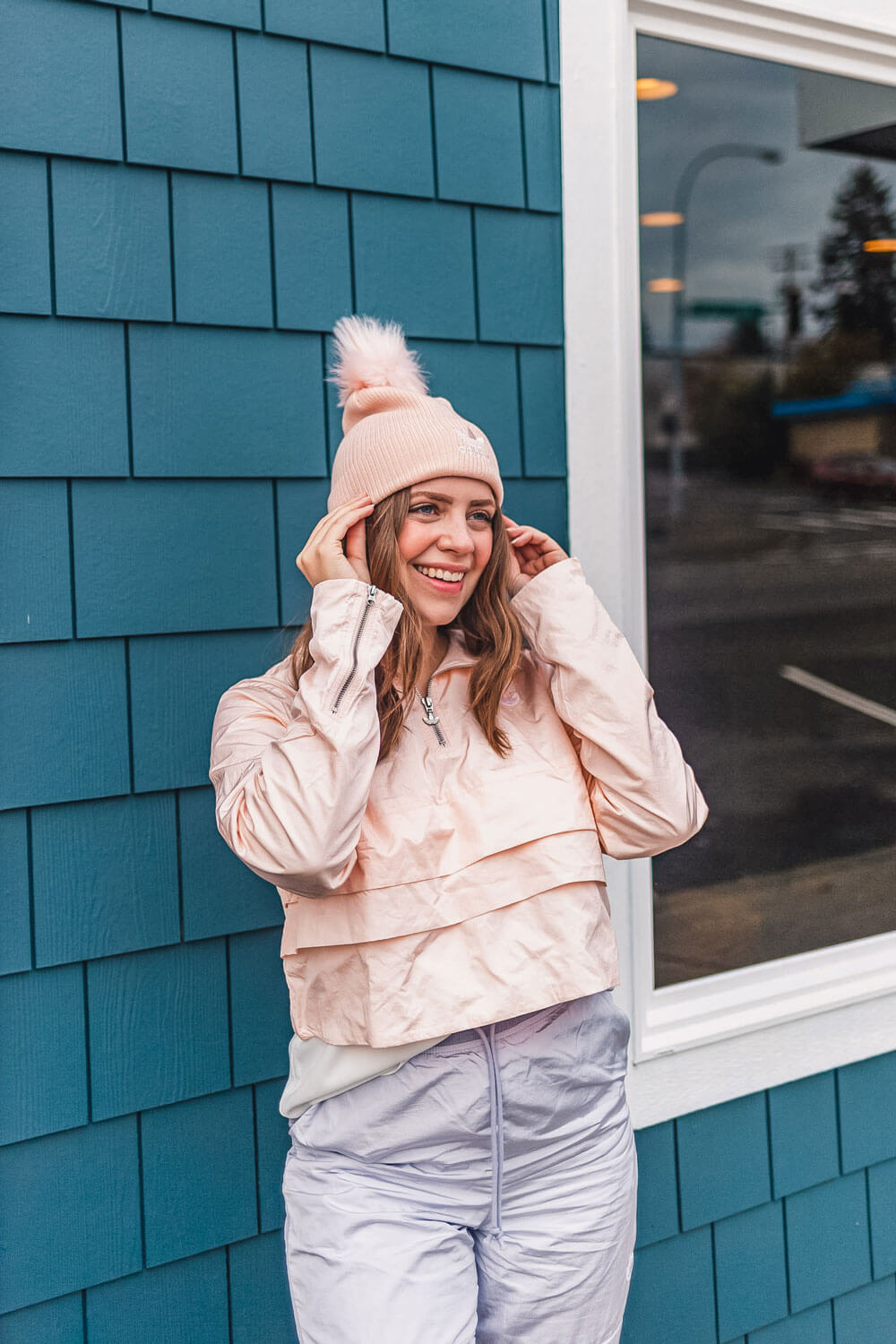 For this look, I'm pairing my Track Top Pullover with the Cuffed Pants. Both of these pieces are knit-lined for extra comfort and warmth during this transitional time between fall and winter. To finish this look, pair the Faux Fur Pom Pom Beanie and coordinating Pink Tint Superstar Shoes. Both of these pieces are so versatile and are sure to be wardrobe essentials as the weather keeps getting chillier and chillier!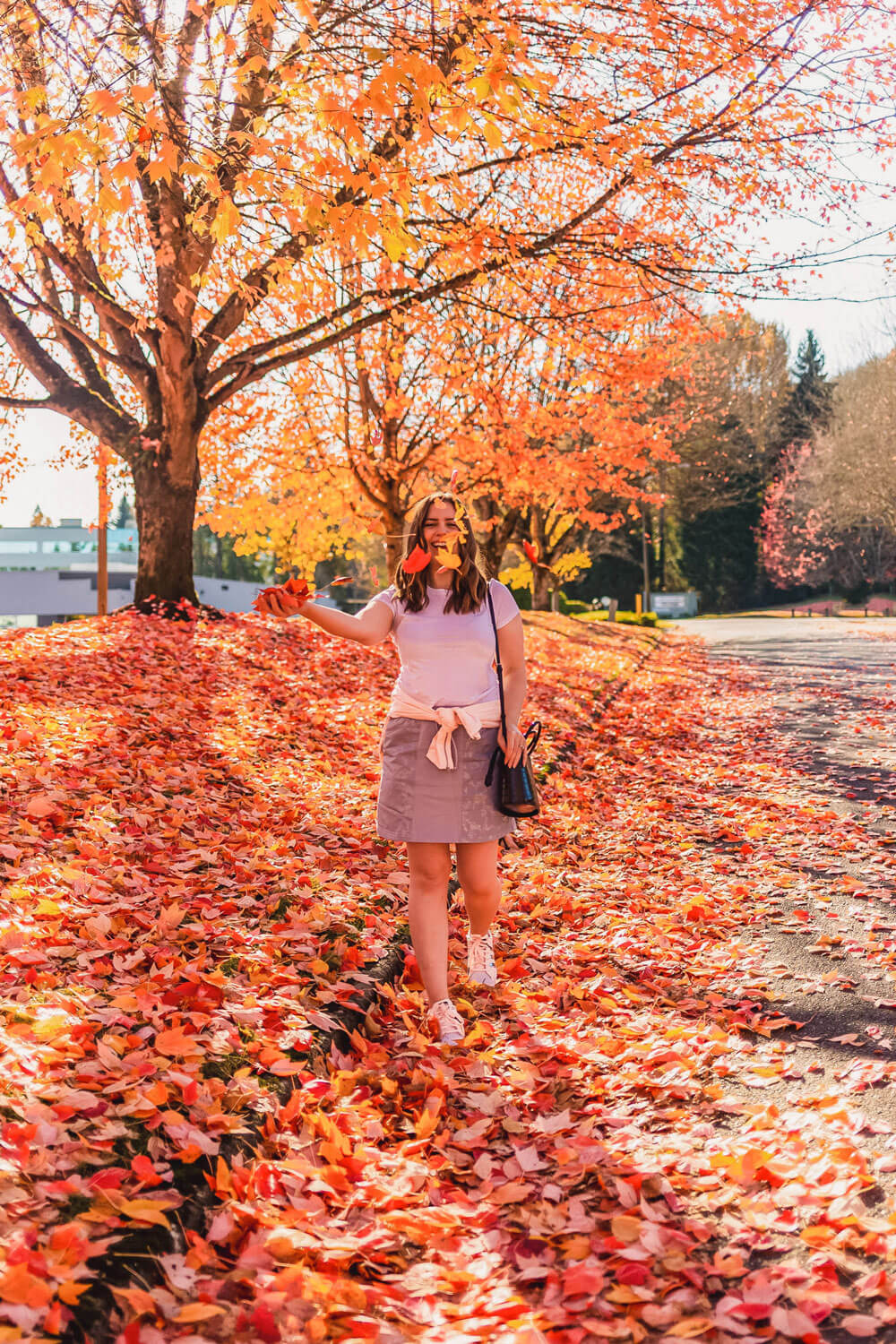 No matter what you have planned for the fall and winter months ahead, the Adidas Glam On Collection is worth a perusal. From baby pinks to jewel tones, sparkles and shimmers, and plenty of cozy fabrics, you'll be sure to find something you'll love to create these athleisure outfits for fall! Since athleisure styles are so versatile; you can easily these style staples from day to night or from comfy to stylish!
Which Adidas Glam On piece are you adding to your holiday shopping list?
---
Looking for More Athleisure Outfit Ideas? Try these Blog Posts!
Want to Save This Post for Later? Pin it!
Athleisure Outfits for Fall