Happy New Year! I hope you had a fun finale to the holiday season and were able to ring in the new year with those you love most. Personally, I enjoyed a snuggle in bed with my two favorite boys, watched movies all night, and pigged out on fried chicken and cookies from Trader Joe's. Yep, party animals. But, I'll spare you the fascinating the details and get into what you're really here for: my monthly Stitch Fix review!
It wouldn't be the beginning of a new month without my usual Stitch Fix post, so here we are! At the end of December, I suffered from a weird virus that manifested itself in horrible, pounding headaches. (Or maybe it was a migraine? No clue. The doctor said it was a virus, though.) That made it really hard for me to blog, let alone get outside and take photos, for days. So, my Stitch Fix sat lonely under my desk through the long Christmas weekend, when I finally remembered a few days later that it had been waiting for me. Oops!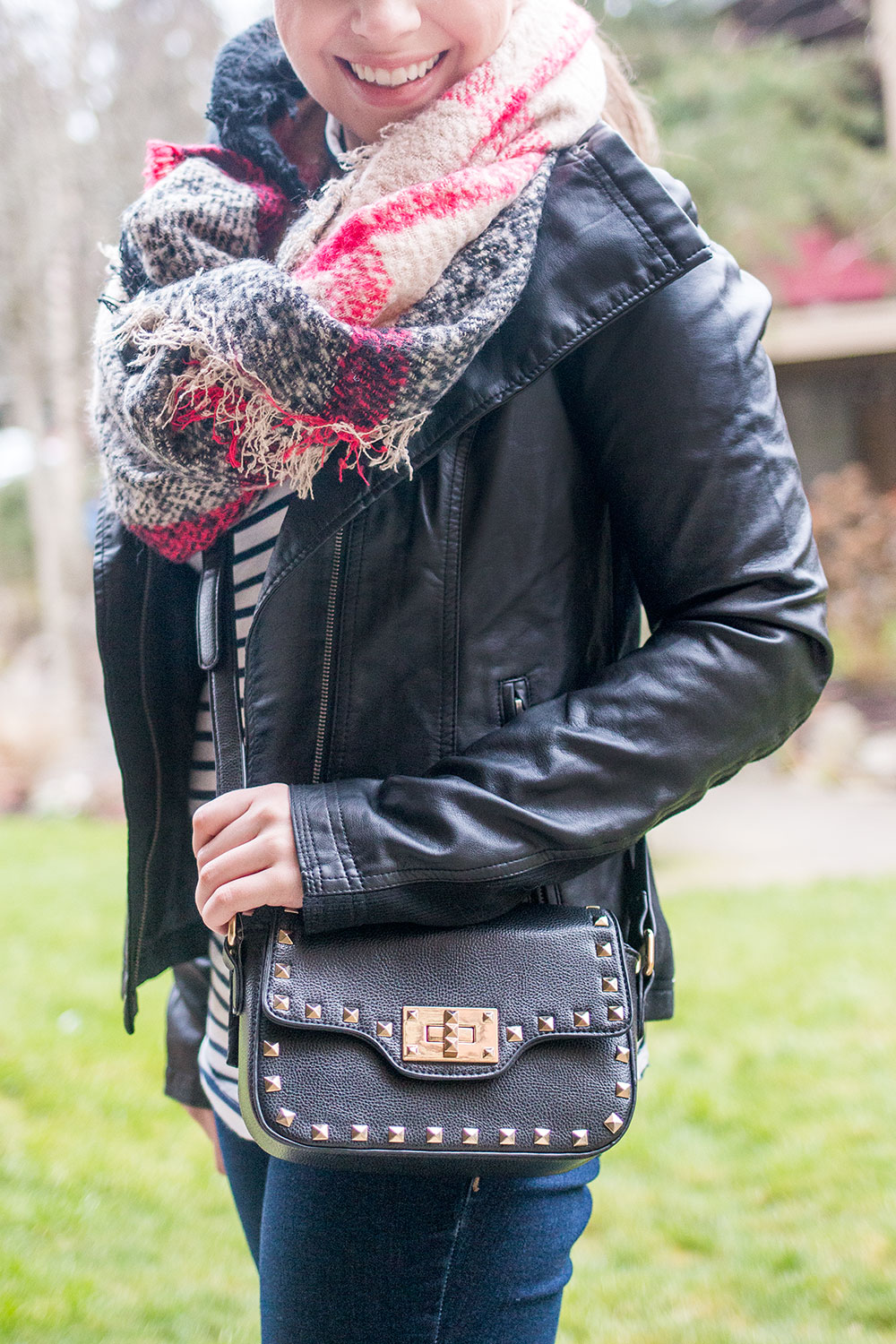 Disclosure: This Stitch Fix January 2017 post contains affiliate links. All opinions are my own, and I purchase this subscription myself.
Stitch Fix January 2017 Review
I say all of this because unfortunately, some of these pieces would have been total keepers for me had I opened the box before the holidays. But, since I didn't, I felt compelled to send them back because I couldn't foresee a need or occasion for them. Regardless, Bianca did a great job anticipating my needs for the holidays, and if you're interested in seeing what she sent me then just keep reading!
If you're new to Stitch Fix, I'll break it down real quick. For a $20 styling fee, receive a box on your doorstep containing five items – anything from clothing to jewelry to handbags to shoes based on your style profile and Pinterest style board. Send back what you don't like, keep what you do, and your $20 styling fee will be deducted from the total. Keep all five items and receive an additional 25% off.
If you sign up with my link, you'll receive $25 off your first Fix!
Stitch Fix also is now serving male clients too! Have a significant other or male relative in need of some shopping assistance? Send them over to Stitch Fix Men! It works the same way, and it's perfect for the holidays because if we are being honest, most men hate shopping!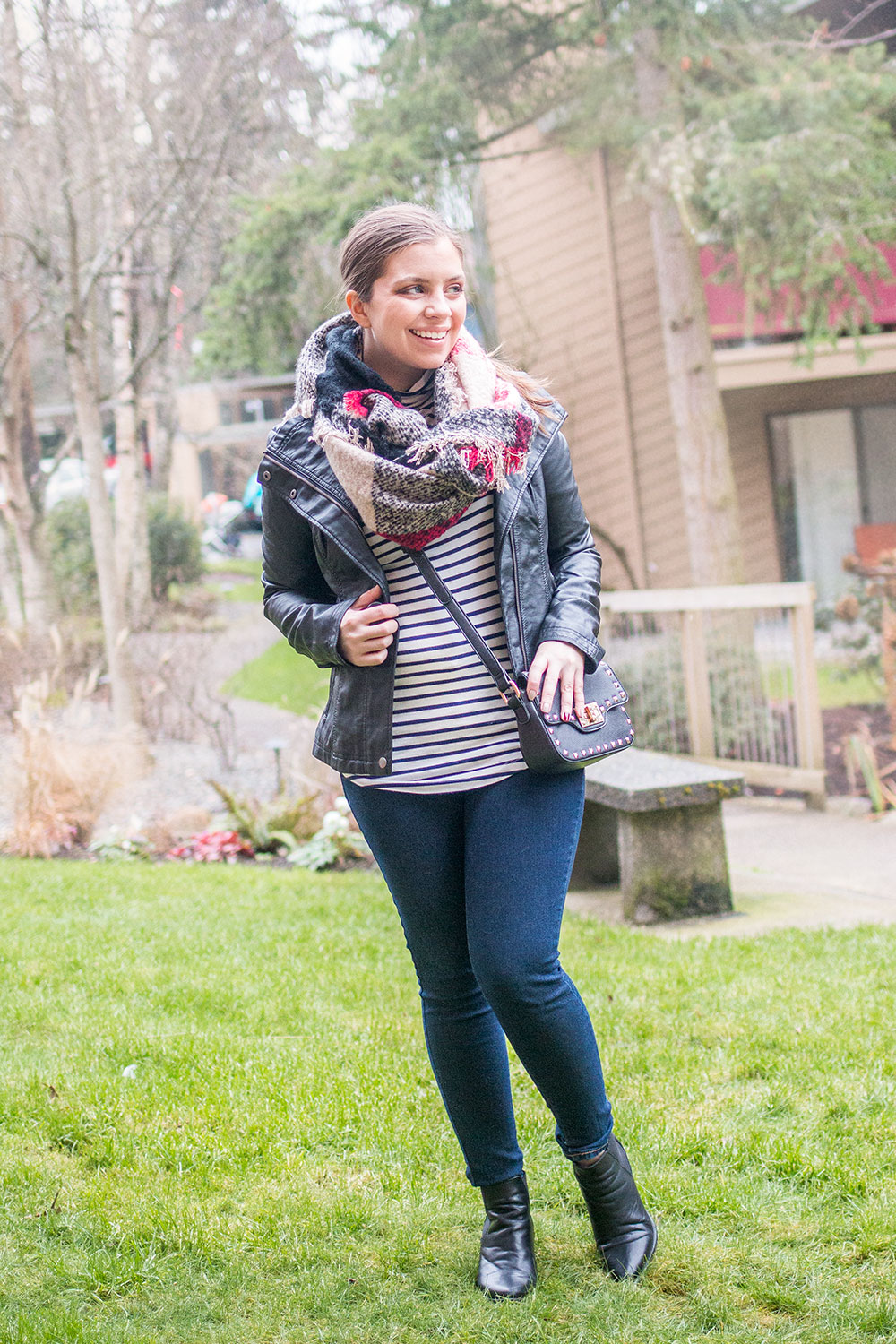 RD Style Rhonda Faux Leather Jacket in Black, Size Small, $78
You guys already know my love for faux leather jackets (see exhibit a, b, and c here for proof) so I was thrilled to get one to try from Stitch Fix! I loved the style of this; the oversized lapels are so fun and make this versatile for both work and play on the weekend.
Since it's been so chilly here, I thought pairing this jacket with a striped turtleneck and big blanket scarf that I received from Stitch Fix as a holiday gift (thank you, Stitch Fix team! You're so sweet!) would be perfect. I love mixing patterns, so the oversized plaid in the scarf and stripes in the turtleneck pair perfectly together. I kept the rest of the outfit neutral; pairing the jacket with my favorite ankle boots and studded crossbody bag. A simple pair of dark denim jeans made this outfit perfect for a shopping adventure, meeting a friend for brunch, or just running errands.
Shop similar jackets:
Bay to Baubles Lopez Fringe Hoop Earrings in Gold, $28
How adorable are these hoop earrings from Bay to Baubles?! These versatile earrings would go so well with so many outfits. I think they're so versatile that I kept them with you in mind! So if you'd like a chance to win these lovely gold hoop earrings, keep on reading through this post to enter!
Shop similar jewelry: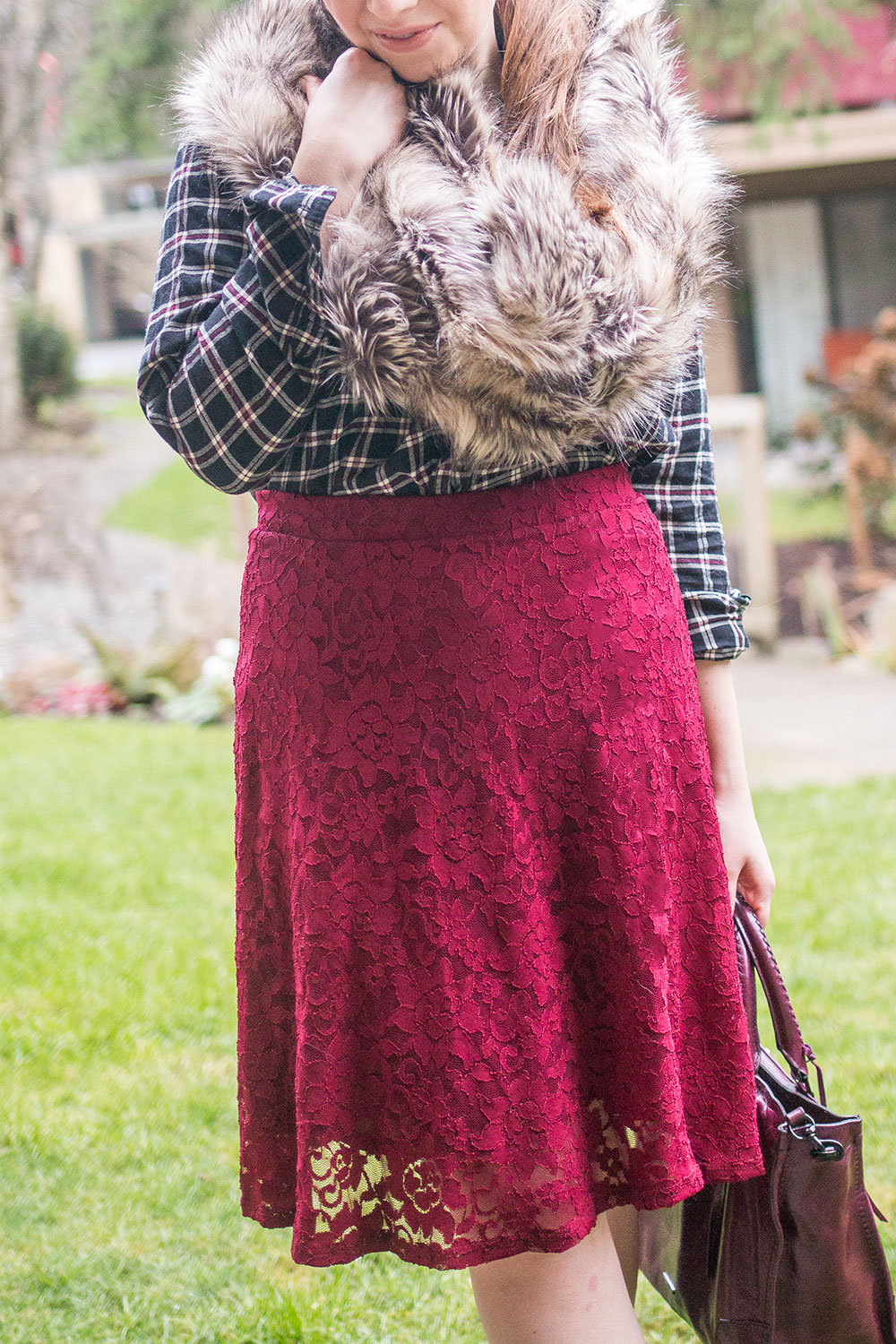 Gilli Lucille Lace Flare Skirt in Burgundy, Size Small, $54
This cute little lace skirt would have made for the perfect Christmas outfit! Unfortunately, I wasn't able to open my box until Christmas had already flown by, so I really couldn't think of a compelling reason to keep it, however, I loved styling it for this review! (Plus, I had just purchased a metallic skirt from Target, so I needed another skirt like I needed, well, more clothes in general.)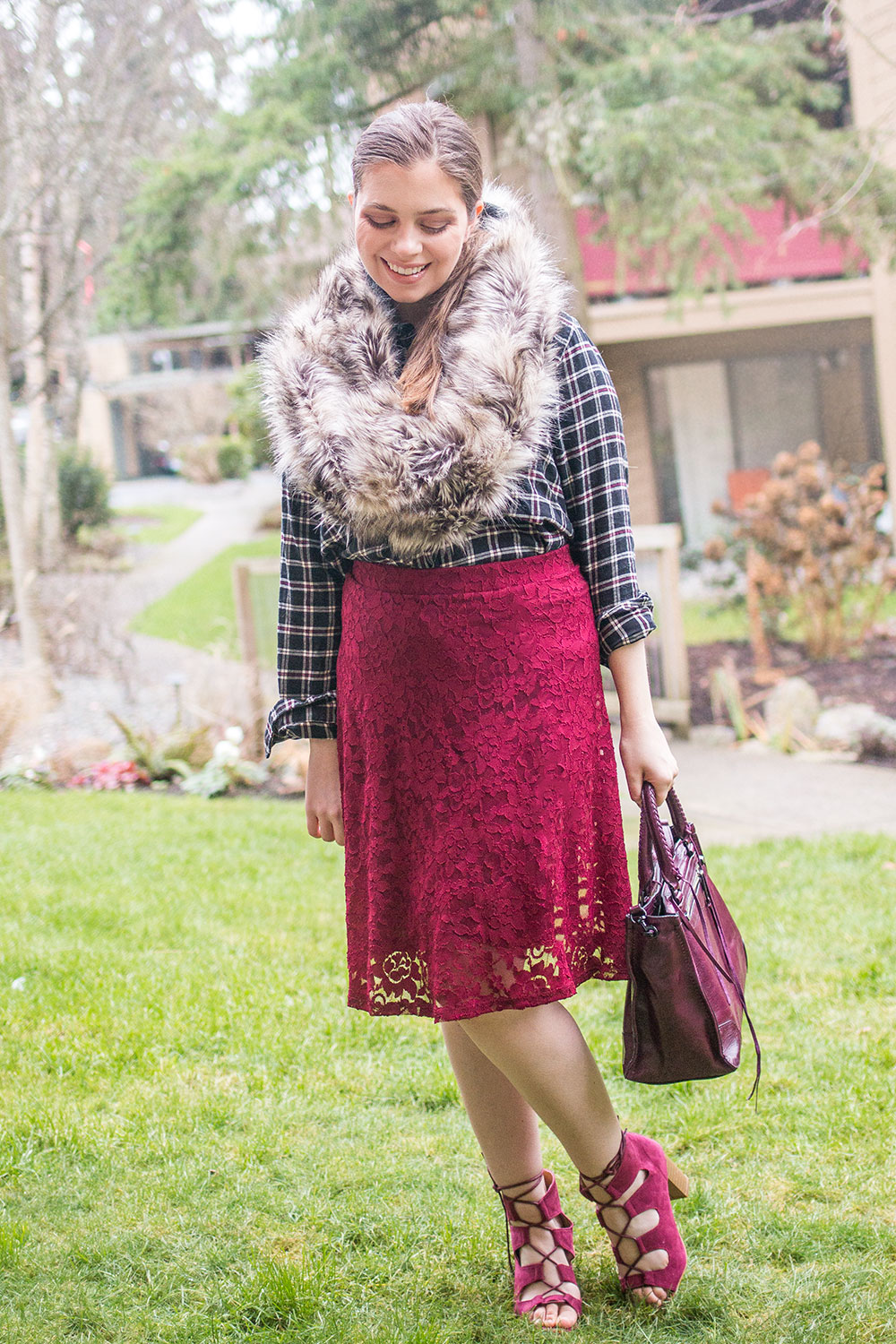 For this look, I opted to contrast the girly vibes of this skirt with a plaid top from Uniqlo. I felt this outfit was very festive, so I added a fur snood (like a scarf but can also be worn as a hood) and a pair of burgundy that coordinated perfectly with the color of the skirt. This outfit would have been adorable to wear to a holiday party, but I could also see rocking it with a beautiful coat and going out for a night on the town with your significant other or girlfriends!
Shop similar skirts: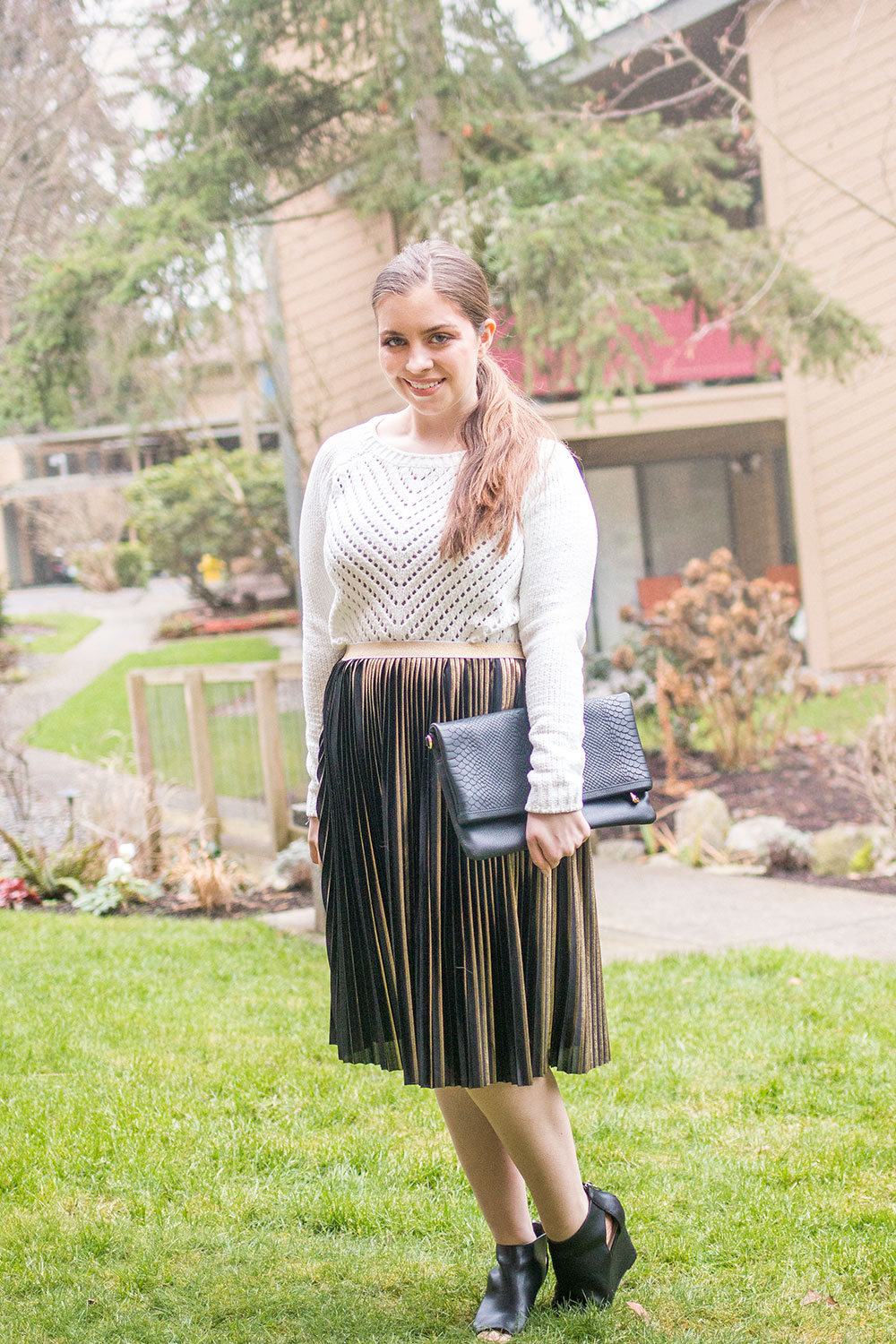 Evolution by Cyrus Phoebee Perforated Front Pullover in Off-White, Size Small, $68
What you can't tell in the photos about this pullover is how incredibly soft it was! It felt like a chenille blanket, and I wanted to curl up forever with it. But, since it's not a blanket, I decided to do the next best thing with it and wear it.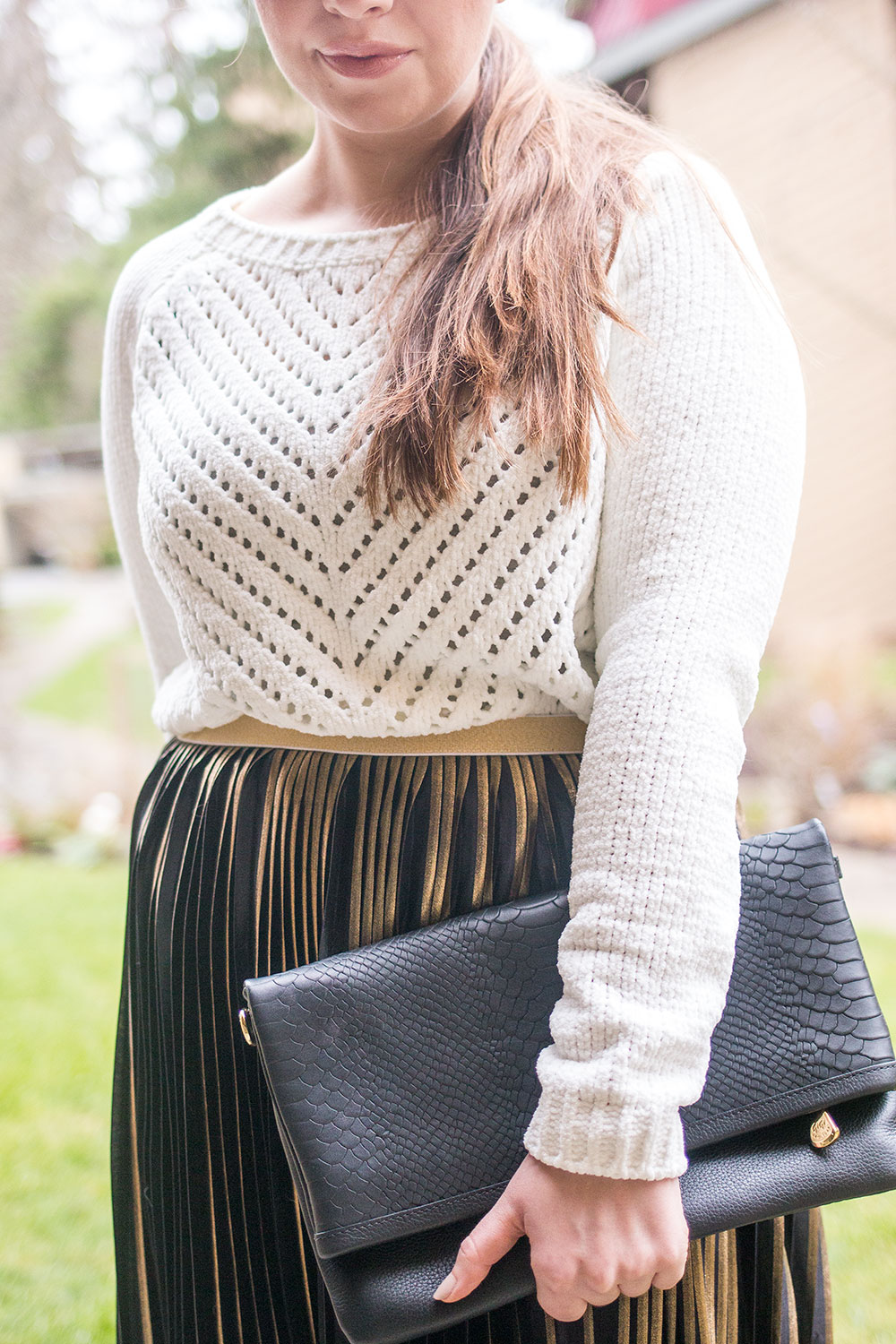 I opted to style this lovely sweater with my new metallic skirt from Target. (Girl's section for the win! Though there is a similar style available for women too, if you're not a shortie like me.) If you still have any holiday parties to go to, pairing a sweater with a metallic skirt is my favorite winter hack. Look cute yet stay warm? Yes, please! To complete the look, I grabbed my Carly Clutch from GiGi New York and a pair of open-toed booties.
Shop similar sweaters: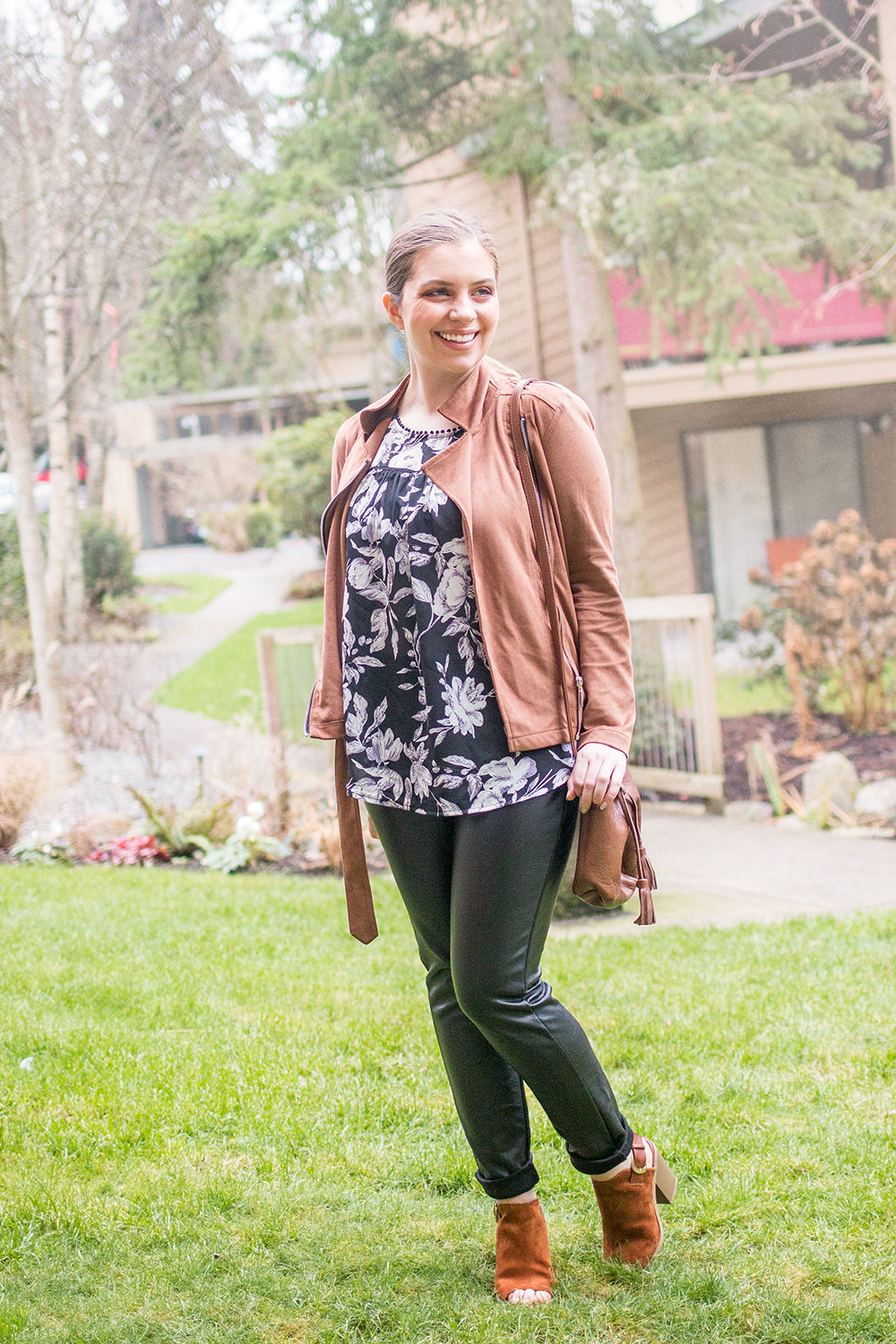 Fun2Fun Mondale Crochet Detail Blouse in Black Floral, Size Small, $44
The final piece in this month's Fix was a pretty little floral blouse from Fun2Fun. I'm a sucker for floral print year round, so this shirt definitely spoke to me right out of the box. If I'm honest, wearing this blouse left a lot to be desired. It was oversized, and I just felt like it did nothing for me. I think pairing it with a skirt or tucking it into a high-waisted pair of pants would have given the blouse a better shape.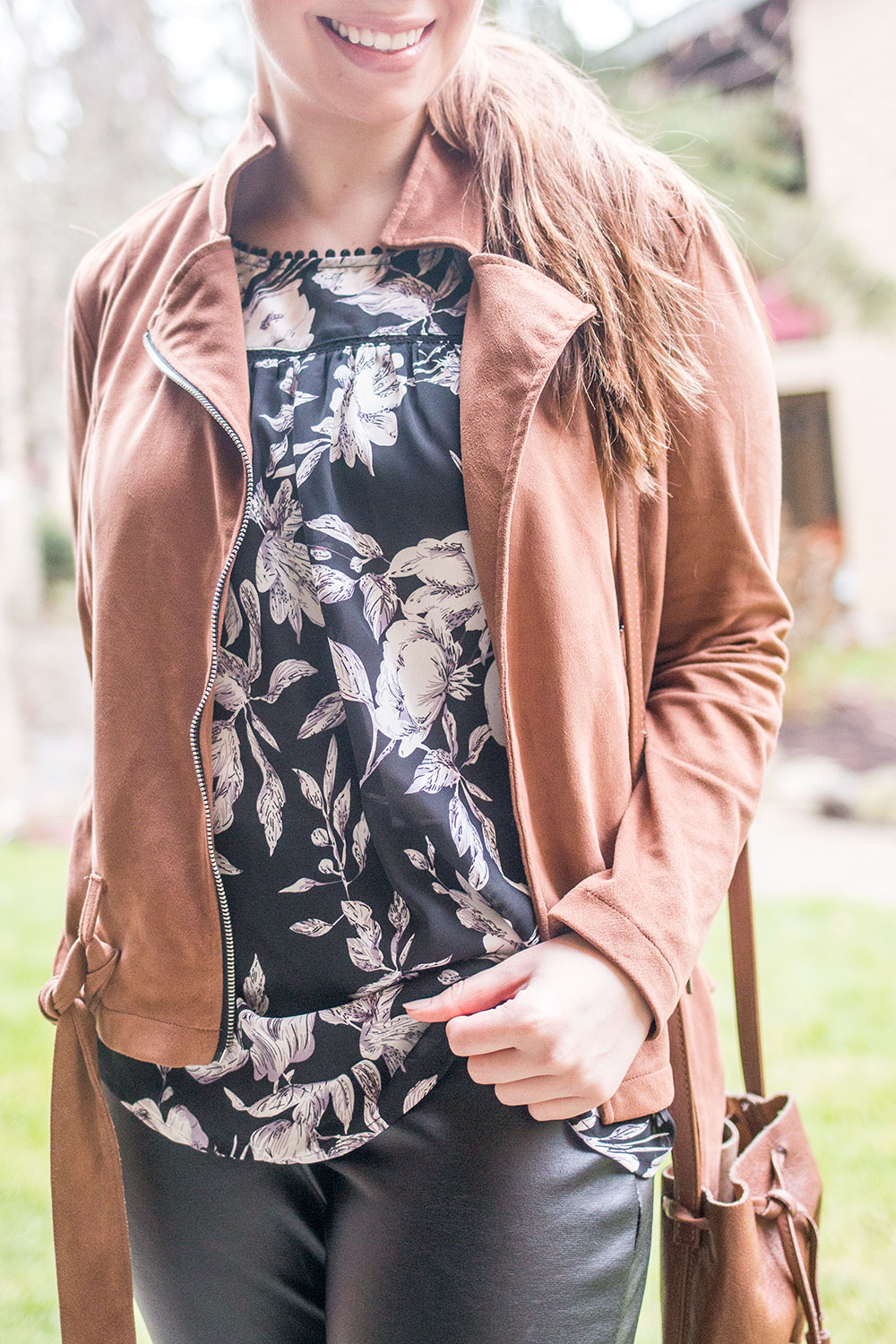 In this look, I wanted to go casual since I had so many outfits with skirts already. I grabbed a pair of faux leather pants and my faux suede biker jacket from Boohoo to add a bit of edge to the floral blouse. To complete the look, I grabbed a brown bucket bag and a pair of brown open toed booties. Who says you can't pair black with brown? That's one style rule I wholeheartedly believe in breaking. ;)
Shop similar blouses:
Let me know in the comments below which piece(s) were your favorite in this month's Stitch Fix!
---
Looking for More Stitch Fix Reviews? Try these Blog Posts!
Want to Save This Post for Later? Pin it!
Stitch Fix January 2017 | Stitch Fix Reviews