Well, it's better late than never, right? I'm posting my May Stitch Fix review a bit later than normal, but such is life. April was a month of big changes, more on that soon, which meant sometimes other areas of life suffer. You know, adult problems. Anyway, a monthly delivery from Stitch Fix is always a welcome relief from boring adult activities, and this one is a good one!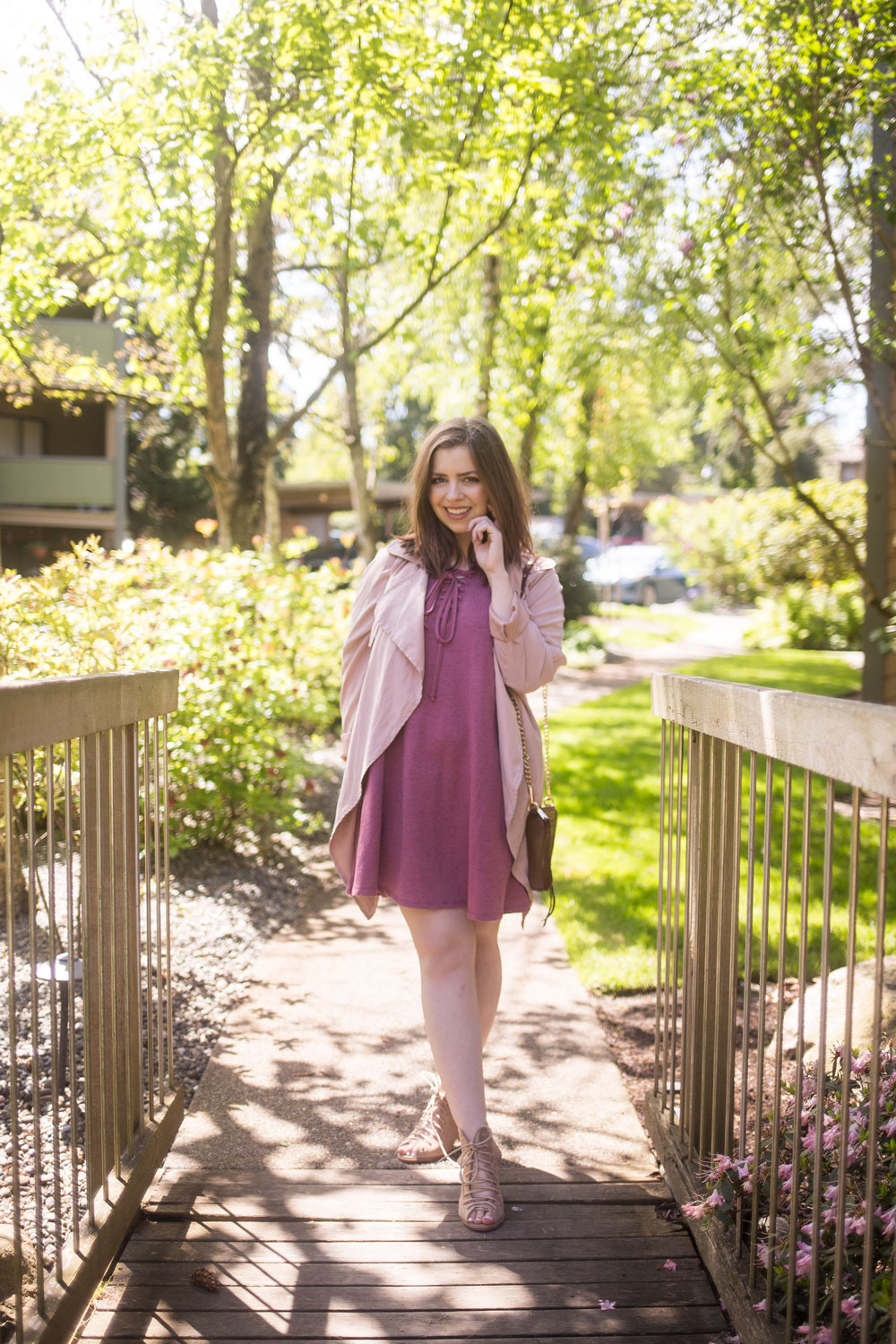 Disclosure: This post contains affiliate links. That means if you click a link, I may make a small commission from your purchase. I do pay for this subscription myself. :)
Stitch Fix May 2017 Review
If you're new to Stitch Fix, I'll break it down real quick. For a $20 styling fee, receive a box on your doorstep containing five items – anything from clothing to jewelry to handbags to shoes based on your style profile and Pinterest style board. Send back what you don't like, keep what you do, and your $20 styling fee will be deducted from the total. Keep all five items and receive an additional 25% off.
If you sign up with my link, you'll receive $25 off your first Fix!
Stitch Fix also is now serving male clients too! Have a significant other or male relative in need of some shopping assistance? Send them over to Stitch Fix Men! It works the same way, and it's perfect for the man in your life because if we are being honest, most men hate shopping!
Stitch Fix also offers maternity and petite sizing, and plus sizes have finally made their debut as well. Stitch Fix is now offering over 90 brands for Plus Size clients in sizes 1X-3X or 14W-24W depending on the brand. Brands include ELOQUII, Junarosa, Slink Jeans, and more. You can sign up for Stitch Fix Plus here.
And now with all the details out of the way, onto what came in my Stitch Fix this month!
Z Supply Emella Dress in Pink, Size Small, $44

The first item to come out of my Stitch Fix box this month was this comfy-chic dress from Z Supply. Z Supply is a brand I've been curious about for a while, so I was thrilled to be able to try one of their pieces without spending my own money upfront!
I've been really into blush pinks this season, so of course, I had to grab my waterfall trench to style this! I love the lace-up detail on the front placket of this dress – it adds so much interest and is just so different from the typical swing dress! Speaking of swing, when the wind picks up, you can really tell how much material we are working with! This one is super swingy, and depending on if you love or hate this style, this could be a good or very bad thing. I personally love swings dresses. Matched with denim jackets, cardigans, or moto jackets, it softens the look and you can give your silhouette a much more fitted appearance.
Shop this outfit:
Kaileigh Maris Romper in Brown, Size Small, $64
Next up, my favorite piece for spring and summer… the romper! This one by Kaileigh is mad adorable, but something about this just wasn't quite right for me. I loved the pattern and the overall style, but the wrap top came down much too low and the waist was much too long for me. I have a short and high waist, so this can make finding rompers, jumpsuits, and wrap styles a bit of a challenge for me.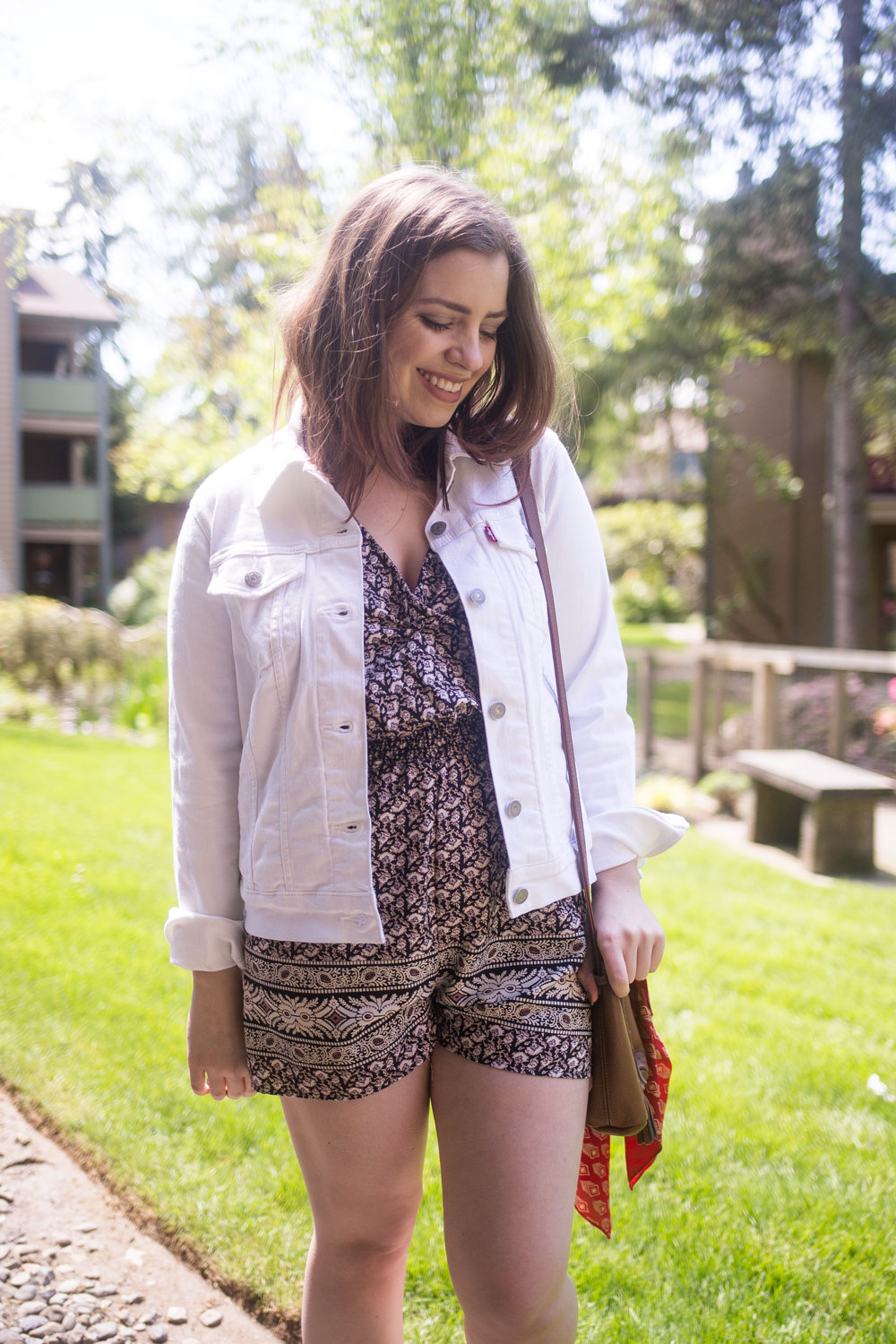 Regardless, I think this romper would be adorable on a taller girl and I could see easily dressing this up with a blazer, or dressing it down like I've done here with a white denim jacket. This denim jacket has been my go-to this spring already. It's just so perfect when you need a lightweight layer but you're not feeling blue.
Shop this Outfit:
Colette Romey Cold Shoulder Knit Top in Red, Size Small, $28
Next up was a top from Colette with a fun twisted cold shoulder detail! I love how easily this top slims my upper arms (one of the areas that I don't love on my body) and adds a fun detail to an otherwise simple top. The color is punchy and perfect for the warmer months too!
To style this top, I opted to keep it simple with a pair of high-waisted denim kick flares from American Eagle. I recently nabbed these on sale for just $20 and they're a total steal. It's been a long time since I tried denim from American Eagle, so if you're in between sizes (I'm usually a 4) or got a little going on in the back, I'd recommend going up a size (I purchased a 6 Short). To make the outfit a bit more fun, I pulled out my wicker bag from Stella & Dot. To finish off the look, I added a pair of comfortable yet chic mules.
Shop this Outfit:
Studio Blue Leiticia Distressed Uneven Hem Skinny Jean in Blue, Size 27, $68

Who doesn't love distressed denim for spring?! I love letting a little skin peek out of my denim when the weather heats up, and I especially love the uneven and frayed hem of these jeans from Studio Blue! If you're interested in requesting these in your next Fix, however, I would recommend asking for a size up. If you're used to the fit of other Stitch Fix denim brands, I find these to run a bit smaller. ;)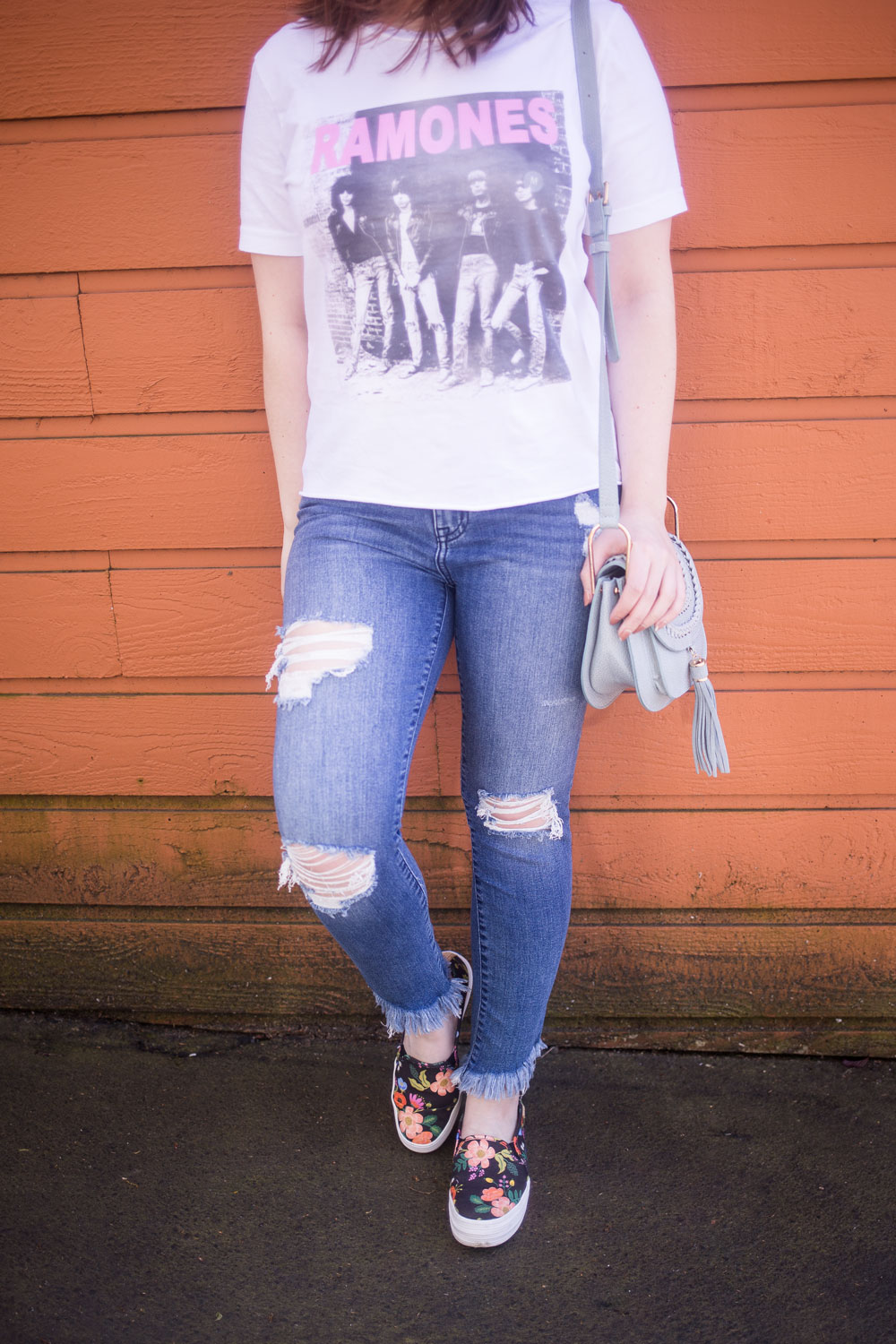 Because these were feeling a bit snug, I thought an oversized band tee would do the trick for this casual outfit! I love wearing worn-in band tees on the weekends to grab a coffee, run errands, and just for wearing around the house. Throw on a denim or moto jacket, and you'll complete the look for a night out with friends, to go to a concert, or to just grab some grub. I've also paired this with my absolute favorite shoes right now, my Keds from the Rifle Paper Collection! Finally, I grabbed my tassel crossbody to complete the look.
Shop this Outfit:
Laila Jayde Bleek Ribbed Henley Tank Top in Grey, Size Petite Small, $48
And for the most casual of all styles, here we have the Laila Jayde Bleek Ribbed Henley! This material is so soft and comfortable that it almost feels like it could be a pajama top. It really is cozy, and if you're one to love casual styles, this tank is definitely for you.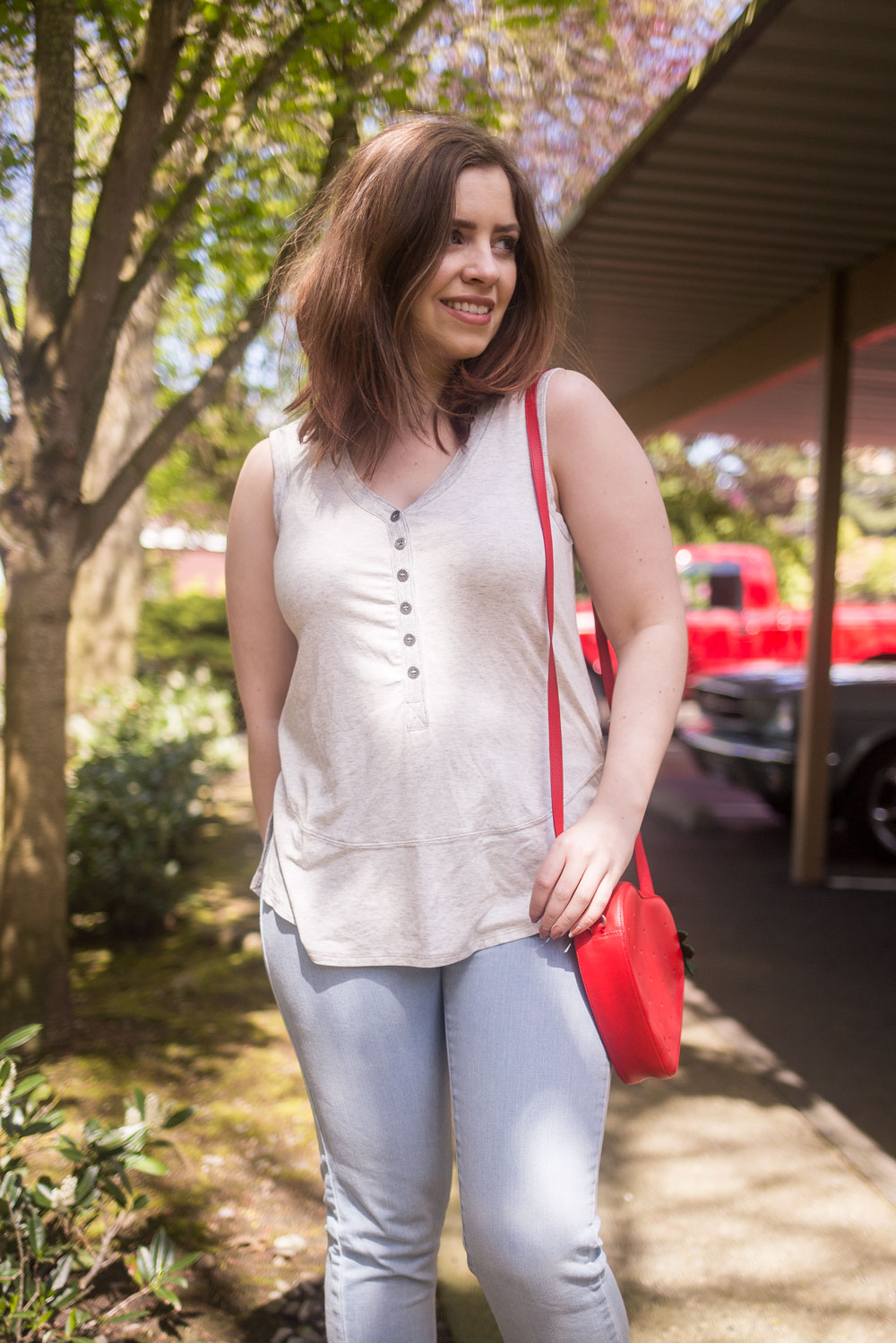 To style it, I've paired it with a light wash denim from Levi's, and a pop of fun with this strawberry bag from MyWalit. Is there anything more perfect for spring and summer than a strawberry purse? I think not! ;) I also finished off the look with a comfortable pair of sneakers from the Brooks Heritage Collection. These were just released last week, and if you love atheleisure, you'll love their Heritage Collection! Hurry, because this is the last run of their Heritage line.
Shop this Outfit:
And that's a wrap on this month's Stitch Fix review! I hope you enjoyed seeing the pieces I got and how I opted to style them into my current wardrobe. Overall, I was pleased with the variety and styles in this month's Fix! My new stylist, Erika, did a great job at picking perfect spring pieces for me and getting my style just right! I ended up keeping the dress from Z Supply but was definitely tempted by the other pieces too. The struggle to make a decision is always real!
Out of all the pieces I received, which were your favorite? How would you style these pieces? I'd love to hear your thoughts about my Stitch Fix in the comments below!
---
Looking for More Styling Service Reviews? Try these Blog Posts!
Want to Save This Post for Later? Pin it!
Stitch Fix May 2017 | Stitch Fix Reviews